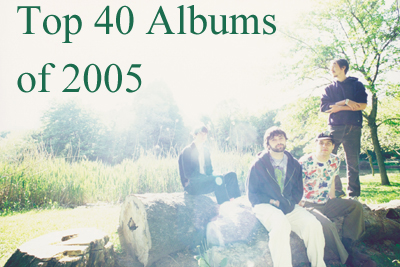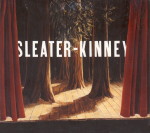 10. Sleater-Kinney – The Woods (Sub Pop)
With artists getting the compilation treatment after releasing a scant three albums and music pundits constantly telling the listening public that the death knell of the album is ringing loud and clear, it is rare for a band to make it to their seventh record. And it is even rarer for that album to kick as much ass as TheWoods does. The ladies of Sleater-Kinney aren't growing soft with old age (or motherhood, for that matter) and if The Woods doesn't convince you, nothing will. With The Woods, Sleater-Kinney combined the traditional ingredients of Carrie Brownstein's mind melting guitar work, Corin Tucker's banshee wail and Janet Weiss' flawless drumming and added a dash of producer David Friedmann to get rid of what they thought was becoming a stagnant sound. The result was heaping helping of guitar solos, reverb, and an 11-minute jam, creating a new sound, and one of the best records of the staggering career of these elder stateswomen of indie rock. – Molly B. Eichel
---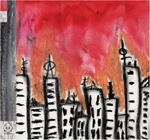 9. Broken Social Scene – Broken Social Scene (Arts & Crafts)
Scottish-Canadian inventor Alexander Graham Bell must've had a tough time figuring a follow up to the telephone. The various patents in Bell's name, the accolades of his peers, the incessant touring following his breakthrough invention, the immense praise of hipster science critics – providing lush lines such as "This invention explodes with endlessly perfect possibilities" and "The telephone is a tremendously accomplished invention" – must have left the inventor sweating. Fellow Canadians Broken Social Scene must have felt the same way following the release of You Forgot it in People. Like Bell, whose next forays into the inventing world involved the possibilities of flight, Kevin Drew and his merry crew made eyes for the stratosphere on their most recent, self-titled album. Fittingly, songs like "Ibi Dreams of Pavement," the airy, dancey "Fire Eye'd Boy," or the idea-packed closer "It's All Gonna Break" sound like rocket ships shooting into space and whimsical flights of fancy. Other stand out offerings such as "7/4 (Shoreline)" and "Major Label Debut" shoot silver darts into the air and send gorgeous tetrahedrons to scrape the undersides of clouds. The new problem is what Broken Social Scene is going to do next. If I'm not mistaken, Bell worked on prototype hydrofoils; and I'm wondering how that will work musically. – Hubert Vigilla
---
8. The Go! Team – Thunder, Lightning, Strike (Columbia)
Thunder, Lightning, Strike is fun. It's happy, quirky, cheer-up-your-mood music. This album isn't in your face intense, or overly dramatic with its approach towards you, the listener. Rather, Thunder, Lightning, Strike celebrates and cheerfully invites you to join in the festivities. While a lot of albums came out this year, this one made my list, primarily because it felt like a refresher course in music — Jackson Five, The Avalanches, Sonic Youth, Curtis Mayfield and Phil Spector all come to mind. This album shouts "get up and dance!" All songs are diverse and strong. No other album this year has merely reveled in the enjoyment of life, itself. And while you're living your life, why not have accompanying music to enjoy too? — Ayn Averett
---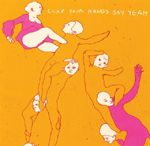 7. Clap Your Hands Say Yeah – Clap Your Hands Say Yeah (Self-Released)
From playing small shows in their native Brooklyn selling homemade CDs off a merch table to a feature on NPR, and laudatory reviews in major metropolitan newspapers in a few short weeks, Clap Your Hands Say Yeah became the poster children for the DIY success story. While major labels are ridiculously punishing their listeners with higher prices, unwanted extra content and computer hijacking software, not to mention unfair radio station payola, Clap Your Hands are giving real music fans what they want, great music…period.
While singer Alec Ounsworth's vocals have gained comparison to folks like David Byrne or Gordon Gano, it is the hybrid of pop styles including said vocals that sets it apart from the pack, one of the many pieces of fortune's fate that brought this album to the forefront from obscurity. Tyler Sargent's bassline is the most reminiscent of Peter Hook's best work I've heard in years, while Lee Sargent's guitars take on more of an Isaac Brock quality. Top it off with the sometimes warbling, sometimes steady and dulcet vocals of Ounsworth and one can't resist their charms. Song like "The Skin of My Yellow Country Teeth," "Is This Love?" and especially "In This Home on Ice" are standout tracks. – Terrance Terich
---
6. My Morning Jacket – Z (ATO)
Jim James and Co.'s latest output is what would have happened had U2 grown up on Lynyrd Skynyrd as opposed to Van Morrison. As if the Waterboys had been weaned on Johnny Cash. Vast bombastic mountain rock is the name of the game on for Z, last in the alphabet, but first in our hearts. With this album, My Morning Jacket has progressed beyond the Grateful Dead comparisons from It Still Moves and ventured into territory only before tread by arena giants. Move over Who and U2, Jim James has managed to tie together four decades of musical history in one shot.
Songs like opener "Wordless Chorus" still have a semblance of Flaming Lips quirkiness, but towards the end, James' yelps resemble Bono's best until the last few that sound as if he's trying to shout "Benny" a la Elton John. "Gideon" soars like "Baba O'Riley" as if sung during The Joshua Tree sessions. "Off the Record" is one of the best songs on the album, sounding like a slowed down Tennessee version of a Clash song. While MMJ showed promise with their earlier work, this is a `surface of the moon'-type jump forwards from James James, the man with music so nice they named him twice. – Terrance Terich
---
5. The Decemberists – Picaresque (Kill Rock Stars)
In "The Engine Driver," hidden comfortably in the middle of Picaresque's latter half, Colin Meloy sings "I am a writer, a writer of fictions" and thus gives us a more apt description of his work than anyone else could ever hope to. Meloy and his ménage of multi-instrumentalists relate eleven narratives that sound both lyrically and aurally like English lit classics. Their indie-rock bard's tales, all folky vocal waver and kitchen-sink instrumentation (has anyone seen my squeezebox?), come off like your 11th grade English class filtered through a century or so of pop music. Fitzgerald's pomp-masking-frailty drives the big beat of "The Sporting Life." They cover Melville's swaggering creepiness on the epic "The Mariner's Revenge Song." Up and down Picaresque, The Decemberists follow their muses, both rock and prose.
With Picaresque, Meloy and Co. unstitched underground rock's tongue from the inside of its cheek long enough to grant us an album's worth of earnest high-drama that's, simply put, the best damn thing this guy's heard all year. – Nate Hayden
---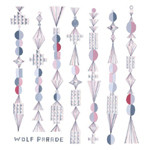 4. Wolf Parade – Apologies to the Queen Mary (Sub Pop)
Dear Canadian Government,
I love your country and the music you and your fine people have been putting out over the years. You gave us The Arcade Fire's Funeral, Broken Social Scene's You Forgot it in People, and Shine a Light by The Constantines. This year you've given us The Wolf Parade's Apologies to the Queen Mary, an album that lives up to its hype by delivering an eclectic array of music. And I have to say, though the first half is quite good, the second half of the album is nearly flawless.
I do have a serious question, though. What exactly do you put in your water supply to inspire such great music? Do you use a different concentration of chlorine and ammonia than we do in the States, one which is capable of inspiring greatness in Dan Boeckner and company? Is there additional fluoride or another fine substance that we can use to help write songs like "Shine a Light," "Modern World," or "I'll Believe in Anything"? Because, oh Canadian Government, I think you can bottle whatever it is you've got and make a killing off of exported Canadian Music Drink®.
That is all. Along with Wolf Parade, by the way, I also like Mounties and Molson and the McKenzie Brothers.
Sincerely,
A music fan
– Hubert Vigilla
---
3. Bloc Party – Silent Alarm (Vice-Atlantic)
There comes a time in the life of every young adult when the world ceases to be a place of wonder and opportunity and reveals itself to be place of paradoxes, hypocrisies, and disappointments. Childhood naïveté falls away and suddenly appears reality. But, this newly born man doesn't know enough to understand. He only knows to react. Silent Alarm captures precisely this moment in time. Many bands make their bones channeling angst, but few do so with the sensitivity and talent heard here. Armed with angular guitars, marching drums, and a savvy sense of atmosphere, Bloc Party's reaction spontaneously combusts every time it hits the air.
The sad reality of incendiary reactions is that they seldom carry a band beyond the opening salvo. Indeed, even Silent Alarm winds down in its second half, with one exception. The marching drums continue, counting the time as it passes. And as it passes, the man learns how the world works, not just how it looks. Faced with this new challenge, many men (and bands for that matter), become resigned and detached – shells of their former selves. But, the best of them evolve. Bloc Party has the talent, and music will be a better place if they have the staying power. – Andrew Waugh
---
2. Sufjan Stevens – Illinois (Asthmatic Kitty)
I listened to this album in its entirety at my brother's house before it was released, and although I was already a huge fan of Sufjan's work, nothing could prepare me for what was to come with Illinois, the second of his 50 States project. From the haunting "John Wayne Gacy, Jr." to the chanting funk of "They Are Night Zombies!! They Have Come Back From the Dead!! Ahhhhh!!", Illinois is one of those albums that is immediately mind-blowing, and yet opens itself up to you like a flower over time. After hearing the album maybe fifty times, I started to appreciate more of the subtlety. The switch to Part II of "Come On! Feel the Illinoise!" subtitled "Carl Sandburg Visits Me in a Dream" is exquisite, with the organ and horns leading into the first line, "I cried myself to sleep last night." Only Sufjan could make what would normally be a Morrissey line into pure transcendent beauty.
What Sufjan has done with this 50 states project is to carry the mantle created by American folk icons Woody Guthrie, whose tales of Dust Bowl tragedy painted a picture of this country, and Bob Dylan, who also carried, yet changed that mantle, creating songs of a personal nature, internalizing America. Sufjan has now carried and changed that mantle again, not only painting pictures of the states as he knows them, but making them personal, historically accurate, and brilliantly orchestrated as he plays nearly every instrument under the sun. This album has been number one on my best of the year list ever since it came out, and nothing has deposed it since. In fact, even though #2 is more than highly respectable, and it was a close race, I was almost outraged. I wouldn't be surprised if Illinois ended up as my number one choice for best of the decade. That is, until his third state album comes out. – Terrance Terich
---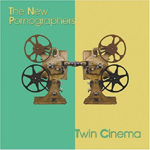 1. The New Pornographers – Twin Cinema
The New Pornographers have been primed for critical success since day one. Their debut record Mass Romantic was not only a power-pop joyride chock full of hits that never were, but it featured the combined talents of Carl Newman, Dan Bejar and Neko Case, who, despite a less prominent role, drew more than a little attention to the Canadian group. With their follow-up, Electric Version, it became clear that even slight variations on the same idea could prove to be pleasing. So when Twin Cinema busted down the doors and unleashed a prismatic barrage of shape-shifting pop songs that sounded often nothing like the band had done before, it came as a surprise, to say the least.
Clearly, it was obvious that the band had it in them. Any group with that many fabulous songwriters had to have been capable of making something so wondrously mystifying. The familiar elements of yore hadn't molted entirely; the title track, "Use It" and "Sing Me Spanish Techno" all pogoed in typically crunchy, Newman-esque fashion. But when combined with the dream pop of "The Bones of An Idol," the sampler aerobics of "Falling Through Your Clothes" and "Jessica Numbers," and the monumental "These Are the Fables," they made for a diverse and compelling album whose nearest relatives are art rock albums of the '70s, a la Bowie or Roxy Music, touched up with a hint of every band ever to be signed to 4AD.
I am compelled to call Twin Cinema genius. And though The New Pornographers are not actual pornographers, I feel it necessary, in closing, to turn to Justice Potter Stewart's description of pornography in the Jacobellis v. Ohio trial: "I shall not today attempt further to define the kinds of material I understand to be embraced…but I know it when I see it." Well, I'm not sure how to define "genius," either. But I know it when I see it, and Twin Cinema is it. – Jeff Terich
Thanks for Reading, and Happy Holidays from Treble. Regular updates, with the exception of one column coming later this week, will resume on Jan. 9.