Treble's Best Songs Ever of 2006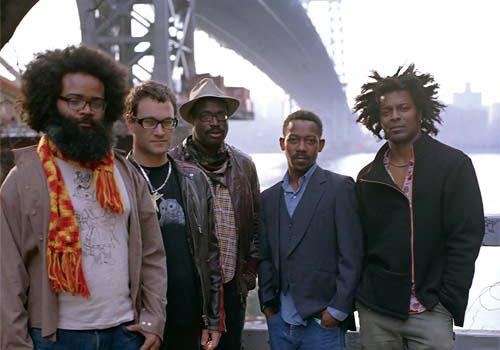 "Lloyd, I'm Ready to Be Heartbroken"
by Camera Obscura
from Let's Get Out of This Country
Awww, poor Tracyanne Campbell. First she couldn't tell her elbow from her arse and now she can't see further than her own nose at this moment. It would all seem so tragic if the twee pop didn't soar as gleefully as it does on "Lloyd, I'm Ready to Be Heartbroken," its title a response to the Lloyd Cole song "Are You Ready to Be Heartbroken?" Are you done giggling? Yeah, it is a witty response title, kind of like The Baldwin Brothers and Lawrence Arms songs "Are You There, Margaret? It's Me, God." The lines "I've got my life of complication here to sort out / I'll take myself to an east coast city and walk about" have some autobiographical resonance, given that I recently moved to the east coast. And come to think of it, I can't see further than my own nose or tell my elbow from my arse most of the time either. Maybe that's why I sometimes catch myself humming this song when I'm walking out in the city, or maybe it's just catchy enough that I'd hum it even if I were back three time zones away where the weather is so much warmer. – Hubert Vigilla
Listen Here
"Suspicious Character"
by The Blood Arm
from Lie, Lover, Lie
Here it is, the perfect rock single. Cocky swagger? Check. Rockin' riffs? Check. A bit of classic rock piano? Check. Some disco beats to make it danceable? Check. And the biggest fucking chorus of the whole year (yeah, I said it)? You bet yer ass. Nathaniel Fregoso's claim "I like all the girls and all the girls like me" seemingly comes off as both boast and lament. In one instance he sings "change my name in twelve states/just to escape this prosecution," in another, "come back to my apartment and I'll show you what it's for." It ain't easy being this much of a sex machine, and Fregoso pulls it off with panache. But being backed by such an insistent, pounding rhythm and Dyan Valdes' crashing piano certainly doesn't hurt. – Jeff Terich
"Roscoe"
by Midlake
from The Trials of Van Occupanther
Few songs are able to transcend the particular time and place in which they are written. "Roscoe" was the song to beat in 2006 for that category, and nothing even came close to its nostalgic underpinnings. It at once invokes peak-era Fleetwood Mac a la Rumours and yet lyrically it delves into a much deeper past, conjuring images of "mountaineers," "stone cutters" and the characters of some forgotten 19th Century township. Lead singer/guitarist/keyboardist Tim Smith's ebullient and unparalleled, yet delicate falsetto is as soothing as it is forceful. Combine a dead-on rhythm section buttressed by gorgeous 70s guitar posturing and harrowing piano strikes with all the agrarian imagery of the 1800s and the illusion is complete. Try to listen to this song with your eyes closed and not be transported to a bygone era. As Smith laments "Thought we were due for a change `round this place," you'll feel the tug of escapism pulling at your worn boots and lament the late harvest and all the work you have left to do. – Mars Simpson
Listen Here
"In the Morning"
by Junior Boys
from So This is Goodbye
Jeremy Greenspan's warning "you're too young" seems almost ironic, if only for the contradiction that a denial of forbidden sexual activity places upon a song that's so steeped and swathed in sex. Those repetitive breathing sounds, the gyrating motion that the beats induce, Greenspan's own soft vocals—it smacks of eroticism, if only subtly. But in its essence, this song is capable of transcending sexuality. With the added programming of Mouse on Mars' Andi Toma, dancefloor electro-funk and glitch IDM meet with a sparkling sheen, an ethereal glaze that turns the corporeal into the enchanting. Yet unlike like the icy, barely there synths of "High Come Down" or "Last Exit," these bassy grooves were made to move bodies, and that initial warning becomes youthful mocking, as innocence and its impending loss are so gleefully celebrated. Dance music never sounded this alive, nor this sophisticated all at once. – Jeff Terich
Listen Here
"SexyBack"
by Justin Timberlake
from FutureSex/LoveSounds
Let's face it, when Justin Timberlake emerged as a solo artist, much of the music world scoffed. Who did this teenybopper think he was? While Justified did provide some solid tracks, it was hardly the kind of pop album that changed opinions about him. Then came "SexyBack," the lead single off his confident second LP, FutureSex/LoveSounds. It sounds like no other Timbaland-produced track, much less like anything else on the pop charts. If anything, the track sounded eerily like the DFA produced it. Justin Timberlake and Timbaland managed to make a sexy, confident track that defied expectations while still rocking the party. This is the song in which Justin comes into his own. – Jackie Im
"Young Folks"
by Peter, Bjorn and John
from Writer's Block
The euphoria of a first meeting between two people is, of course, one of the ideal experiences upon which a pop song can be grafted. If that meeting is between characters conscious that they are in possession of a past, the disclosure of which could put a cramp in the night's goings on, all the better. Björn Yttling and Peter Móren worked out the dialogue of such an experience perfectly; then they made all the right decisions in crafting it into the year's most memorable and insanely irresistible song. Victoria Bergsman's smoky, unaffected vocals perfectly match the late-night mood of the woozy bass lines, subtle keyboard drones and shake-inducing drums. And then there is the whistling, intoxicating enough to induce any number of people to refer to it simply as "The Whistling Song." But for many it will be much more than that, a song to re-experience our own unexpected meetings and the strange array of emotions we were then susceptible to. We've all been there. I hope. – Tyler Parks
"Knife"
by Grizzly Bear
from Yellow House
This song, full of some of the most lusciously off-kilter harmony vocals I have ever heard, has been on heavy rotation in my world for quite some time. Initially unassuming, by the time it draws to a close, it leaves the listener in a dream-strewn world (a world the size of a bedroom to be sure) inhabited by all her happiest imaginings. What is certain: it has a way of crawling inside of you and excavating all the worries, woes and paranoias of the past weeks, days, months, years, and casting them out into a bottomless abyss—at least for the five minutes and fourteen seconds which it lasts. I like to think of it as a temporary asylum from which one may emerge again and again, eyes open to the color and fascination present in the world around and within. – Tyler Parks
Listen Here
"Crazy"
by Gnarls Barkley
from St. Elsewhere
Cee-Lo has been around for many years as a member of Goodie Mob and as a solo artist, but he's never sounded quite like this. Stripping his vocals to their gospel-influenced essence, Cee-Lo cuts out the quirkiness and delivers the most emotionally raw feel-good songs of the year. Yet the outstanding vocals of Cee-Lo alone does not make a good song great. The industrious and sometimes erratic Danger Mouse lends his producing prowess to Gnarls, and the smooth funk makes for an unlikely R&B smash like no other. – Jackie Im
"The Funeral"
by Band of Horses
from Everything All the Time
"I'm coming up only to hold you under."
So begins what I believe is the best song written all year. I recently read a review that claimed it `nearly' anthemic. Nearly, my ass. Band of Horses, as most of you probably already know, is made up of Ben Bridwell and Matthew Brooke, formerly of Seattle's beloved Carissa's Wierd. This duo cemented their Seattle cred after signing with Sub Pop and releasing the epic Everything All the Time. "The Funeral" is one of those tracks that you end up playing on repeat for your entire commute, never tiring of its grandiosity, always on edge with anticipation for every majestic crescendo. Bridwell's voice, the pair's guitars and the thunderous drum fill near the close of the song all vie for being the highlight of this particularly dark track that seems to be shoving My Morning Jacket to the wings of the `next Neil Young' stage.
I imagine this track could have been a perfect fit as a theme song for the now bygone HBO show Six Feet Under. Better still, it might even serve as a `just as perfect' replacement for Sia's "Breathe Me," the last song heard on the final episode of the show, another of this year's great tracks. Try it at home with your new SFU box set and you'll find that it serves the scenes just as well, if just a little more supercharged as opposed to hanky-waving. No 2006 compilation would be complete without "The Funeral." It is not `nearly' anthemic, it is `actually' anthemic, and probably the most energizing since "Sunday Bloody Sunday." Let's face it, Bridwell, and to a lesser extent his bandmates, looks like a Muppet, making him the next in line to replace Floyd Pepper should he need an understudy, and everyone knows that I think Muppets are beyond cool. To top it all off, it's an incredibly dark song. And you all thought that you had to sound like Nine Inch Nails to express morbid themes. Shame on you! – Terrance Terich
Listen Here
"Wolf Like Me"
by TV on the Radio
from Return to Cookie Mountain
Nobody makes a good old fashioned monster movie like they used to. Hollywood, instead, turns to flesh eating viruses, sadistic Slavic dudes with torture chambers and, ugh, even death himself to do the dirty work. So leave it to TV on the Radio to resurrect the old werewolf story in a heart-racing single. The Brooklyn band's lycanthropic yarn is more of a nightmarish Tex Avery cartoon than violent terror, Tunde Adebimpe howling "when the moon is round and full/gotta bust that box, gotta gut that fish," unleashing the basest carnal desire for human flesh. A wolf's gotta get some sweet ass, too, you know. The pursuit is only heightened by the song's production, a typically dense and urgent TVotR creation turned deeply intense. Buzzing fuzz bass strikes a path for this supernatural Casanova, as an insistent beat propels him along, not to mention Dave Sitek's always amazing jetstreams of guitar, thickening the air and turning the heat up to sweltering. When the free-floating interlude breaks up the sweaty transformation mid-way, a minimum of cool-down time is provided before that bass kicks up more dust and pheromones.
An intriguing and clever song, it encapsulates everything that's great about rock music, let alone the band that wrote it. Hearing it live in a small room amidst unusually energetic hipsters made for a personal highlight in 2006, and the power and excitement only returns and swells once this song starts up again. Nothing this year can possibly beat "Wolf Like Me" for sheer driving power. And when that clattering low end reverberates inside the ears, a similarly primal transformation occurs within the listener, causing limbs to flail and bounce as he finds himself howling…forever. – Jeff Terich
Listen Here