Various Artists : California Funk: Rare Funk 45s from the Golden State
A fascinating and often heartbreaking music history lesson, California Funk: Rare Funk 45s from the Golden State comes billed as the centerpiece in a series of compilations of regional and state-focused American funk. The Jazzman and Now-Again labels use sound and the written word to engage listeners whose knowledge of West Coast R&B's mutations in the 1960s and 1970s extends, maybe generously, to the hits of Sly Stone and the existence of L.A.'s Watts district.
California Funk surveys this nexus of place and genre quite literally from its most obscure point to its most populist. It opens with integrated Sacramento band Water Color performing "All Bundled Into One," a peacenik jam of which just one 7-inch single is known to exist today. It closes with a cover of Marvin Gaye's "What's Goin' On" by Mr. Clean & The Soul Inc., the song expertly transformed from orchestral philosophy into a thoughtful organ-backed dance track.
In between, there are plenty of artists who skillfully reference or mimic towering figures of funk. "Turn It Over" casts Chucky Thurmon as a lo-fi Curtis Mayfield. King Soloman's "Politician Rag" here sounds like a not-so-distant echo of Roy Ayers, especially his 1979 Fever track "Leo." The Bare Faxx deliver the biting "Super Cool Brother," a social critique that's 180 degrees from Isaac Hayes' reverent character study of Shaft, while John Heartsman sings in a deep Hayes-like bass as his band, Circles, swirls around "Talking About My Baby."
Billy Larkin and the Delegates' sleazy "Funky Fire" manages to presage Parliament's warped sonics while riffing on the spy-movie paranoia of Henry Mancini and Lalo Schifrin. Some moments on this comp imply explorations into Bollywood's rapid-fire declaratives (Rhon Silva's "Get It Right") or the heavy guitars in Miles Davis' fusion (California Gold Notes' "W.B. 302") and Jimi Hendrix's psychedelia (JGD & The New Breed's "North Richmond Breakaway").
Predictably, though, even thousands of miles away these forgotten heroes regularly touch the hem of James Brown and his JB's. California Funk holds countless ecstatic jams (Leon Gardner's "Farm Song" and Lil' Lavair & The Fabulous Jades' "Cold Heat" form a devastating one-two punch) and lyrics mentioning "fussin' and fightin'" and similar hazards. Other tracks beg for extended improvisations that never appear, those B-sides and Part II's that helped establish other labels and performers in Brown's oeuvre.
The quiet bonus in California Funk is the material surrounding the music. Beyond just the physical packaging or the inclusion of rare pictures and ephemera, Gerald Short and Malcolm Cotto's research and Liam Large's writing hit moon-shot home runs. Comprehensive notes argue that funk preceded West Coast rap as a vehicle of social commentary and disobedience, both civil and violent. We also learn the whereabouts of some of the songs' long-lost players. A few saved their recording careers as the 20th century dwindled away, others segued into hip-hop management, but most were mired in tragic obscurity — even the authors are unsure if one particular bandleader is alive or dead.
Releases like this in the age of MP3s make the case for maintaining the trappings of music associated with CDs or vinyl, or at the very least crafting a comprehensive PDF to go with your downloads. Collected for archival purposes as well as for sale, California Funk is a beautifully executed look at how, and especially where, cross-cultural party music and empowerment anthems first and best intersected.
Similar Albums:
James Brown – Star Time
Various Artists – Conquer the World: The Lost Soul of Philadelphia
The Budos Band – The Budos Band II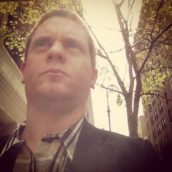 Adam Blyweiss
Adam Blyweiss is associate editor of Treble. A graphic designer and design teacher by trade, Adam has written about music since his 1990s college days and been published at MXDWN and e|i magazine. Based in Philadelphia, Adam has also DJ'd for terrestrial and streaming radio from WXPN and WKDU.