Vex : Sanctuary: The Complete Discography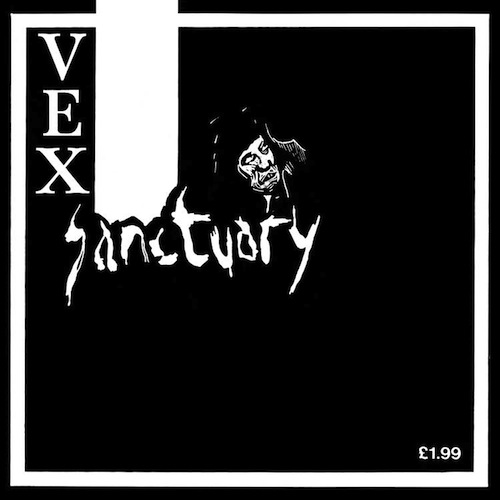 Imagine for a second that the Internet — or Sacred Bones Records — never existed. In that scenario, this Vex Sanctuary: The Complete Discography review would never have been assigned. Reissues of bands from the past — that relatively few seemed to care about back in their prime — are more prominent than ever. (Thank you, World Wide Web.) Now, imagine being that punk band, Vex, which has been disbanded since the mid-1980s. They put out one record, Sanctuary, in 1984, and nobody lifted a finger. Suddenly, a representative from Sacred Bones gives you a call 29 years later, and says that the label wants to reissue your only record. What are the odds?
There's no disputing the fact that Vex had an effect on a certain small punk scene in the mid-1980s, or Sanctuary would have no context in 2014. I would tell you the epicenter of such a scene, but I was unable to find out where Vex was from. Sacred Bones' site does not mention where Vex originated, and neither did some deep research (Thanks, Internet!). Scrote, the vocalist, who sounds like a commanding British ghost locked in a closet, said about the reissue in a press release, "We were an anarcho punk band in the truest sense of the word, even though our musical sound may nowadays be classed as something different. We lived, ate and breathed the punk ethic, D.I.Y. culture…Sanctuary was our only solid release…These songs must have stood the test of time as they're now being re-released, amazes me really!" See, even Scrote's mind got blown with the news of a reissue after all of this time. So, why does Vex matter 30 years later?
It's a stretch, really, but Vex has an affecting balance of punk angst with the otherworldly vibe of darkwave. Scrote is right about his music being classed as "something different"; it's not just punk music, and that's why Vex is (or was?) a crucial band. "Sanctuary" makes for an ominous opening to the record, with its haunting guitar lick, stampeding drums and full-band attack. The drummer (couldn't find his name) holds Vex on his shoulders for the first five tracks — very heavy on the toms — only to be less important over the final three "demo" tracks of the album. And while Vex may be a punk band, none of the eight songs here are shorter than three minutes.
Sanctuary carries with it a certain sense of terror, which makes it a perfect playlist candidate come Halloween night. The UK post-punk tones of "World In Action" get serious at the end when Scrote shouts, "There is a theory, and this has already happened," over and over, gaining more conviction as he goes. The best demo track, "Pain," is titled aptly, introduced by a piece of painful guitar feedback that runs laps during the song. These are sounds that I've never once heard from a recorded guitar, and it could scrape the paint off the walls. At any moment during Sanctuary, the guitars could slice through bone, but they're never without their melodic touches as well.
Sanctuary was the first release on Fight Back Records, a Mortarhate sub-label that released nine albums from 1984 to 1987. However, thanks to Sacred Bones, one of the most forward thinking labels around, Vex's music is given new life. Now, we all know what happens when killer records get reissued — fans call for a reunion tour. But, in Vex's case, it is not known if the full band is even still alive. Perhaps it's better if they live like ghosts, seething through our speakers, forever haunting us through song.
Similar Albums:


Killing Joke – The Singles Collection – 1979-2012


Joy Division – Unknown Pleasures


Iceage – New Brigade