Yo La Tengo announce 25th anniversary reissue of I Can Hear the Heart Beating As One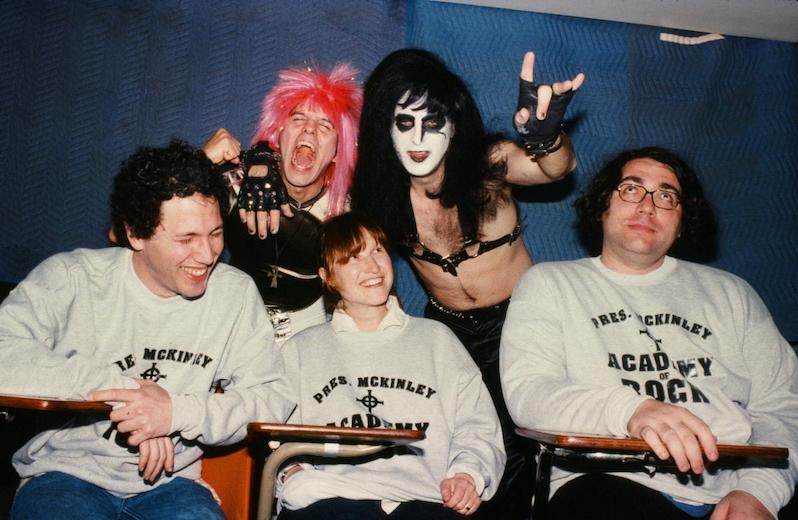 Lisa Johnson
Today is the 25th anniversary of Yo La Tengo's landmark album I Can Hear the Heart Beating As One, and to mark the occasion, Matador Records has announced a new vinyl reissue of the album. It'll be released on translucent yellow vinyl on July 29, along with some special merch to go along with it: "President McKinley Academy of Rock" sweatshirts, which '90s viewers of 120 Minutes will remember from the "Sugarcube" video, in which the band gets schooled in how to be rock stars. (Which also stars Bob Odenkirk and David Cross.) The vinyl reissue also comes with bonus tracks of remixes from the album. Check that out below along with the "Sugarcube" video, and check out a discussion between David Cross and the band on the making of the video.
Director Phil Morrison says in a press release, "It was fun! (Pretty rare for a music video.) And such a good group of people making it for pretty much nothing, including David Doernberg, Joe Ventura, Nicole Whitaker, James Whitaker, Michael Mees, Leesa Evans, Damon Chesse, Amy Silver, Elena Balshem, Matt Chesse, Bill Ryan, Dennis Callaci (and maybe Allen Callaci and Chris Jones), and many more. The school sweatshirts were made by the legendary The Wizard, on Sunset near The Roxy and The Rainbow."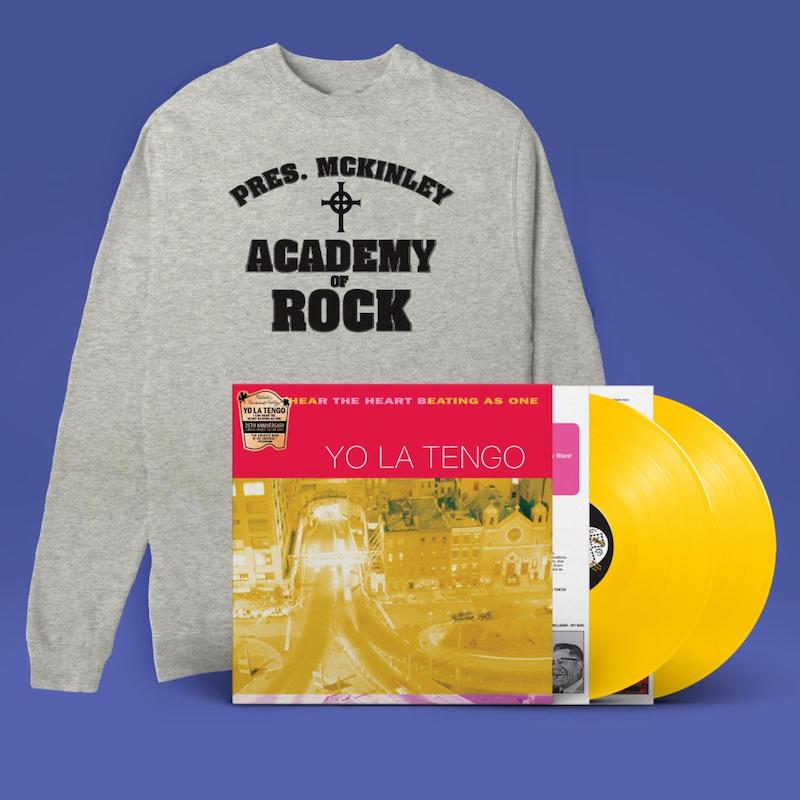 Yo La Tengo I Can Hear the Heart Beating As One deluxe reissue tracklist:
1. Return to Hot Chicken
2. Moby Octopad
3. Sugarcube
4. Damage
5. Deeper into Movies
6. Shadows
7. Stockholm Syndrome
8. Autumn Sweater
9. Little Honda
10. Green Arrow
11. One PM Again
12. The Lie and How We Told It
13. Center of Gravity
14. Spec Bebop
15. We're an American Band
16. My Little Corner of the World
17. Autumn Sweater (Peel Session 1997)
18. Shadows (Peel Session 1997)
19. I Heard You Looking (Peel Session 1997)
20. Autumn Sweater (Bundy K. Brown, John Herndon, Douglas McCombs and David Pajo Remix)
21. Autumn Sweater (U-Ziq Remix)
22. Autumn Sweater (Kevin Shields Remix)
Read our feature, Yo La Tengo's I Can Hear the Heart Beating As One Set a Benchmark in Indie Rock.
We also recently discussed "My Little Corner of the World" in our Cue Sheet Podcast episode on Gilmore Girls.