The Lone Bellow : Then Came The Morning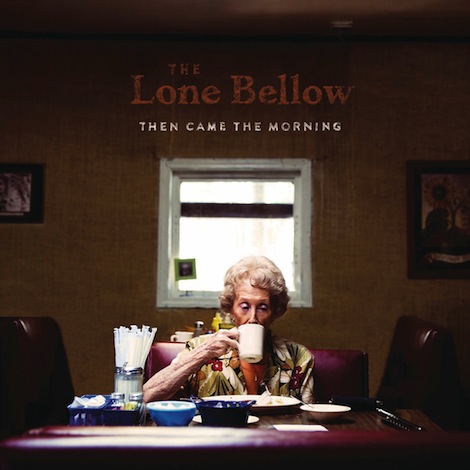 There's no disguising what's so captivating about the voice of Zach Williams, leader of The Lone Bellow, or the voices that surround him. His instrument is marked with equal amounts of pain and certainty; it stays rooted to the earth even as he ascends to a veiled promise. And just at that moment where lesser singers would break consciousness and blast through the cumulus, he dials it back. If there's a final answer, he's content to leave it hanging. Maybe he finds out just enough to pack up and go apply what he's found to other, more local problems, or maybe it's just left there for the listener to do whatever they want.
For most of Then Came the Morning, the transplanted Brooklyn trio's second album, Williams is contending with the celestial, at least in the sound. The wide-chambered production of The National's Aaron Dessner, captured in an old church in upstate New York modified into a studio, joins a set of songs that are sturdy and resourceful in the aim of establishing drama and poignancy. While there's nothing necessarily novel or untested about the songs, the spirit is willing, and at least in harnessing their group personality in the broad space of Dessner's production there's a believable connection. It's meat and potatoes served up from a cauldron.
As undoubtable as their songs sound, the Lone Bellow try a few different styles to try and mesh with the space. The opening title track is a gospel-like carriage with unsettled, insistent drumming, Aretha-quoting piano stabs and voices that swarm in rise and recession. It's a little heavy-handed, but Williams is at least sure of his path: "Now you finally left me / Done with all your lying / Joy comes in the morning / You won't see me crying." "Fake Roses" is only slightly more compressed in its portrait of a family functioning with the margins in clear view, as a straight-ahead rock beat moves forward with ghostly pedal steel floating in serpentine motion around the borders.
There's a little unpredictability in the switches from detailed anthems to stark folk simplicity. "Take My Love" breathes awfully close to U2 territory with its guitar chimes and chorus release, though its machine-gun drumming and wailing pedal steel melodies somehow work. "Heaven Don't Call Me Home" manages to fuse metal guitar, rockabilly drums and tight, Little Big Town-like vocal harmonies into an effective call-and-response beast. The predictable country forlornness of "Diners" suggests Waylon Jennings railing into a cavern; that it's so busy almost works against it until the gang starts singing.
While the ambient clamor somehow raises a beast with a tangled but fairly successful attack, the intimate moments on Then Came the Morning sound a little incomplete. "Telluride" is a folk incantation that's related with a bit too much caution, and "To the Woods" and "I Let You Go" depend almost exclusively on harmonies and listeners' relative affability for the familiar. The reverberant production somehow doesn't make Williams sound like a solitary voice in the void; especially in "I Let You Go" the drama is broken up by the band slipping into a comfortable country groove.
But as the closer "Watch Over Us" drops the reverb, Williams' voice comes out front and details all the brass and rough edges that the rest of the album has been contrasting to varying degrees of success, with Kanene Pipkin and Brian Elmquist falling in perfectly behind. It's a reminder that the Lone Bellow are incalculably natural talents with ginormous upside, and though Then Came the Morning occasionally substitutes heft at the expense of intrigue, it doesn't derail them. They'd know how to find the on-ramp again if it did.
Similar Albums:


Ryan Adams – Easy Tiger


Bryan John Appleby – Fire on the Vine


Hem – Eveningland
Paul Pearson
Paul Pearson is a writer, journalist, and interviewer who has written for Treble since 2013. His music writing has also appeared in The Seattle Times, The Stranger, The Olympian, and MSN Music.