Mademoiselle K : Hungry Dirty Baby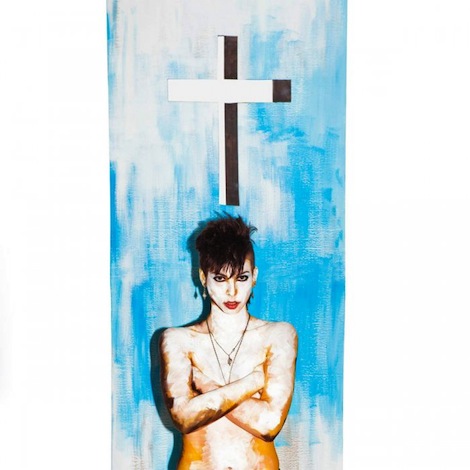 Paris' Mademoiselle K. is an act that has been brewing forward-thinking rock in their native tongue for just about a decade, yet haven't received much press in the U.S. or U.K. In fact, the only reasonable fountain of information when I Googled the band's name was a poorly curated Wikipedia page. But in the years leading up to their English-language debut, they've been far from been hiding under a rock. They recently trimmed their quartet down to a slim trio, and the group worked extensively to hone the most powerful sound that they could from their renewed setup. And frontwoman Katherine Gierak, who has historically penned and performed all her snarky post-punk tunes in French, trained her tongue by spending time in U.S. locales. If she was going to capture her thoughts in a more commonly spoken language, she was going to do it right the first time around.
This hard work pays off on Hungry Dirty Baby, an album which boasts an aesthetic that should sound familiar among the most recent batch of modern post-punk bands to receive attention from the indie music circuit. Instrumentally, comparisons to Detroit's Protomartyr make a whole lot of sense; this trio churns out deceptively tight tracks that meld and melt genres in subtle-yet-intriguing ways. But while there are plenty of frantic, energy-loaded tracks on this record, Gierak uses an incredibly diverse songwriting palate to keep things interesting. "R U Swimming" offers a more chaotic spin on the brand of neo-garage rock that The Strokes popularized while album closer "Someday" carries strong comparisons to Radiohead circa The Bends. But regardless of whether they are striving for sonic highs or lows, Mademoiselle K. have worked the details of each track to the bone, making sure to present a record chock full of tiny yet rewarding surprises from each instrument.
But the true icing on the cake that is Gierak's performance as the act's singer/songwriter/frontwoman. In a manner that recalls the hey-day of the riot grrrl movement, she maintains a presence which is, at many times, vulgar yet sincere. Many songs here deal with Gierak's sexual preferences and exploits; in fact, they showcase those actions. Yet these are just minor details in her overarching themes — a brief mention that it's time for her and "all her lovers" to get out of bed here, a bedroom spanking between two partners here. What makes this openness work to Gierak's advantage is the way she uses these details to craft larger narratives of romance, sexuality and doubt in the digital age. These are crunchy, and often raunchy, songs, but not once does Mademoiselle feel like a hyperbolic persona or a gimmick to sell records. Hungry Dirty Baby might have the feel of post punk, but it's greatest strengths come from the earnestness of its songwriter.
Similar Albums:


Protomartyr – Under Color of Official Right


Savages – Silence Yourself


Mission of Burma – Vs.