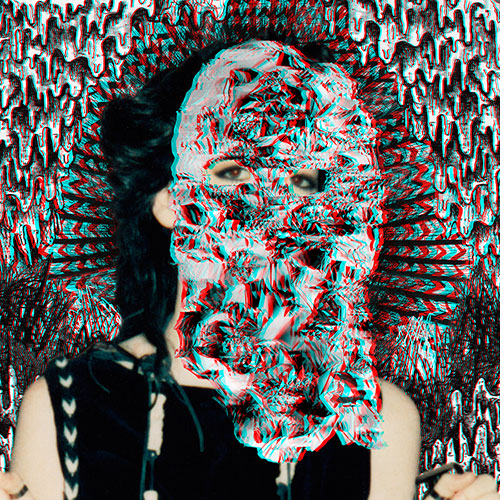 Electronic music has taken quite a few leaps from the genres earliest experiments in the '60s. And while plenty of wildly successful experimentation
comes from the genre on a yearly basis
, it's hard to deny that electro-pop gets a little more bland with each passing year. In more ways than one, the combination of beeps, bleeps and pop sensibility often seems at least a bit passe. Moments of electro-pop bliss still come, but they're surrounded by just as many bland misfires of pop-rock bands trying just a little too hard to incorporate digital elements into their soundscape.
So it's important to note that Omaha's Icky Blossoms are not really an electro-pop band. On sophomore album Mask, the quartet rides a fine line between melodic indie-rock and dance-pop and, as one might guess, some of that aesthetic is definitely driven by their use of drum programmers and synthesizers. But the band's strength relies on their use of melody and a powerful sense of pop-rock songwriting, which Icky's members honed as individuals, years before their band was even a concept. Derek Pressnall is easily recognized as a previous member of both Bright Eyes and Tilly and The Wall, while Sarah Bohling and Nik Fackler cut their teeth in the Omaha art scene before diving into the town's nationally recognized music scene. All three serve as vocalists and multi-instrumentalists on Mask, just as they did on the band's Dave Sitek-produced, self-titled debut in 2012.
But while Icky Blossoms served up 10 digitized dance-rock anthems, Mask finds the band much more focused on creating a wholly recognizable sonic world. Working with famed Omaha producer Mike Mogis and bringing in touring drummer Daniel Ocanto as an official fourth member, Icky worked to craft a more holistic record, resulting in a nine-track record that, for the most part, more closely resembles the timbre and cohesion of Future Islands' recent four-piece set up. Though digital backdrops are consistent throughout Mask, the band embellished with hefty amounts of bass, keyboard, guitar and live drums, landing on a tone more reminiscent of the group's dark, energetic stage presence.
But Mask resembles 2012's self-titled effort more closely when it comes to the band's consistency. There are about seven nigh-perfect pop-rock songs on Mask (which are rather front-loaded this time around), with two—namely the awkwardly industrial-lite "Silver Tongue" and clunky closer "Terror Nothing"—that don't quite reach the bar set early on by the band's more stunning, grooving work like the funkier "In Folds" or the vibrant, disco-tinged "Living in Fiction." But the moments that fly on Mask soar with great success.
Similar Albums:


Lemonade – Diver


Depeche Mode – Black Celebration


Phoenix – Bankrupt!