Kacey Musgraves : Pageant Material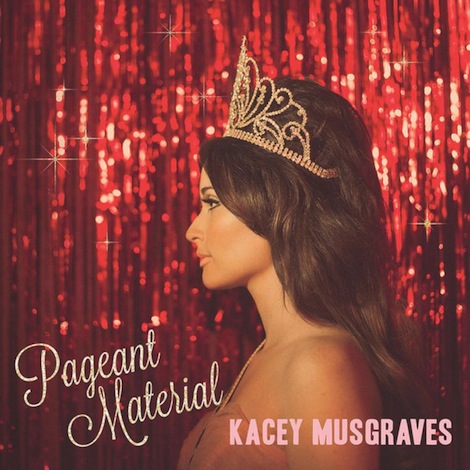 Same Trailer Different Park, the 2013 breakthrough album by Kacey Musgraves, caught me pleasantly off guard when I first heard it. Occasionally sentimental but never saccharine, well-arranged and melodic but never slick, and rough around the edges by modern country standards, that record's songs are about infidelity, weed, relationship dysfunction, sordid lower-middle-class lives, shitty jobs and nicotine addictions. They seemed to signal the arrival of a young woman who clearly wanted success within the genre but wasn't going to affect any airs or sanitize her songwriting to do it.
With all that in mind, and as much as I hate when reviews of a sophomore album boil down to, "The debut was more real, mannnnn," as I'm about to do (to a certain extent), what to make of Musgraves's latest, Pageant Material? Of all the characteristics she showed on Same Trailer, the most readily apparent on the new one are her charm and humor. And while those are welcome, a lot of the grit is gone from both her lyrics and music, and the grit was what made her truly special.
Pageant Material is still a fairly entertaining and listenable country album. Her voice is smoky-sweet and inviting, like a cigarette after dessert. The gentleness of it made it so disarming when she'd sing things like, "Well Janie got divorced again, her ex-husband's in the pen/For two to five, or five to ten and longer," on "Blowin' Smoke" from Same Trailer. Luke Laird and Shane McAnally return from that album to produce Pageant, and alongside Musgraves they create a pleasant, major-riff-driven foundation with banjo and pedal-steel accents in the background. The problem is they also thought strings and additional bells and whistles would be a great idea. They aren't. Only on opening song "High Time" do the flourishes work, the strings adding a '50s Roy Orbison vibe. Elsewhere, it just sounds busy and overly precious, especially the drippy "Cup of Tea."
While Kacey Musgraves didn't become a worse songwriter on Pageant, she leans on her corny side way too much. Corny mash notes like "Late to the Party" or the aw-shucks affirmations of "Family is Family" and "Dime Store Cowgirl" are probably the most egregious examples. On such songs, instead of examining the tropes of rural life and Southern femininity with a skeptical eye, she pokes a bit of fun but ultimately affirms them.
All that said, I fully believe what she says through these songs. The dominant tone here is sincere earnestness—perhaps she's just happier than she was while writing Same Trailer? Sometimes this works fine, like on peppy lead single "Biscuits" and the hedonism exhortation "Die Fun." And it isn't all sunshine and roses, lace and bourbon. The title track interrogates typical beauty standards and features the great line, "I'm always higher than my hair, and it ain't that I don't care about world peace/But I don't see how I can fix it in a swimsuit on a stage." The claustrophobic encroachment of rural ennui feels palpable in "This Town" despite the assurance that those in the too-closely-knit community "look out for each other." And on closer "Fine," Musgraves narrates the routine of a woman obsessively maintaining the household and bedroom of a lover who's not around—maybe cheating, maybe on the road for work, maybe at war, it's unclear—in painful detail. She paints an incredibly affecting portrait of a woman trapped in a corner and only halfway aware of it.
Pageant Material ultimately has enough worthy of recommendation that I wouldn't say you should skip it and go right to Same Trailer Different Park. But it is something of a step down from Musgraves's debut, and potentially concerning. Hopefully on the next go-round, Kacey will bring back some of the quiet-desperation grit that made her an interesting presence (which, to be clear, she still is!) in a genre that all too often is quite boring.
Similar Albums:


The Lone Bellow – Then Came the Morning


Lucinda Williams – West


Jenny Lewis and the Watson Twins – Rabbit Fur Coat