Shabazz Palaces : Lese Majesty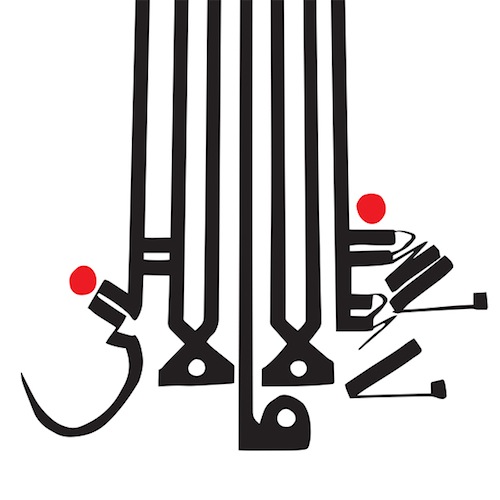 Earlier this year, in a report on an unconventional album premiere for Shabazz Palaces' sophomore album Lese Majesty, Seattle's The Stranger remarked, "We concluded upon first listen that it is the future of hip-hop." The Pacific Northwestern experimental rap duo couldn't have picked a more appropriate venue to unveil their time-traveling work of art; it premiered not at a club or a record store, but the Pacific Science Center's laser dome. That makes a pretty powerful statement on its own, almost entirely outside of the music itself: This is music that feels most appropriate in a cosmic context.
Looking back three years ago, when Shabazz Palaces released their incredible Sub Pop debut, Black Up, they didn't seem to be operating from the same manual as any other hip-hop artists. Palaceer Lazaro (a.k.a. Ishmael Butler) and Tendai Maraire eschewed buttery flows and packed the boom-bap up in the basement. No clever punchlines or similes, no battle raps, no posse cuts; every convention and cliche that's been getting play in the mainstream and the underground since the 1990s didn't apply. Only by stepping outside of hip-hop's tradition were Shabazz Palaces able to give rise to something entirely new.
Just as Black Up represented a higher plane for the group after their first two mini-albums, Lese Majesty presents an entirely new progression for Shabazz Palaces, as well as their most complex work to date. A nearly seamless piece of music comprising seven suites with titles like "Palace War Council Meeting" and "High Climb to the Gallows," Lese Majesty feels impenetrable by design. It's an intricate piece of work that doesn't reveal itself so readily or easily; while three absolute bangers from the album have already been released in advance of the album itself — "#CAKE," "They Come In Gold" and "Forerunner Foray" — nothing here feels like a proper single. You can pick out highlights from the album without losing anything, but it's only as a complete piece of music that Lese Majesty reaches its full potential.
Lese Majesty sounds familiar only by Shabazz Palaces standards, which is to say it's still incredibly exotic and alien in its lush, albeit abstract approach. It sometimes feels less like an album than a voyage where the landscape is always changing. But that landscape is also consistently breathtaking, from the dense, shoegaze-sounding layers of opening track "Dawn in Luxor" to the minimal flutters of standout "Forerunner Foray," and from the dark electronic pulse of "Solemn Swears" to the eerie sputter of "Colluding Oligarchs." The sonic treatments and atmosphere can shift at a moment's notice, but what never changes is the level of intrigue that the group stirs up, nor their willingness to abandon an idea long before it has the chance to grow stale.
As an emcee, Butler himself continues to evolve and deconstruct the role of the rapper throughout Lese Majesty. He fades into the background on a track like "Suspicion of a Shape," whereas he becomes an echo-treated vessel for repetitions of phrases like "mind glitch/ mind glitch/ mind glitch" on the high-energy synth exercise "MindGlitch Keytar TM Theme." But when he's front and center, his rhymes arrive like koans — witty, yet oddly Zen-like observations that bear a depth greater than the number of words they contain. After a meditation on the stars in the sky on "Forerunner Foray," Butler chants, "Fulfill all our dreamin'/that's what's up this evenin'," and on the gorgeously dreamy "Motion Sickness," he notes, "Life's a bitch/ Treat her good, or she'll get you back." And even during the "Award Tour"-style rundown of locales on "#CAKE," Butler lines up a pretty outlandish itinerary: "Gaza/ Ramallah/ Seattle/ Neptune" on up to the most surprising/hilarious inclusion of all — "Kanye."
The level of abstraction and disorientation on Lese Majesty runs pretty high — enough to raise the question of whether or not it's actually even a hip-hop record. By and large, Shabazz Palaces operate without paying much attention to any expectations of what a hip-hop record should be; as a result, this is without a doubt the greatest thing to happen within the genre all year, and likely to stay that way. It's hard to disagree with the sentiment that Lese Majesty is the future of hip-hop, for that very reason. Where exactly this all connects to hip-hop on the whole is a complicated question to answer, but one that's best explained by Butler, himself, on 2011's "Are You… Can You… Were You? (Felt)": It's a feeling.
Similar Albums:


Flying Lotus – Until the Quiet Comes


El-P – Cancer 4 Cure


Clipping. – CLPPNG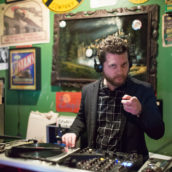 Jeff Terich
Jeff Terich is the founder and editor of Treble. He's been writing about music for 20 years and has been published at American Songwriter, Bandcamp Daily, Reverb, Spin, Stereogum, uDiscoverMusic, VinylMePlease and some others that he's forgetting right now. He's still not tired of it.