Perfume Genius : Too Bright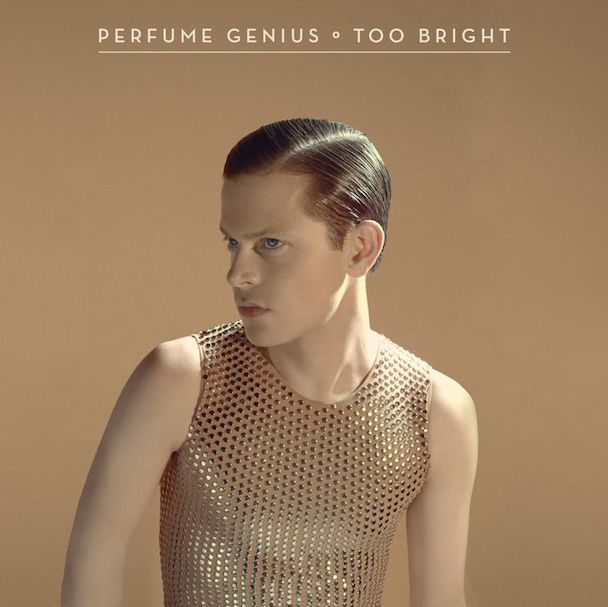 The best performers don't stay comfortable for too long. The David Bowies, Annie Clarks, Herbie Hancocks and Ian MacKayes of the world don't allow themselves to settle much, even in the context of a specific project. Even an artist like Steve Albini, often labeled as a "one trick pony" has come a long way from the industrial grind of Big Black to the angular math rock of Shellac. No matter how perfect any given album is, the most talented artists out there know that the quickest way to destroy a mood is to stay with it after it's worn out its welcome.
Mike Hadreas, a.k.a. Perfume Genius, already has two near-perfect albums under his belt, both consisting of minimalist, piano-driven ballads. But the true success of 2010's Learning and 2012's Put Your Back N 2 It was found in Hadreas' unique ability to express years of love and pain through short lyrical bars. It's a strength few poets possess; even fewer can deliver those lines in the heart-twisting croon that Hadreas boasts. Those records were an honest, glareless window into loneliness and isolation, via the eyes of a gay artist suffering from Crohn's disease, and they were startlingly — and often painfully — beautiful.
It's no surprise that Hadreas is successful when he takes that strong emotional core and moves it out of the realm of minimalist, lo-fi balladry. Earlier tracks "No Tear" and "Hood" were highly successful experiments in applying full-band instrumentation without suffering the loss of the project's overall intimacy. But on Too Bright, Hadreas does more than simply add bass and drums to his previous style of balladry. Working with producer Ali Chant (PJ Harvey, Gruff Rhys) and Portishead's Adrian Utley, Hadreas followed his artistic whims, never restraining himself to one particular sonic angle. Make no mistake — the same damaged songwriter is behind these tracks, evidenced most strongly by the stripped down nature of opener "I Decline" and "No Good," but synths and experiments in sonics and song structure take the sound of Perfume Genius to a whole new level throughout Too Bright.
This bold new sound is the perfect capsule for a newfound confidence laced throughout Hadreas' poetry. It's not that the man no longer feels like an outlier. Rather, that same alienation has evolved from that of skeptic loneliness to an almost regal respect for himself as an individual. There's the obvious indicator of "Queen," a pulsing declaration of self-pride that is written like a pop anthem but executed like a dirge in honor of Hadreas' formerly gloomy perspective on life. But there's plenty of that same sass buried throughout the record as well. On "Don't Let Them In," between emotive pleas to avoid the company of a well-intended but particularly offensive couple, Hadreas speculates "In an alternate ribbon of time/ my dances were sacred/ My lisp was evidence/ I spoke for both spirits." It is via this new embrace of himself that Hadreas is able to take his cynical wisp to a new level. Where he once succeeded in drawing listeners into his pain, he now excels at showing them how he's slowly overcoming it.
Over two desolate, extremely personal records Hadreas has taken his sweet time to develop his songwriting craft before attempting an eclectic pop sound, and it pays off immensely. Too Bright is never purely pop, nor does it ever abandon its infectious hold on the listener. Rather, it straddles a fine line between artistic statement and relatable catharsis. In his final words on the record he pleads, "I don't need your love/ I don't need you to understand/ I need you to listen," and with those powerful words Perfume Genius' transformation from brooding indie-songwriter to twisted, battle-torn pop-diva is complete. It's a powerful step forward for an artist who started off with a steady footing.
Similar Albums:


St. Vincent – Strange Mercy


Chelsea Wolfe – Pain Is Beauty


James Blake – Overgrown