Bass Drum of Death : Bass Drum of Death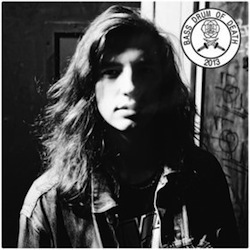 For those looking from the outside in, Oxford, Miss. comes across as a sleepy little hamlet, not necessarily widely regarded as a metropolitan cultural hotbed. It's easy to imagine a place where time stands still and everybody knows everyone's name. But underneath the cover of this town of 20,000, John Barrett and his group Bass Drum of Death have been making noise. A lot of noise. With equal parts punk rock, garage rock and a songwriting sensibility that nods to the best of grunge's granddaddies, Bass Drum of Death's new self-titled album is another loud landmark for the Southern college town.
BDOD picks up where the band's last album, 2011's GB City, left off. The pounding drums, furious guitar riffs and 'who gives a fuck' vocals of album opener "I Wanna Be Forgotten" don't politely introduce the group so much as slap the listener across the face. Those familiar with Bass Drum of Death will notice a fleshed-out full-band sound on this record, which not only fills out the music, but pushes the fuzzed-out urgency of the group to new heights. This is especially apparent on the more uptempo cuts like "Shattered Me," "Bad Reputation," and "Crawling After You." Without the low-end influence, the frenzied pace of these songs would threaten to collapse in on themselves.
Even though a large chunk of BDOD represents full throttle garage-punk, the band (more specifically, frontman John Barrett) doesn't shy away from catchy hooks and even some pop elements throughout. "Fine Lines" is a perfect example of that awareness, with a slinking bass line, Grohl-esque drum work and an absolutely huge chorus. The surf-rock inspired "Such a Bore" is a breezy, reverb-drenched rocker that highlights the band's understanding of dynamics, which is all but nonexistent in other similar groups, but the real standout track on BDOD is the seductive "White Fright." The song is fairly straightforward musically, but is held together with a vocal melody guaranteed to stick around for days.
The eponymous second album from Bass Drum of Death isn't going to sell a million copies or win any prestigious awards, but still bears strong enough material to crash a few lists, come year-end time. John Barrett's songwriting ability has grown substantially since GB City, allowing the high-octane garage punk music to find a soft spot to land in the listener's ears. Add in a good dose of bass guitar to balance out the guitar onslaught, and what's left is a supremely fun album that's more memorable than most of Bass Drum of Death's contemporaries.
Similar Albums:


Wavves – Afraid of Heights


Thee Oh Sees – Floating Coffin


Ty Segall – Twins