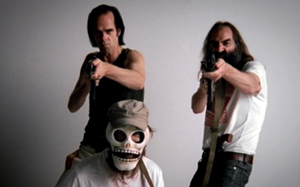 One of the interesting side effects of MTV phasing out any and all musical programming is that the Internet, in turn, has become the premier venue for music video viewing. And the thing with the Internet, as you might have noticed, is an absence of strict decency standards. As such, artists are more and more able to get away with shocking or sensual imagery, the kind of art direction that never aired on MTV without some blurring or "scenes missing." So, while we have also compiled a list of perfectly wholesome(-ish) videos that impressed us this year, we've also put together a list that's a little more daring, and a little more adult.
10. Tennis – "South Carolina"
This one is actually pretty tame by today's standards. It's merely a juxtaposition of burlesque dancers with fireworks, though one or two of those dancers aren't hiding much behind their pasties. It's simple, but it's cool. Directed by Scott Laidlaw.
9. Of Montreal – "Famine Affair"
There might not be any nipples in this video, but make no mistake here. It's pretty racy. Some guy who looks like a touring member of The National stumbles into a house full of women. Some of them take a bath together. Some of them are feeding each other strawberries. And some of them are doing things that your boss probably wouldn't approve of, at least not in the workplace. Directed by Nina Barnes and Jason Miller.
8. Flaming Lips – "See the Leaves"
Nudity is sorta the Flaming Lips' thing these days. And that's certainly the case with this clip. Though the naked girl in the video is sort of obscured, she's still pretty naked. And, more disturbingly, there's a large sphere that appears to have a vagina. Yep.
7. HEALTH – "We Are Water"
A lot of the videos on this list aren't work-safe due to nudity or sexual content, but this one is of the more violent sort. It's bloody and insane and not for the squeamish. Directed by Eric Wareheim.
6. Flaming Lips – "The Sparrow Looks Up at the Machine"
So, this one is also kind of disturbing. A girl wearing little more than duct tape has her finger sliced open and she makes art with two other women, wearing creepy cloaks and masks. This is the stuff of nightmares.
5. HEALTH – "USA Boys"
Drug use, wanton destruction and sex are what happen in this clip. Matches the song perfectly, in fact. And if you're curious, it doesn't really get naughty until the last five seconds or so. Directed by John Famiglietti.
4. El Guincho – "Bombay"
It begins like "Cosmos," with a look at some planets. Then it's a lot of crazy action and nudity. It's out of control. Completely nuts. Does your mother know you've been watching stuff like this? Directed by Nicolas Mendez.
3. Erykah Badu – "Window Seat"
Erykah deserves some credit for this one, because her public nudity actually got her in some trouble with the law. But the clip for "Window Seat" is still pretty cool. After referencing John F. Kennedy's assassination in the beginning with archival sound clips and a drive through Dallas, Badu takes a cue from Matt and Kim and strips naked.
2. Cee-Lo Green – "No One's Gonna Love You"
One of the more emotionally charged videos of the year, this clip for Cee-Lo Green's cover of Band of Horses' "No One's Gonna Love You" has some adult situations, but more importantly, a storyline that's both sweet and heartbreaking.
1. Grinderman – "Heathen Child"
This, dear readers, is art. Ridiculous, over-the-top, costumed and machine-gun toting art. It really needs to be seen to be believed.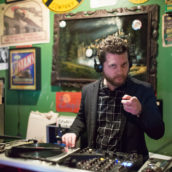 Jeff Terich
Jeff Terich is the founder and editor of Treble. He's been writing about music for 20 years and has been published at American Songwriter, Bandcamp Daily, Reverb, Spin, Stereogum, uDiscoverMusic, VinylMePlease and some others that he's forgetting right now. He's still not tired of it.