Best Song Ever: Part Five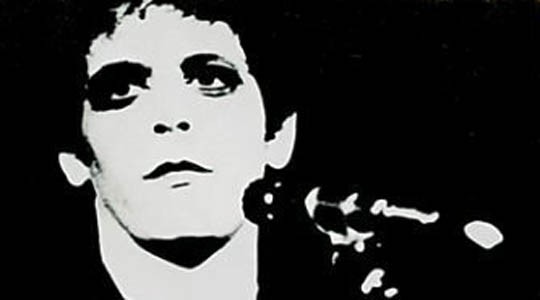 This week: ten more rockin' songs to add to your personal playlist. Absolute essentials, if you must know. And we say you must. Queue them up, why don't ya?
"I Was a Kaleidoscope"
by Death Cab for Cutie
from The Photo Album
It's a bizarre affliction, but I love sad songs that sound deceptively happy. Couple that with the fact I love the way Ben Gibbard crafts his lyrics and you have the reason why "I Was a Kaleidoscope" resonates with me so much. Over a blast of warm guitars like the welcome heat of a radiator and the acoustic guitar tinkling in the background like the static sound of snowfall, Gibbard tells an evocative story of a relationship's last moments. Lines describing the Morse code of chattering teeth or blue-nosed children frolicking in the snow are a joy, but I've always been partial to the eponymous lyrics, "And I was a kaleidoscope / The snow on my lenses distorting the image / Of what was only one of you / And I didn't know which one to address as all your lips moved." — Hubert Vigilla
"Worked Up So Sexual"
by The Faint
from Blank Wave Arcade
A song about strippers is almost never good. Somehow, The Faint made it work, not by singing about how horny these dancers make them, but by turning the song into a conversation between a casual observer and what would appear to be the owner of the joint. First the observer finds himself questioning the establishment and patrons: "Without your needs and your support she'd have a job the same as ours/Nothing daring/Would she miss a job that's sexual?" But vocalist Baechle plays the part of Déjà Vu publicist in the second verse, singing "In every city there are dozens of these clubs where men can go/Some people need a little challenge to their fantasies at home." A lot smarter than "Girls, Girls, Girls," and strangely, more fun, "Worked Up So Sexual" is the kind of song that will turn every listener into a dancing machine. Just go to one of their shows and see what sort of hedonistic behavior goes down. Had electroclash broken just a year or two earlier, this would have been the biggest thing to happen to it. — Jeff Terich
"Judy is a Punk"
by The Ramones
from Ramones
I had heard this song before, but I didn't really "notice" it until I saw the montage of Margot's lost boyfriends in The Royal Tenenbaums. Having never bothered to read the lyrics, I used to think it was about a girl named Judy who gets the cold shoulder from a young punk. Joey, in his glorious incoherency, seemed to be singing "Oh, I don't know why / I turned her down / Oh yeah."
Turns out I misunderstood him. Silly me.
Having educated myself to the actual lyrics, I can now honestly say I have no idea what this song is about. It does, however, announce the second and third verses when they come, and mention joining the Symbianese Liberation Army. Incidentally, Judy is not a punk, as stated in the title, but a runt. None of it seems to make much sense, but it's fast, fun and sort of brainless—and that's the entire reason I love The Ramones in the first place. – Andrew Good
"Deathly"
by Aimee Mann
Famous now for being the song that inspired Paul Thomas Anderson's magnificent Magnolia, "Deathly" is still one of the best of Aimee Mann's career. Aside from Mann's patented brutally honest and conversational lyrics, it boasts what few Mann songs have, a wailing guitar solo reminiscent of 70's and 80's AM radio rock. But rather than taking the track in to the realm of the cheesy, it adds that extra depth of emotion that makes the song one of the most memorable of her repertoire. Everyone who has seen the film is now familiar with its opening lines of Now that I've met you / Would you object to / Never seeing each other again?, but not many are familiar with the even better and somewhat creepy ones, So do me a favor / If I should waver / Be my savior / And get out the gun. Whoa. Aimee Mann's look at the dark side of psuedo relationships has always been disturbing and entertaining, but never like this. – Terrance Terich
"Memories"
by Public Image Ltd.
from Metal Box/ Second Edition
There's something about John Lydon's (or Johnny Rotten, or whatever other name the man feels the need to be capitalizing on this at particular moment) bratty snarl that is so utterly appealing. The inherent anger in his voice (he could be singing about happy things like puppies and flowers and sunny days but it would still seem like he's incredibly pissed off) is what makes "Memories" so good. "Memories" leaves the listener confused because your booty wants to shake but the mind refuses. You're not allowed to dance to songs this angry, are you? Musically the song wanders into Can's free-jazz-for-the-punk-rock-set territory. But fear not my minimalism-loving friends, Keith Levene, one of post-punk's best kept secrets, keeps the track interesting with a warbling guitar line that makes "Memories" that much more harrowing, not to mention the utterly danceable bassline from Jah Wobble (yeah, that's pretty much the best rock pseudonym ever) is so good it hurts. Don't believe me that Johnny Rotten (Lydon, whatever) can make you wanna boogie? Listen to the Rapture's fabulous "House of Jealous Lovers" right after listening to "Memories" and you'll notice that, minus the anger and plus some cowbell, they're pretty much the same song. Fuck the puppies and flowers and sunny days. Let's dance! — Molly Eichel
"23 Minutes in Brussels"
by Luna
from Penthouse
There's a part of me that can't help but admire a musician who's as much of a music geek as I am. I think I can safely say that Luna's Dean Wareham is such a person, having written a song about another band's infamous performance that occurred 17 years prior to this recording. The performance was a Suicide gig in Brussels, opening for Elvis Costello, which resulted in a radical crowd frenzy, a near riotous revolt from the audience against Martin Rev and Alan Vega, a pissed off Elvis Costello and a now legendary bootleg. In a slow but happenin' groove, Luna pays homage to Suicide with this track, one of the catchiest in the group's catalog. Wareham sings "23 Minutes in Brussels/Why don't they just leave us alone?" taking the perspective of the band as they endure the Belgian crowd's hazing. Though a Luna show was never as intense or confrontational as a Suicide gig, this song is evidence of the fan inside the musician. And if you pay close attention, you'll notice that the twenty or so seconds of music at the end of the previous track, leading into this one, is a short electronic rendition of "Cheree." — JT
"Chasing Heather Crazy"
by Guided by Voices
from Isolation Drills
"Chasing Heather Crazy" is a two minute and 53 second work of undeniable power pop catchiness. It's an extended, heartfelt hook, a head nodding good time from Robert Pollard and company. After the song's staid opening, "Chasing Heather Crazy" explodes into something so warm and sugary and skipping and swaying and lovely. Something about Pollard's vocals as he sings the tail end of the chorus, "We'll go down where / All the girls are stumblin' round / All the world is crumblin' down around her," makes you smile so wide you can almost taste your sideburns. It's the song that you want to hear every time you enter a public place just so can be pleasantly surprised; just so you can turn to a stranger, lock arms, and swing around happily and madly. Maybe that person will know the song too and you'll sing along together, triumphantly crooning the title lyrics at the top of your lungs. — HV
"Quicksand"
by David Bowie
from Hunky Dory
An enigmatic song from an enigmatic man. This was the first song that Mr. Bowie played, alone and acoustic, at the beginning of a show I saw in Philadelphia. Referencing Himmler, Garbo, Nietzsche, Crowley and Churchill, the song speaks of the singer's confusion in the world of politics and religion. Rather than trying to figure it out, he dares to say what most people don't have the guts to, which is that the only answers to be found come with death itself. Having gone through religious crises myself, I completely identified with the song and with its message of faith as deceiver. "Quicksand" is my favorite song from Hunky Dory, and that's saying a lot. — TT
"Satellite of Love"
by Lou Reed
from Transformer
Voyeurism, for some reason, makes for great music. "Every Breath You Take" is thoroughly disturbing, yet universally recognized as a great song, for instance. And Lou Reed's 1973 classic "Satellite of Love," though not quite as creepy, makes a hit out of spying on a cheating lover. Though at first the song seems relatively innocent, Reed singing "I love to watch things on TV," the bridge reveals his true intentions: "I've been told/that you've been bold/With Harry, Mark and John." A weird topic for a song, to be sure, though the vocals never get to what happens next. Nonetheless, Reed makes this paranoid scenario into a beautiful song with brilliant piano melodies, handclaps, fingersnaps and a soaring backup vocal thanks to one David Bowie. In fact, if you didn't know what the song was about, the damn thing might just move you to tears. — JT
"Red Right Hand"
By Nick Cave & the Bad Seeds
From Let Love In
There's a reason every movie, trying to depict some kind of creepy tension, uses this kick ass track. It's just downright oogedy-boogedy, to use a technical term. Everything from the X-Files to Hellboy has put this song to images, yet none seem to do the song much justice, other than to point out how good it is. The organ and percussion simply put this song on another level, and by that I off-handedly mean Dante. "He's a ghost, he's a god, he's a man, he's a guru. You're one microscopic cog in his catastrophic plan designed and directed by his red right hand." I can't even get into how good that line is, in terms of vocabulary alone it's off the charts for most pop/rock songs, but to convey pulp menace this well is a gift. Like Sin City in song. — TT
Download at