Best Song Ever: 49(+1) Love Songs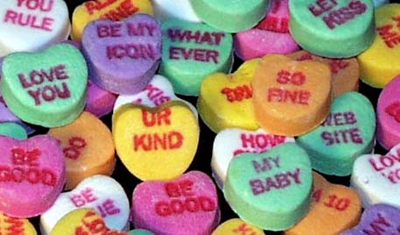 "Love will get you like a case of anthrax
…and that's something that I don't want to catch"
– Gang of Four, "Anthrax"
Jon King's cynical assessment of love, and love as a questionable and uninspiring muse, might be a bit extreme. And Michael Stipe's indictment of love as "another prop to occupy my time" may be a shade on the bitter side. But, like it or not, both of these anti-love songs (for lack of a better description) still address the issue quite directly. Whether we care to admit it, love songs make up a great majority (or at least half) of our favorite songs. For every "Anthrax" or "The One I Love," there's a "Silly Love Songs" or "Lovefool" that we sing along to every time it's on the radio.
The thing about love songs, however, is that they come in all forms. They're not limited to mere sappy, mawkish, doe-eyed love letters. They also come in the form of vicious, seething screeds to exes. And those with a lascivious side must also be familiar with the melodic booty calls that speak to their burning loins. Love and sex go hand in hand, as do love and hate. And thus, the love song becomes much more complex than its critics will ever admit. Stipe himself eventually came to write some straightforward(ish) love songs later on, most notably "At My Most Beautiful" from REM's Up album.
So, for the lovers, the haters, the players and the bitter singles, we offer 49 (+1—it sounds better than 50) love songs in three categories: love songs, songs of heartbreak and down 'n' dirty sex jams…ish. Instead of shopping at Kay Jewelers or burning your ex's stuff this V-Day, put a few of these songs on and enjoy the bloody "holiday" just a little bit more.
Love Songs
"Ring of Fire"
by Johnny Cash
At first, Johnny Cash's classic "Ring of Fire" seems to be a straightforward love song, one both passionate and innocent at once. But when it was later revealed that it was about Johnny and June Carter Cash's affair while they were married to other people, a new aspect of the song was unleashed. Sprightly and upbeat, fun and joyful, it's easy to forget that this is a song of forbidden love. The story behind the song may have changed a few people's perspective on it, but to know Johnny Cash is to know that he didn't always truly walk the line. Funny thing that it is, the sinful affair told in this song was actually the beginning of a very touching lifelong love story. – Jeff Terich
"Once in Love with Amy"
by Various
This has to be my first Valentine's Day Best Song Ever as my darling wife is named Amy. There are only a handful of songs out there that use the name Amy, one of them being by Ryan Adams from his great album, Heartbreaker, but there's no beating the classics. "Once in Love with Amy" is originally from the musical Where's Charley? which premiered on Broadway in 1948. The original version is sung by Ray Bolger (who famously played the Scarecrow in the film version of The Wizard of Oz), but later versions by Frank Sinatra and Sammy Davis, Jr. are more easily found these days. In the Broadway show, the song is meant to be an audience participation sing-along, and in that fashion, my grandfather led everyone in a rousing, if teary, rendition of the Frank Loesser penned tune. — Terrance Terich
"Care of Cell 44"
by The Zombies
from Odessey and Oracle
I am told that there is no more exhilarating experience—at least among the vanilla fragrances forming a life decidedly not extraordinary—than that of your lover returning to you after a prison stay. And, as The Zombies show us, there is, aside from the sexual aspect of such events ("feels so good you're coming home soon"), a pure and simple joy, that reserved normally for children, inherent in the anticipation. To be sure, this is a joy too downy and innocent to be translated in words, a joy which can be communicated only through blissful harmonies, bum-bums and humming. – Tyler Parks
"This Must Be the Place (Naïve Melody)"
by The Talking Heads
from Speaking in Tongues
A while ago I decided that John Lennon's "Oh Yoko" would play at my wedding as the second dance between me and the Missus. After some deliberation, I've figured the first song at the matrimonial boogaloo would have to be "This Must Be the Place (Naïve Melody)." It's quirky, it's kooky and it's hopelessly romantic all at once. It would, at the very least, make for some amusing banter as we swayed to the song's synth and rhythm section – both like cartoon characters capering and jigging down the street. A Talking Heads love song, "This Must Be the Place" perfectly captures the fluttering heartbeat and head in the sky sensation when you're with someone you love. David Byrne delivers several fine lines, the best of which being the sweet yet not saccharine, "Did I find you, or you find me?" And to top it off, he sang the song to a lamp in Stop Making Sense. So now it's just a matter of finding a lovely Riff Randell to wed and convincing her of this cornball idea. Then again, maybe she'll find me. – Hubert Vigilla
"Just What I Needed"
by The Cars
from The Cars
"Just What I Needed," a highlight from the Cars' stellar 1979 eponymous debut, has the distinction of possessing one of the most romantic lines in all of pop music: "I don't mind you comin' here / And wastin' all my time." The romance, and genius, of the lyric lies in its simplicity. Ocasek may be curing cancer for all the listener knows, but he will drop everything to be with the object of his affection. It's not the way she looks or smells, Ocasek sings, just that she's there with him. Ocasek will even tolerate sleep talking because there is nothing else in the world he wants more than just being near her. Her mere prescence drives him crazy and that, my friends, is romance. While many Cars fans my cry sell out after hearing "Just What I Needed" in recent commercials for Circuit City, they may not know that Ric Ocasek decided to license "Just What I Needed" to give royalties to the family of deceased Cars member Ben Orr. If that's not love, I don't know what is. – Molly B. Eichel
"A Minha Menina"
by Os Mutantes
from Os Mutantes
Jorge Ben's "A Minha Menina" is a good song to begin with, but in the hands of Brazilian psychedelic wonder group Os Mutantes, it became an incredible one. Tropicalia rhythms and fuzzed-out electric guitar are the basis for this otherwise simple love song, which, in English, translates to "My Girl" (not to be confused with the Temptations hit). In fact, when you get right down to the nitty gritty within the Portuguese-sung lyrics, the song is mostly about a girl and a boy, sunshine, roses and all the basic stuff that makes for a conventional love song. But, you know, trippy, Brazilian and very, very weird. – JT

"I Would Die 4 U"
by Prince
from Purple Rain
Do not pretend that you don't know the choreographed little dance move to this song. You know that you did this with your friends back in the day. Point to yourself, roll your hand up in a little curlicue up to your head and make a gun with your fingers, quickly hold up your four fingers, then point to your lady. This represents "I Would Die 4 U," one of the danciest yet straightforward 'love' tracks from Prince. A standout song in a standout movie with a standout album full of standout tracks really means something special. Prince says it all about love when he sings, "All I really need is to know that you believe." Besides, how many love songs can you do a little hand-dance to? – TT
"Love Song"
by The Damned
from Machine Gun Etiquette
Yeah, I know—they're taking the piss. They were cheeky, snotty British punks who wore vampire makeup and furry pants and wrote odes to late night cable access monster movie program hosts. But a love song is still a love song, no matter how absurd. And in this case, the more absurd, the better. Dave Vanian's lyrics are purely goofball ("I'll be the rubbish/you'll be the bin") and were meant to poke fun at the needlessly mush-minded and mawkish love songs taking up space on the charts at the time (and to this day, I might add). But it's still good fun, and if you put it on a mix for a girl with a sense of humor and a taste for old school British punk, you might get lucky. Well, maybe not. – JT
"Life in Rain"
by Remy Zero
from Villa Elaine
Sometimes love songs are the simplest things in the world. Early rock and roll ballads have a third grade vocabulary, but they get the point across well. Other songs are not as easy to pin down, but remain beautiful nonetheless. A few years too late, thanks to the film Garden State and its inclusion of their song "Fair," Remy Zero started getting the attention they so richly deserved before their split. From the same album as "Fair" comes "Life in Rain," a stunningly beautiful track that is not so easy to decipher except for its chorus of "It feels good to know you." It could be a love song, or a song about how the singer can be a cold bastard, or something else entirely, but with its gorgeous guitar strains and harmonies, I call it a love song. – TT
"Become One Anything One Time"
by The Promise Ring
from Wood/Water
It took me a while before I actually started to like The Promise Ring. They had all the right elements, but they were assembled oddly. But when they stopped writing sensitive boy rock songs in favor of sensitive boy alt-country songs, it all seemed to work out so much better. Lead singer Davey von Bohlen sings with his earnest lisp, "I'm just happy you stuck around," making for the feel-good chorus of 2002. It could be seen as song to a girlfriend, which it most likely is, or even friends who kept close after all these years. But either way, it's sung without pretense and with a whole lotta love. – JT
"The Blower's Daughter"
by Damien Rice
from O
By all accounts, the inclusion of "The Blower's Daughter" in the film adaptation of the play Closer was a masterstroke. Cribbing slightly from "I Can't Take My Eyes Off of You," Rice smolders as he whispers of his love for the female of the title. I find it amazing that couples pick this as `their song.' Just like R.E.M.'s "The One I Love" this song is completely subverted by one line. In R.E.M.'s it is "a simple prop to occupy my time," whereas in Rice's song it is a barely audible whisper at the end, even more hushed than the rest of the song as he trails off with "I can't take my mind off of you…my mind…my mind…'til I find somebody new." Infatuation is fleeting, and as soon as you meet your next infatuation, all is forgotten. – TT
"Once Around the Block"
by Badly Drawn Boy
from The Hour of the Bewilderbeast
Badly Drawn Boy's first breakthrough hit was, unsurprisingly, a love song. And it's a rather sweet one, too. Boy meets girl; becomes fascinated by her style, comments that her beauty will "last for a while." It's a song of new, exciting and hopelessly nervous love ("Trying to outrun your fear, running to lose/heart on your sleeve and soul/sole in your shoes"), of sweet gestures ("I want to repair your desire/and call it a gift") and of fresh starts ("meet me on the corner/and we'll start again"). It's not a straightforward, cut and dry, "gosh, you're swell" kind of love song. It's a little darker than that. But the best ones often are. Plus it's got a swinging little melody. Can't beat that. – JT
"I Wanna Be Your Boyfriend"
by The Ramones
from The Ramones
Who says punk rock can't have a heart? For all their leather-jacketed and tight jeans tough guy swagger, the Ramones, especially Joey, had the fragile psyches of teenagers just like everyone else. This love song is one of the most innocent ever written, right up there with Buddy Holly and Ricky Nelson in the schmaltzy naïveté category. After all, if girls swoon when Joey sings this, then don't we all have a shot? – TT
"Maybe I'm Amazed"
by Paul McCartney
from McCartney
Taken from Paul's first solo album, "Maybe I'm Amazed" is the former Beatles' best solo song ever. Paul had just married Linda, tensions were high between the members of the Beatles and their significant others, eventually leading to their breakup, and the competing songwriting egos of the band were just too much to rein in. So when Paul goes insular and sings of his love for Linda amidst all the chaos and confusion, and possibly even his fear of real commitment, he hits a bona fide home run. The piano and Paul's growly and energetic chorus are his best since the closing few minutes of "Hey Jude." – TT
"Absolutely Cuckoo"
by The Magnetic Fields
from 69 Love Songs
Insecurity at its most beautiful. Stephen Merritt, the eccentric operatic indie hero wrote 69 Love Songs, both the album's title and an accurate description of the contents of its three discs of pop wonder, so it's difficult to pick just one love song out of that many. As sometimes happens, the first is my favorite. Just Stephen, a ukulele and his quickly sung overlapping lines of trepidation are all one needs to see into the guarded heart of someone who is both sensitive and just out for a good time. Merritt gives away the true answer when he sings, "and if you make a mistake my heart will certainly break." – TT
"As"
by Stevie Wonder
from Songs in the Key of Life
Some singers can lay all their emotions on the table in two minutes. Three to four seems to be the standard for the lovelorn troubadour. Five or six works for more epic-minded balladeers, but Stevie Wonder requires seven minutes to tell his lady just how much she means to him. Simple and sweet at first, Stevie says plainly, "I'll be loving you always," just before a backing chorus expands upon how long that is: "until the rainbow burns the stars out in the sky/until the ocean covers every mountain high." And as one minute progresses into seven, the groove gets deeper, the funk a little harder, and Wonder just jams the fuck out. Repeating the refrain "always" while the backing vocalists keep on rattling off their definition of eternity, "As" becomes what every true love most certainly should be: a gigantic, ecstatic, harmonic celebration. – JT
"Crazy Love"
by Van Morrison
from Moondance
Both this and the cover version by Bryan Ferry are to me true examples of the perfect love song. Bluesy, sweet and just a little over the top like a real love song should be, "Crazy Love" gets it all right in all the right places. It also has one of the best opening lines in love song history, "I can hear her heartbeat for a thousand miles." Morrison was always a ladykiller with songs that overshadowed this one like "Brown Eyed Girl," but for my money, this is his best. – TT
"Elevator Love Letter"
by Stars
from Heart
Love is particularly inspirational when it seems hopeless. You have your rich girl, who's "hard" from a cold, calculated business lifestyle. And then you have your single guy, who's "hard" from seeing the rich girl in her high heels, and there you have a formula for a wacky, disastrous, strangely sexy romantic ode. Amy Millan and Torquil Campbell's tag-team vocals make for clever contrast, yet set a melancholy tone that tugs at the heartstrings, despite the two characters' seemingly doomed pairing. But when Campbell and Millan harmonize "Don't go, say you'll stay/Spend a lazy Sunday in my arms/I won't take anything away," you sort of hope they work things out. – JT
"Sick of Myself"
by Matthew Sweet
from 100% Fun
"Sick of Myself" was the first Matthew Sweet song I'd ever heard and it's still one of the catchiest things ever written. There so much nostalgia built around "Sick of Myself," this studio outtake (until Brendan O'Brien intervened) that became an anthem for my middle school and high school crushes. Come to think of it, it even plays in my head today when I fall for someone. Four muted chords to clear the throat lead into three-chord power pop bliss and bittersweetness. Richard Lloyd's lead guitar flutters throughout with warm and anarchic flourishes as Sweet – hands in pockets, shoulders shrugged, sneakers twisted and stepping on each other – says what needs to be said with the grace of a lovesick teenager scrawling lines in his spiral notebook. I can still see myself slouched over my five-subject Five Star, staring across Mrs. Lawrence's classroom, shooting furtive glances in a gal's direction as I write out the lines:
There's something in your eyes that is keeping my hope alive
But I'm sick of myself when I look at you
Something is beautiful and true
In a world that's ugly and a lie
It's hard to even want to try
And I'm beginning to think, baby you don't know—HV
"I Go Humble"
by Björk
My favorite song from the Icelandic pixie pop princess known as Björk is not on any of her albums. Originally appearing on the single for "Isobel" (with the fantastic cover of the artist kissing herself on the cheek), "I Go Humble" immediately captured my heart. Again proving that simplicity is the best method for a pure love song, the spare lyrics are interspersed with charming `hoo-hoo's' that send shivers up my spine. "I go humble / I adore you / Only before you I go humble." How could this not make any man weak in the knees? – TT
"Thieves Like Us"
by New Order
from Substance
Quintessentially '80s, conjuring up images of Molly Ringwald, and containing some of the cheesiest lines in pop music ("Love is the air that supports the eagle…"), "Thieves Like Us" certainly belongs to a specific place and time. And yet, it remains a poignant statement, particularly when Bernard Sumner sings "It's the only thing worth living for," after confessing that he's lived his life on alcohol and pills following that badass bass slide. That it isn't directed to a specific person, however, is what makes it so universal. It's called love, dammit, and it belongs to every one of us. Love, love, love love love… – JT
Heartbreak Songs
"No Distance Left to Run"
by Blur
from 13
The quintessential break-up song of the Britpop era tells the story of the break-up of the quintessential Britpop couple, Blur's Damon Albarn and Elastica's Justine Frischmann. "No Distance Left to Run" is so heartbreakingly sad because Albarn sounds as if he has truly given up on everything: Frischmann, life, the prospect of being happy ever again. There's no hope in this song, no light at the end of the tunnel. It is as if Albarn has not only given up on the relationship in question, but all relationships in general. Why even try when it's just going to end badly? "It's over," the song starts, as if to tell the listener explicitly what the rest of the lyrics make abundantly clear. Albarn sounds emotionally exhausted throughout the song as if he truly can't take being conscious anymore, making one wonder, if he had more distance left to run, would he even want to run it? – ME
"You Made Me Feel"
by Trash Can Sinatras
from Cake
Alcohol, the respite of the brokenhearted. No other song captures the naïveté of youth, innocence and inexperience like "You Made Me Feel." From the Sinatras' first wit-filled album, Cake, the song employs the same clever wordplay found throughout. "So typical, a battle of wits and I've come half prepared, I know all the ropes, but haven't a hope of pulling you back to me," is just one example. Francis Reader sings of the girl who brought out his inner child, only to break his heart, leaving him to sail "this ship from barstool to borstal and back." (borstal being a home for miscreant youth in England) Oddly enough, my first ever real girlfriend put this on a mixtape for me, months later breaking my heart. Luckily, the song was more than enough comfort. – TT
"Lost Cause"
by Beck
from Sea Change
Remember that short period where Beck got all depressed and wrote an album about his breakup with his longtime girlfriend and made some of the most beautiful music of his career? Yeah, I kinda miss those days. Some may argue that his best moves were always the danciest and the most absurd, but when Hansen's raw, vulnerable emotions were finally exposed, we heard a completely different side of Beck, one that may never surface again, but had us crying along temporarily. His resignation comes through his soft, exhausted baritone as he pleas, "I'm tired of fighting…fighting for a lost cause." And it's clear that there's absolutely no hope left. Maybe it's better off that he's happier now, but forgive me if I still wish there was at least one song this achingly gorgeous on Guero. — JT
"Soma"
by The Smashing Pumpkins
from Siamese Dream
Ahhh, high schoolers no longer in love. How we were given to Wagnerian swells of emotion with the first kiss, the first relationship and the first royal dumping of our young lives. At least there was a cassette copy of Siamese Dream and its cathartic Side A closer, "Soma." What heartbroken teenager fresh from the painful revelation of being boring or a cuckold couldn't relate to lines like "I'm all by myself / As I've always felt" or "Until the bitter end of the world / When god sleeps in bliss"? When Billy Corgan isn't tapping into the writing words of the loveless and abandoned mind, he plays a solo that's the equivalent of an unbridled bawl. I can recall plugging in and playing along with this song's solo, my fingers never quite accurate or fast enough, but the gist of the sobbing guitar was there. And while I don't really give in to the same overwhelming wash that "Soma" had over me in high school, I can still remember feeling how I did, my fingers furious on the frets, all the while burying my mood under heavy practice amp distortion and trying not to think about how bad I felt.- HV
"I Don't Want to Get Over You"
by The Magnetic Fields
from 69 Love Songs
It is common knowledge that the subject matter of most love songs is not love, but existential dread. The two are entwined, the union nourished by the capricious palpitations of the human heart. And no song more overtly and comically illustrates this than "I Don't Want to Get Over You." There is no better way to let someone know that you love him/her than to tell him/her that the only thing that can fill the void formed by his/her absence, is a regression to a sort of juvenile existentialism, as embodied by the color black, clove cigarettes, vermouth and Camus. – TP
"Song for the Dumped"
by Ben Folds Five
from Whatever and Ever Amen
The choice of this song may have seemed like shooting fish in a barrel, but there's a reason it's as good as it is. "Song for the Dumped" harnesses the pure anger and bitterness of a breakup in its raw essence. After all the pain and the crying, all a guy wants is his money and his black tee shirt back. How Zen. – TT
"Landslide Baby"
by Beulah
from Yoko
When I first heard this song, what struck me immediately was how mighty and triumphant the opening riff is, with its clanging bell and big rock riffs. Immediately thereafter, I was taken aback by how scathing and bitter Miles Kurosky's lyrics are. Told from the words of "Baby," it's a one-sided conversation song, with the second person basically being torn apart by such vicious and brutally honest words. It all comes to a pointed and extremely catchy climax with the chorus of "You won't try/because you're scared and you're weak and you don't give a fuck about us…and I do believe that you hate yourself." A word of advice to those reading: don't let this happen to you. – JT
"Strings That Tie to You"
by Jon Brion
from Eternal Sunshine of the Spotless Mind
I remember reading somewhere that Jon Brion is great at writing love songs for neurotic people. The author of that observation got it partially right; Brion also writes great break-up songs for neurotic people. "Strings That Tie to You" is like the beautiful but sad companion to the title track from his album Meaningless; both deal with memories between people in love and how much emotional investment we place in stupid places and silly things. We've all probably been in the shoes of the song's narrator: Trying to get over your last botched attempt at romance, but every God-forsaken reminder of that failed relationship is just around the corner. You swear you see her in a shop, at a museum, assembling a puzzle in an aquarium. You bite your lip when you see her favorite books, every time you have a chai tea latte, any time someone brings up Hollywood films of the pre-code era. Maybe the narrator will succeed in untying the knots that keep him tethered to his ex, that remind him of her tea-stained teeth and her hair like tattered red yarn; and perhaps she'll fade into the distance like a old dream, a fiction fading fast, or a portrait, once distinct, dipped in turpentine. And maybe this song will help. – HV
"Lover, You Should Have Come Over"
by Jeff Buckley
from Grace
It was a toss up between this one and "Last Goodbye." Both are genius songs of heartbreak on a heartbreaking and bittersweet album. I finally chose "Lover" because of Buckley's self-realization of being "too young to hold on, too old to break free and run." Where "Last Goodbye" is the breakup, "Lover" is the regret afterwards. He misses her terribly, thinking of her and wanting to have it all back. The former ends, "It's over," and in the latter Buckley repeats, "It's never over." Never in song have I heard so much longing, sung so sweetly. – TT
"Hopeless"
by The Wrens
from The Meadowlands
One thing you almost never hear in break-up songs is a sense of pride. There's anger, there's sadness, there's complete and utter devastation. But an actual sense of self-worth? Sure, why not? Even when you've been through the worst, you can pick yourself back up, at least long enough to shout a resounding "fuck you." And Kevin Whelan does just that (though not literally) on this epic, tense, gradual torrent of "no thank yous" to an ex-lover who comes calling again. Whelan directs the subject of the song to "find someone who wants you/someone to pray to" only to cap it off by saying "it just won't ever be me again." And it all comes crashing down at the end, as the song gets its loudest, Whelan removing every filter: "Go thank yourself for nothing/it's really all you're good for/and ever year you wasted/and every half-assed offer." – JT
"Tiny Vessels"
by Death Cab for Cutie
from Transatlanticism
The song that Ben Gibbard says makes him out to be an asshole is also one of the best studies of infidelity ever written. The narrator has an affair with "a girl with light brown streaks," later regretting it, calling it vile and cheap, and also saying in three separate verses, "she was beautiful, but she didn't mean a thing to me," the standard response of the cheater, but somehow you believe that this one means it. The song reaches another level entirely when Chris Walla's guitars and Nick Harmer's bass get louder and crunchier when Gibbard sings about the title, "Tiny vessels oozed into your neck and formed the bruises that you said you didn't want to fade, but they did and so did I that day." – TT
"Your Dictionary"
by XTC
from Apple Venus, Vol. 1
One of the bitterest songs of divorce ever penned was the result of the singer's own marriage dissolving. Andy Partridge, the stage shy leader of XTC, tempers his hate with his usual wit and flair, even tying in a secondary reference to the religious doubt of "Dear God." Partridge spells out words of spite, giving them opposite definitions in the mind of his ex. (i.e. "H-A-T-E, is that how you spell love in your dictionary") Not that he is any stranger to doubt, but he even goes so far as to express his doubt over the chasteness of Mary, "I'm not so sure that Joey wed a virgin Mary." The normally sunny pop of XTC is turned on its head with this venomous tirade, but it still retains a harmonious close, possibly in hopes of better things to come along.-TT
"I Already Met You"
by Superfine
Unless you're a fan of Buffy the Vampire Slayer, chances are you've never heard this song, which is a cryin' shame because it's such a great angry song about ending up with the same 'type' of companion over and over again. Haven't we all, at some point or another, dated people that just weren't right for us, hurting us in the same way one after another? As the singer tells a story of a first date he suddenly comes to the realization that everything his companion says seems somehow familiar leading to the aggressive chorus, "I already met you, You're like my last girlfriend, the ex and the one I had before that." –TT
"A Quarter To Three"
by Sleater-Kinney
from The Hot Rock
Sleater-Kinney, typically known for rocking the fuck out, two guitar and no bass style, were quite adept at penning lovely, and often melancholy, slower tunes. After the recent fervor over the abrasive The Woods, it's easy to forget this. One such gem, in particular, is "A Quarter to Three," the song that closes their fourth album, The Hot Rock. With brilliantly graceful interwoven guitar leads, the song is melodically pristine, while Corin Tucker's lyrics reveal a melancholy reservation ("It's one AM and you haven't called/it must be four wherever you are"). Tucker's imagery of sitting up alone at home, waiting for someone who's never going to call is vivid, but a little depressing, and much like The Empire Strikes Back, The Hot Rock ends on a major down note. – JT
"Nothing Better" by the Postal Service / "Ciao!" by Lush
from Give Up / Lovelife
Two of the best `he said/she said' songs of the modern era come from different sides of the Atlantic. "Ciao!" features Miki Berenyi of Lush trading barbs with Jarvis Cocker of Pulp, trying to convince each other and themselves that they're better off after the breakup. Berenyi's gorgeously accented vocals mixed with Cocker's completely laid-back style make for an interesting and potent combination. "Nothing Better" has Gibbard playing the cuckolded fool who can't let go of the relationship, not only thinking it can be saved, but also throwing in a hopeless proposal! Jen Wood breaks in and sets him straight to no avail, leading to the possibility of Gibbard as stalker.-TT
"Selfless, Cold and Composed"
by Ben Folds Five
from Whatever and Ever Amen
Many of Ben Folds Five's tracks were snarky, some were touching, all of them were catchy, but only a few come close to the bitterness and depression heard in the scathing breakup song, "Selfless, Cold and Composed." Though "Julianne" and "Song For the Dumped" found similar situations humorous, this six-minute centerpiece to the trio's Whatever and Ever Amen album bears nary a chuckle. The two characters in the song are civil, even "polite," if only for the sake of suppressing all the anger and bitterness toward each other. Folds sings with a desperation in the bridge that finds him demanding any sort of reaction from his ex, if only to know that she still feels something: "Come on baby, now throw me a right to the chin/just one sign that could show me that you give a shit." It's sad because of the absence of feeling; when you stop caring, you know it's finally over. — JT
Sex Songs
"Step Into My Office, Baby"
by Belle and Sebastian
from Dear Catastrophe Waitress
Oh, those cheeky Scots! Though Belle and Sebastian has never shied away from a blush worthy lyric, their inspired take on office romance is a whole new height of witty double-entendres. The object of affection is a particularly sexy boss lady and her interpersonal chats with staff members is particularly hilarious: "I wanna give you the job" (Hey-oh!!!), "A chance for overtime/say my place at nine?" (Zing!). But Stuart Murdoch's singing temp has some particularly choice words of his own:
She gave me some dictation
but my strength is in administration
I took down all she said
I even took down her little red dress
This sort of professional behavior would never fly with the Department of Labor, but for a bit of bouncy, naughty British pop, it's fine fodder for a hit. — JT
"Poster of a Girl"
by Metric
from Live It Out
Consisting of only two verses, "Poster of a Girl" is a perfect study of the need for physical pleasure. The first verse has singer Emily Haines recognizing her need for companionship, just so she can feel like a "Portrait of a lady, poster of a girl." In the second, things flip and she remarks on the men she tries to avoid, those beginners who she then begins to empathize with, because after all, all they want is a chance to be with a "poster of a girl." – TT
"Venus in Furs"
by The Velvet Underground
from Velvet Underground & Nico
The Best Song to Make it With Your Old Lady To (sub-category): I'm not quite sure if I have ever done this, but if I did I imagine it was somewhat frightening and violent, as all good sex is, and intensified by the sense of breaking a taboo. The Velvets knew the hippies had it all wrong with that free love shit—the interesting thing about sex is that it can evoke that liberating feeling of transgressing an outwardly imposed borderline. Take that away and it all seems a little silly. – TP
"La La Love You"
by The Pixies
from Doolittle
Admittedly, when I heard "La La Love You" for the first time, I thought it was just another sincere little love song, one that happened mentioned rounding the bases. After listening to it on repeat for some time and sensing a certain wink, wink and nudge, nudge in the lyrics, the song's true intentions became apparent. "La La Love You" isn't really a love song. It's a song about wooing and cooing and coaxing someone into putting out. It's got a slinky and sultry guitar lick and bassline over which drummer David Lovering provides a few lounge-singer "I love yous." It also has the requisite wolf whistles to remind listeners of salivating construction workers steaming from their hard hats; or perhaps that zoot suit-wearing wolf that goes gaga over the Juno-esque broads that populate Tex Avery's cartoons. But as the great short story curmudgeon Harlan Ellison once said, "Love ain't nothing but sex misspelled." At least he's right in this case. Snap, snap, grin, grin, wink, wink, nudge, nudge, say no more.-HV
"Nick the Stripper"
by The Birthday Party
from Prayers on Fire
If our perspective of sexuality is formed, in part, by music, then everyone at Treble must be a little depraved. I mean look at this rogue's gallery! What a bunch of filthy buggers! Thankfully, that's not so much the case, which makes me a little more comfortable about my adoration of The Birthday Party's "Nick the Stripper." Sex, in this song, is repulsive. It's disgusting. It's absolutely foul, and I love it. Nick Cave, possibly singing about himself (even creepier) refers to the stripper as a "fat little insect" and "hideous to the eye" over an abrasive, slinky striptease bassline courtesy of Tracy Pew. One can only picture a Fellini-esque grotesque slithering across a dingy stage with awkward, misshapen anatomy sloshing about. That's an image that can't vacate your mind soon enough. – JT
"Gett Off" / "Sexy M.F"
by Prince
from Diamonds and Pearls/The `symbol' album
Practically half of Prince's songs could end up on this list, but two of his funkiest / funniest are from his later albums, Diamonds and Pearls and that `symbol' album. "Gett Off" which boasts of "23 positions and a one-night stand" is pure Prince braggadocio. He proceeds to seduce his prey, not with sweetness but with pure sexuality. He wants to strip her down like he was "stripping a Peter Paul's Almond Joy," and he tells her to "move that big ass round this way so [he] can work on that zipper." No confusion there. "Sexy M.F.," even with the title, is tamer by most standards, which is until he speaks of "being harder than a man can get." Both are definitely club party favorites and show that even as he ages, Prince can still work his mojo. – TT
"Girl O'Clock"
by The Dismemberment Plan
from Emergency & I
Sex, aside from being one of the most incredible things we can experience in our lifetimes, can also be extremely disturbing…even creepy. The Dismemberment Plan's Travis Morrison allows his libidinous narrative to escalate into a jittery, stuttering delivery that's as amusing as it is bordering on insane. "If I don't have s-s-s-s-sex by the end of the week I'm g-g-g-g-going to diiiiiie," he says during one verse, "If I don't feel warm b-b-b-b-breath on the n-n-n-nape of my n-n-n-neck or feel a nice post-coital sigh" later in that same verse. That the band's high speed Brainiac in outer space backing is every bit as nervous and off-kilter only enhances the anxious mood. And even when the initial shock has worn off, it makes for good dance music, though I doubt anyone could successfully have sex to this song. — JT
"Portions for Foxes"
by Rilo Kiley
from More Adventurous
Sometimes sex is just a remedy for loneliness as is the case in Rilo Kiley's super-infectious "Portions for Foxes." Singer / narrator Jenny Lewis recognizes the fact that she is "bad news" and only uses her companion as a cure for that loneliness. "You're just damage control for a walking corpse like me, like you." When her companion `cheats' she is full of understanding, "I don't blame you, I do the same thing, I get lonely too." Still, she can't bring herself to leave him, no matter how dysfunctional the relationship. Sexiest moment in the song? When Lewis pants after the description of cheating. – TT
"Good Weekend"
by Art Brut
from Bang Bang Rock and Roll
Ahhh, the wonders of new lust, how they make an amusing muse. Eddie Argos just can't help himself, though. He's got himself a brand new girlfriend and can't get over the excitement. He wants more than just to hold her. He wants to bend her and fold her. He's got the contraception, but he hasn't got the knack yet. But hey, it's cool, because, in his words: "I've seen her naked…twice!" I'd consider that something to shout about, which Argos most certainly does. Then, he shouts again, "Go, guitar, go" during that righteously sloppy guitar solo. And then, just as the absurdity turns to a big, rocking climax, he sweetly admits at the song's abrupt close, "I think…that…I love her." – JT
"Magic Man"
by Heart
from Dreamboat Annie
With rumors that this song is about everything from former boyfriends to Charles Manson, sometimes the easiest surface translation is the best. Ann Wilson sings about being seduced by a beautiful man who works his wiles on her. Despite protestations from her mother she continues to be with this `magic man' who then turn her to "woman from a child." If ever there were a great song about losing one's virginity, this is it. (After all, I do subscribe to Tarantino's views of Madonna's "Like a Virgin" from his film Reservoir Dogs) – TT
"Erotic City"
by Prince
A b-side of the Purple Rain era, "Erotic City" is unquestionably the best of Prince's non-album songs, and maybe the best b-side…ever? That's up for debate, as is the level of "dirty" that this song achieves. Listeners may always disagree as to whether or not the lyrics say "funk so pretty…" or "fuck so pretty," but we all know the intention of the Purple One's words, either way. It's one of the few instances I know of in which the ambiguousness allows it radio airplay freedom…sort of. No matter how you hear the song, though, it's still one of Prince's best "dirty" songs, and no doubt one of the funkiest and most accessible. – JT