Cult Leader : Nothing For Us Here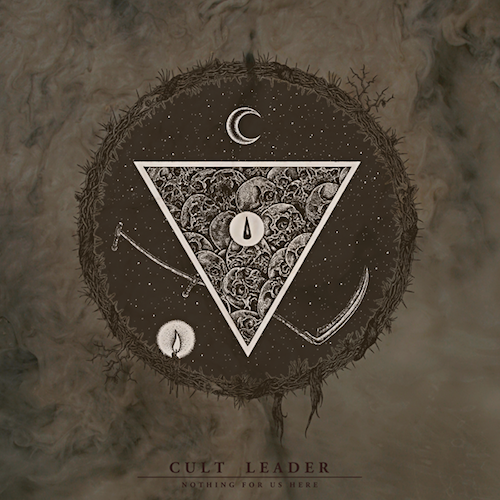 Buy at iTunes | Buy at Insound (vinyl)
Clocking in under 18 minutes, Nothing For Us Here feels like more of a debut EP than a full length — which is fitting for a band as green as Salt Lake City's Cult Leader. Following the break-up of metal/grindcore act Gaza, three quarters of that band's members reformed under a slightly altered line up. For the new act, drummer Casey Hansen and guitarist Michael Mason held down their stations while Anthony Lucero left behind bass in favor of lead vocal duties, and newcomer Sam Richards stepped in to fill in the low end.
While most of Gaza's discography offered reliably grimy metalcore, on Nothing For Us Here Cult Leader remain in the realm of blackened grindcore but offer a little more variety in terms of composition. "God's Lonely Children" is a chaotic, disorientingly lo-fi intro that feels a bit more like an interlude, but sets the stage for the four short metal ragers that follow. From there, the quartet launches into the swift, progressive romp of "Flightless Birds," followed by the churning "Mongrel" — by far the most doom-metal-oriented song on the album — which has Lucero shouting "I am a loyal dog/ My name is sorrow/ A name they gave me/ When I took their joy away/ With my first breath." The next two songs follow suit with "The Indoctrinators Deathbed" and "Skin Crawler" two thrash-heavy tunes with a straightforward vibe but lots of technical metal goodness oozing through the cracks.
Then, just when you think you have Cult Leader's number, six-minute closer "Driftwood" is a circular, jarring change of pace; taking a more doom-oriented approach to the dark metal-fusion that Deathwish labelmates Deafheaven tackled so well on last year's Sunbather. Right out of the gate, the song carries a chilling, gloomy vibe accented by slow burn, indie-rock guitar solos. But, unlike the shoegaze/emo-leaning feel of Sunbather, "Driftwood" taps into more subtle influences, floating in a melancholy space reminiscent of '90s slowcore. Even the drums drastically change tones in "Driftwood," for the first time on the album. Instead of straight thrashing, there's an equally heavy but more casual aggression, and the space that rhythm creates gives the song a lot more room to breathe than the rest of the record. And, working together, these more reflective components do a great job of supporting Lucero's throaty, guttural vocals. The group certainly shows talent throughout the album, but "Driftwood" reveals the most potential, remaining fierce while presenting a more dynamic creative edge.
With their fresh lineup and sound, Cult Leader still need some time to sort out what direction is going to work best for them, but Nothing For Us Here is a great start.
Similar Albums:


Indian – From All Purity


Converge – All We Love We Leave Behind


All Pigs Must Die – Nothing Violates This Nature