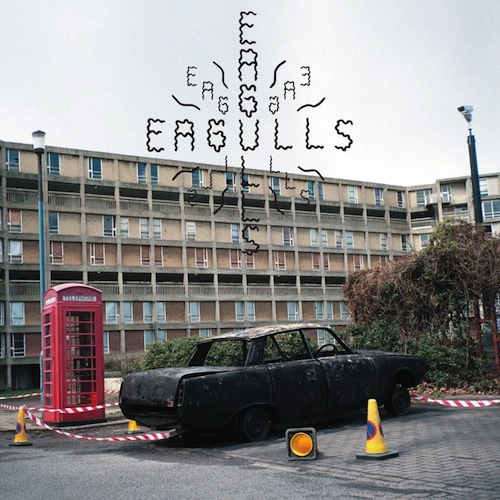 Eagulls' reputation precedes them. The quintet, notorious for a facetious open letter that berated "beach bands" and other incredibly specific rock clichés, established this reputation through their impish behavior on and off the stage, with press often zeroing in on the latter. It's a blessing and a curse, but ultimately the free publicity has detracted from the band's blistering sound. Let it be known, however, that these punks can rock, and their searing 2012 EP can certainly attest to that.
The self-titled debut Eagulls album is more post-punk than punk, though, with the band's affinity towards the sonic purveyors of a particular late '70s sound becoming more and more pronounced. There's a heavy influence from the likes of Joy Division, Swell Maps and Wire here, most notably Ian Curtis & Co., whose opulence of space and reverb is emulated throughout Eagulls. The result is a dense and eerie atmosphere akin to a less gothic, more abrasive Unknown Pleasures, capturing the malaise of the band's live shows.
Immersing themselves in the pastiches of these seminal British acts has allowed Eagulls to burgeon into exceptional songsmiths. The lot of these songs follows a tried-and-true formula that centers on rich and bleating instrumentation. Tom Kelly's bass looms over the verses while the tag team of Mark Goldsworthy and Liam Matthews lather each and every chorus with scathing guitars.
In the midst of it all is frontman George Mitchell, wailing like a lost soul who has had enough of the despondency of his twenty-something life. It's quite odd; for all the discordant riffs and guttural sounds on Eagulls, it's really Mitchell's paranoid screams, comparable to the late Jay Reatard's, that grab you by the throat. More often than not, his howls are incomprehensible, but on the off chance that they're audible, they are riddled with trepidation. On the closer "Soulless Youth," he contemptfully croons, "I never feel fine / They're soulless inside / The soulless youth," revealing his misgivings with — presumably — his own generation.
Life after college hasn't been too kind to Eagulls emotionally — or so it would sound — but musically, it's the gift that keeps on giving. Their sound has matured, and subsequently become darker, but they've maintained the jaunty idiosyncrasies and acerbic guitars of their early releases. Still, Eagulls probably won't propel the band to unfathomable heights, but it does cement their spot as one of the more auspicious punk acts from across the pond right now.
Similar Albums:


Metz – Metz


Joy Division – Unknown Pleasures


Wire – Chairs Missing