Garth Brooks and Country's Explosion into the Mainstream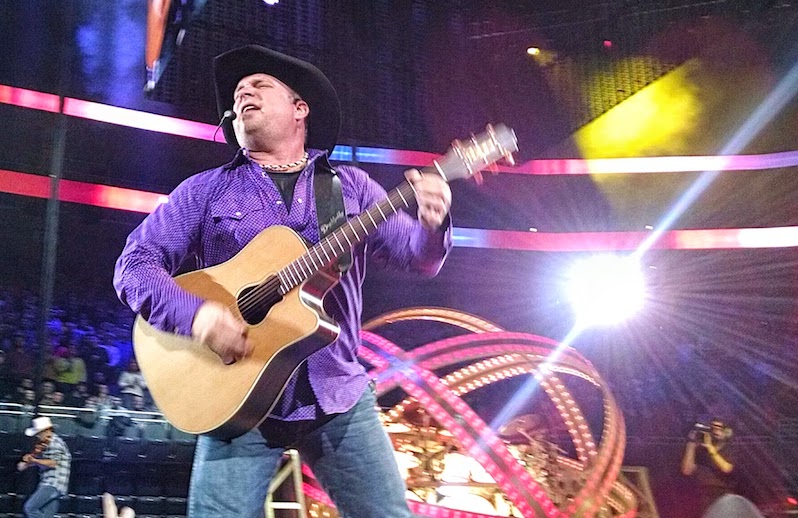 fatherspoon/Creative Commons
My first memory is of a concrete basement floor rising up to meet my face. I'm falling upon from a story above, having wandered my oblivious two-year-old self above an open trapdoor in a Manhattan supermarket. Unsurprisingly, that's not one of the early life events that my mother enjoys recounting. She prefers to reminisce on my three-year-old self attempting to sing "Friends in Low Places" by Garth Brooks, while, for no clear reason, standing behind one of the speakers connected to the hi-fi in our living room.
I don't remember this. I also don't remember speaking my first words, but have been told they were "tape," and then "audio," and then "audio tape." This makes sense, because my parents spent most of their lives selling audio equipment. That may also explain how my mom got deeply into country during the '90s: If you're trying to show off the bells and whistles of a mid- to high-end stereo system, you want an album with a lot of bells and whistles, and there isn't a single Garth Brooks record that lacks for those. Even an early, stripped-down-by-his-standards album like No Fences fills a room immediately when you turn that sucker on, and not just because of the kinda-corny thunder sound effects from Allen Reynolds' production that kick off "The Thunder Rolls." (An absolutely masterful motherfucker of a song, by the way.)
To be clear, I don't know definitively if my parents managed to sell any amps and preamps by leveraging "The Thunder Rolls" or "Friends in Low Places." What I do know is that as much as I'd like to say that the 90s were defined by grunge, or that decade's many epochal rappers from the coasts and the south, or, say, Nine Inch Nails (my personal favorite band, for anyone who doesn't know me), they were also defined by the atom-bomb explosion of country into the mainstream of popular music. This process began in the mid-'80s, with George Strait, Randy Travis, Reba McEntire, Dwight Yoakam, Alabama, The Judds and others, but Garth Brooks and Shania Twain sent it into the stratosphere, for both better and worse.
Looking at country music with any seriousness is like pulling on a thread. Once you acknowledge its dominance in an era like the '90s and look at nearly any other notable period of American music, you soon find that it is something of an ur-text genre, just as jazz and the blues are. It is inextricably bound to the national character of the United States and represents the best and the worst of us in equal measure.
I don't aim in this miniseries to tell the soup-to-nuts history of the genre, because others could do (or already have done) a far better job than me of that. But looking at how country music has haunted, fascinated, aggravated and shaped me, I've learned more about how we learn about, hear, absorb and are affected by all music than I ever gleaned from, well, any attempt at analyzing more … how should I put it … reputable music? I don't know what the right word is. I suppose I might find out.
***
Do I think Garth Brooks intended to start a landslide when he stepped onstage at Nashville's Bluebird Cafe in late December 1987? No. The poor son of a bitch couldn't get picked up by, like, eight labels. And I'm guessing whatever he did that night to attract Lynn Shults' attention (a Capitol Nashville exec who'd supposedly rejected him earlier that same day) in no way involved the batshit arena-rock circus-act vibes that would become integral to his live shows and are also present on all of his records after No Fences.
It's generally said that he played "If Tomorrow Never Comes" that night, and I can't find anything to contradict this. (Even the venerable setlist.fm doesn't go back that far, but it does reveal some interesting choices of his early repertoire, including covers of "The Race is On" and "To All the Girls I've Loved Before.") "Tomorrow" belongs to the most sentimental part of the Garth Brooks musical solar system, depicting a guy hoping that, if his wife dies in her sleep, she knows how much he loved her. But it's a legit country song, and if I'm being honest with myself, there's not a ton of difference in content between "Tomorrow" and, say, "He Stopped Loving Her Today"; the difference is in George Jones being George fucking Jones. (Brooks would be the first to tell you he does not hold a candle to Jones.)
The point being, Brooks sold himself on his sincerity more than schtick. The vast majority of his records are also predicated in sincerity—and frankly, so is his live show, absurd stunts, banter and all. You may think his strain of sincerity is corny, because it often is. I mean look at the motherfucker! He's a big ol' corny Oklahoman who still wears a goatee in 2021 and has often worn an absurdly groomed flavor-saver! The hat choices have always been terrible! But there is nothing of the cynic about Brooks or his music, and little of the clown.
When Brooks's shit is good, especially on his first two records (Fences and the eponymous debut album) it's because the songs are good. Everything else (the garish clothes, dorky glee and excessive production) is just garnish. "Friends in Low Places" is as perfect a "fuck-you-for-thinking-you're-better-than-me" anthem as almost anything that Johnny Paycheck or Merle Haggard ever cut, even if it stops well short of those guys' toughness levels. "Victim of the Game" and "Wild Horses" are in well-worn cowboy's-lament territory, but executed at a high level. And then there's the aforementioned "Thunder Rolls," my personal favorite song of his and certainly his richest narrative, even in truncated album form. (You need to go to the live records to find the murderous third verse.) Moving on to the self-titled, "Much Too Young (To Feel This Damn Old)" feels especially relatable to this elder millennial after three recessions. "Cowboy Bill" plays alternately as a reminiscence and a skewed look at a dying version of American masculinity, at certain points showing the precise detail you expect in a Tom T. Hall song (or maybe Willie Nelson in concept-album mode). "The Dance" practices the same sentimental act as "Tomorrow" but does a better version of it, largely because Tony Arata is more adept as a songwriter than Brooks.
The albums following those two that I've heard all have their moments, particularly The Chase (which also features Brooks wearing a marvelously atrocious shirt) and In Pieces. Sevens was the last one I heard much of growing up, because my mom's Nashville country phase sort of petered out after that, and it coincided with me actually trying to find music for myself. (And thank God for that, man; my mom was so deep in it she went to like Y107 conventions and shit, and you only know how utterly bizarre those things are once you go there. Comic and horror cons look slightly more normal by comparison. I liked Brooks back then, obviously, along with some of his contemporaries…but not that much.) The point being I wasn't paying attention to the Chris Gaines thing when it happened (nor do I plan to now), and after a 2001 album called Scarecrow that I barely remember hearing about, he didn't make new records that resonated outside of his established fanbase for almost a decade and a half. He exists in a universe unto himself now, where you can only stream or buy his music through Amazon (and before that, Walmart), but his records still crack Top 10 on the country album charts and still sells a gazillion tickets every time he tours. But you have to go looking to find his new shit, if it interests you, because he's not even coming close to crossing over. (To put it mildly, his newest stuff is a mixed bag, but I'd take it over Florida Georgia Line any day of the week.) Even an artist as big as he was can't stop the complete fracturing of the monoculture that's occurred in American pop music and affects the exposure of pretty much everyone except Beyoncé.
***
The closest antecedent to Garth Brooks in terms of crossover appeal, commitment to making country music for the masses and adoration of theatrics, is Buck Owens. Had Owens been at the peak of his fame in the '90s, one could pretty easily imagine him using wild pyrotechnics and stage setups. If Garth had been around in the late '60s, it's not hard to imagine him becoming the star of Hee-Haw. They both made pretty straightforward country, with Brooks more indebted to the Texas honky-tonk style and Owens having been a key figure of the rowdier (but still honky-tonk) Bakersfield sound.
Owens is, of course, on a higher level than Brooks. His magnetism was such that even the occasional lesser-than tracks on his albums rarely feel like filler, whereas Brooks has plenty of filler. Brooks seems like a guy who's always (at least in terms of sound) overly concerned with what the fans will think, and thus has never pushed back against the production of his albums becoming steadily more clean-gated and slick. No albums of his, except Fences and maybe The Chase, take real chances. By contrast, Owens was so single-mindedly focused on his music sounding exactly how he wanted it to that he worked tirelessly to consolidate power, as a hitmaking artist and publisher, and eventually didn't have to listen to the bean-counting Nashville execs. Not that they would've said much: Albums like I Don't Care and I've Got a Tiger By the Tail are classics because Capitol Nashville knew to shut the fuck up and let him, Don Rich and the Buckaroos do their thing, because they knew his sound moved fucking units. Even records that, in their way, might register as Typical Country Artist Moves, namely the gospel of Dust on Mother's Bible and the bluegrass throwdown of Ruby, are works of excellence only Owens and co. could make. (We may be hearing about Dust in a future installment, so don't forget about it. As for Ruby, it just rules, and you don't have to be a bluegrass purist to dig it.)
It is thus bitterly ironic that Garth Brooks instantly became Nashville's mainstream lodestar in the '90s. Owens was wildly popular among country, pop and rock fans while being definitively country, not unlike Brooks. But he was not accepted by the Nashville establishment until long after his career seemed safely deceased, and certainly not publicly honored by them. The Country Music Association—specifically, the Nashville Powers That Be for whom it is proxy—deeply resented that Owens became a superstar without having to suffer their bullshit. Without him, there would've never been even the possibility of a Brooks. Then, when Garth came along, they got the perfect standard-bearer—a guy who, once established, rarely made risky songs or threatened to buck the system.
***
Back in 1996, George Jones released I Lived to Tell it All, a companion album to his autobiography of the same name. (The record is solid late-period Jones, if not anywhere near the heights of introspection he'd reach three years later on Cold Hard Truth.) One of the highlights—or, depending on your perspective, most infamous tunes—is "Billy B. Bad," a blatant mockery of '90s male country stars: "He sounds like everybody on the radio, he's building up his biceps for his video/The people at the label said 'We like to start em young/We know you're 23 but we'll say you're 21.'/They played him some Strait, they played him some Jones/Now he's got that country music way down in his bones." By the third verse, "Billy B." is considered an oldies act as a 29-year-old.
The core critique of the song is about unoriginality and insincerity, and thus it could be levied at many of that era's country neo-traditionalists, too—Jackson, Tritt, Brooks & Dunn, Tracy Lawrence, etc. Jones is directing the most ire toward people like Billy Ray Cyrus, Kenny Chesney, Tim McGraw and Toby Keith, not directly by name in the song or his autobiography, but the verses (and easily found established facts about who those artists were then and are now) make it clear. In the book itself, he blames label heads and radio barons for expecting "another Garth, Reba or Alan" to walk in the door every day, an unbroken chain of clones. Like Owens, who famously took out a magazine ad to pledge he'd never sing a song that wasn't a country song, Jones had become livid at the decay of the genre he'd toiled in for decades, and he never really discarded those feelings. Jones hated the endless march of insincerity that Garth Brooks' success had wrought, even if Brooks himself wasn't insincere and his music (corny though it often could, and can, be) wasn't either.
In 2021, we are still dealing with the weight of what Garth Brooks hath wrought. The absurd sales he generated became a benchmark that Nashville labels wanted all of their male artists to aspire to and ideally reach, just like Shania Twain's sales became expected of all the ladies. Then, in the mid-2000s, it appeared to become more an issue of "what hath Chesney wrought," but he was biting Garth's style. Starting particularly with No Shirt, No Shoes, No Problem (gag me), Chesney began making records that can basically described through this hypothetical: "What if, like, we just ripped off 'Friends in Low Places,' 'American Honky-Tonk Bar Association' and 'Longneck Bottle' for, like, every fuckin song on the new one, except sometimes we throw a 'Two Pina Coladas' or 'If Tomorrow Never Comes' rip-off in there for variety?" I think that's a reasonably fair description of what No Shirt, and most other Chesney albums, sound like. Apparently that wasn't dumb enough, which is how we got Luke Bryan and Florida Georgia Line. (I pray by God and sonny Jesus that Jones, given what he thought of all the Garth clones in the '90s, was not nearly cognizant enough to hear "Cruise" by FGL on the radio before his 2013 death.)
So here I am, having grown into a pretty ardent fan of country. The genre is one of several that I often stay locked into for a few weeks or months before reverting back to my eclectic baseline tastes; the others are Southern rap, golden-era New York rap, jazz, goth/post-punk and grunge. I probably dig artists of the past a bit more than those of the present. Yet I'm all in on Miranda Lambert, Dwight Yoakam, Kacey Musgraves, Chris Stapleton, The Highwomen (and all of their members, including Maren Morris and her quite pop-influenced work), Sturgill Simpson, Neko Case (she's country; this is not up for discussion), Margo Price, Rhiannon Giddens, Yola and Ashley Monroe (who isn't making country right now but was making masterpiece-level shit like The Blade not too long ago). Acts like Eric Church, Little Big Town and Blanco Brown aren't always my cup of tea, but they have that all-important s-i-n-c-e-r-i-t-y. Shit, I can even fuck with some Darius Rucker, Dierks Bentley or Brad Paisley once in a while. (Paisley should be rightly lampooned for the "Accidental Racist" fiasco, but that aside, he's self-aware in a way many of his top-of-the-charts peers aren't and is often actually funny, rather than simply telling jokes.) But scan the country charts, and the genre playlists on our streaming services, and it can be hard to find some of those folks on them: Lambert, Stapleton, Church, Rucker, Paisley and Bentley are the most constant presences there. Simpson shows up on the album charts from time to time, but is that because of mainstream interest or the classification of his music as country (which it sometimes is and sometimes extremely isn't)? His singles certainly don't show up. Blanco Brown had a runaway hit with "The Git Up" due in part to its viral dance craze but while that was No. 1 on the "Hot Country Songs" chart, which measures airplay, streaming and sales, it only reached No. 44 on the "Airplay" chart. Country radio is a fucking nightmare.
I'm not a country purist and don't think you cash in your genre credentials if you use programmed drums or pop synths. All that matters is whether the music is good. And the shit that takes up the majority of the airwaves, whether it bears those flourishes or not, sucks. The low-tier neo-neotraditionalists (Blake Shelton, prettyboy-turned-flagwaver Toby Keith, Zac Brown Band, Jason Aldean, etc.) can be every bit as irritating as the shameless Ole Miss frat party bullshit Bryan, Chesney, Dan + Shay, Rascal Flatts and FGL put out. As for the old heads trying to sneak back into the game—yeah, I see you, Alan Jackson—retirement would've been a better choice. The stuff ain't pretty.
Moreover, these are all the people for whom I blame a world in which a common statement is "Oh, I listen to everything except country." Maybe followed by a boring joke about songs honoring pick-up trucks, dogs, beer or some combination of all three. The reason why they can make that goddamn joke is because of assembly-line Nashville singers who release songs as bad as what the genre's non-listeners envision, and those acts do so en masse, because … well, it's what the people who buy country music seem to want. Or perhaps they've just been told enough times they want it that they can't tell the difference. The truth is likely somewhere in between. Some of them might want other stuff, and occasionally that desire creates enough of a crack for a Chris Stapleton to come through and become a star despite not fitting the mold in appearance or content. But the landscape is what it is. It's become damned hard to convince people to bother looking. And that leaves me with a sheer lack of friends to share excitement about country music with. (Not even remotely a big deal in the grand scheme of things, but, hey, it'd be nice, y'know?)
***
Eventually, we will have to discuss another factor that plays into why the country mainstream is what it is—namely, the greater us-vs.-them narrative, informed by the ever-increasing political polarization of this country. But that cannot be the next chapter, because it wasn't something I understood until the last several years.
To give this even a semblance of a structure, I'll have to move to the next country artists that chronologically made a significant impact on me. We'll call them the Country Goths. (One should be obvious, the others less so.) I hope to see you next time, and in the meantime, if you find yourself humming "Friends in Low Places," I promise you that you don't have to feel bad about it. Let it rip. Because sooner or later you'll get back to the bar, and they can kiss your ass.
---
Support our Site—Subscribe to Our Patreon: Become one of our monthly patrons and help support an independent media resource while gaining access to exclusive content, shirts, playlists, mixtapes and more.