King Buzzo : This Machine Kills Artists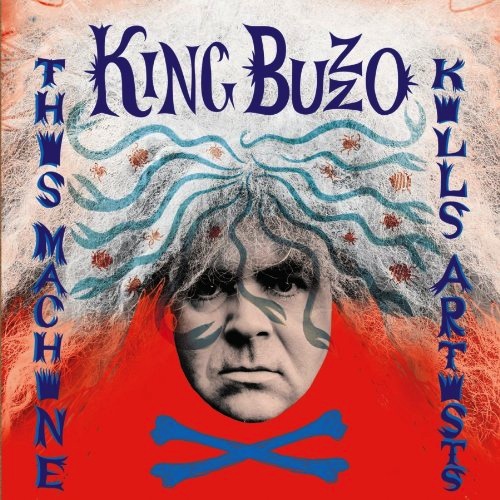 Buy at iTunes | Buy at Insound
The sound of an acoustic guitar is clean and crisp, and many guitarists known for their electric chops use an acoustic guitar as the first step in writing a song. Historically, it came before the electric, and as familiar as it is, an acoustic guitar has a tendency to sound both sweet and somewhat ominous. Not that electric guitars don't sound awesome or menacing — they most certainly do — but in a different way; an acoustic guitar is more limited —it doesn't have as many options as far as fucking with the sound.
Buzz Osborne, King Buzzo to some, the guitarist/vocalist/songwriter of the 31-year rock/sludge/punk/metal institution that is the Melvins, has gone entirely acoustic on record for the first time in his long career with This Machine Kills Artists. According to the Melvins' website, Osborne has written the majority of the bands songs — and there's a ridiculous amount — on acoustic guitar; he just transfers them over to electric. This Machine Kills Artists has 17 Buzzo originals played on a red-white-and-blue Buck Owens American acoustic, which Osborne is keeping at home for his worldwide solo tour because it's irreplaceable, he says. Just as an acoustic album worked wonders for another electrical fuzzed out wizard from the West Coast — Ty Segall, with 2013's Sleeper — Osborne makes out very well with an enjoyable set of acoustic ditties.
Even though Osborne is wielding only a hollowed-out piece of wood with strings, he plays with the same legendary ferocity and strength as he would with an electric. His peculiar-yet-charming stories stand out thanks to his signature singing voice; at times I imagine Buzzo sitting on a rock at a blazing campfire, strumming the fuck out. Osborne plays so enthusiastically on "The Hesitation Twist" that the guitar strings seem right on the verge of snapping. In fact, Osborne rips for almost the entirety of This Machine Kills Artists running time of 45 minutes, save for a few slower moments. "I have no interest in sounding like a crappy version of James Taylor or a half-assed version of Woody Guthrie," Buzz explains on the Melvins' website. "Which is what happens when almost every rock and roller straps on an acoustic guitar. No thanks…This Machine Kills Artists is a different kind of animal."
Now that Osborne has released an acoustic album, it's easily understood why Buzzo is the mastermind of the Melvins — distortion pedal or not, all those ideas come from a gnarly brain under a mop of grey hair. Osborne turned 50 this year, and he most likely has a lot more electric guitar playing ahead of him, but it's nice to know that he can turn the fuzz pedals off, grab a stool, plug in, and totally own an acoustic. I have only one question after listening to This Machine Kills Artists: How many strings did Buzzo break?
Similar Albums:


J Mascis – Several Shades of Why


Melvins – Everybody Loves Sausages


Ty Segall – Sleeper