Leven Signs : Hemp Is Here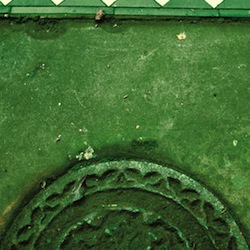 The lone release by Leven Signs – a duo comprising Peter Karkut and Maggie Turner – was issued twice in the UK in 1985: once by Unlikely Records on cassette, and again, with a slightly different track list, by Cordelia Records on vinyl. This new edition has the same tracks and order as the vinyl release, and has come about as a result of Brad Rose, who runs Digitalis, coming into contact with a copy of the cassette. After tracking down more information about the release on the Internet, he eventually got in touch with Karkut and decided to reissue it. I'm glad he did. Hemp Is Here is new wave exotica of the highest order, still strange and exciting after having been buried for nearly 30 years.
Like many other great underground releases from the UK during the period, it isn't easily categorized. It's an intoxicated diagram of influences and experiments, heavy on the liturgical organ, which is often piled on in layers and edited into hypnotic repetitions, a direction taken furthest by "Das Seal." There's a good deal of Middle Eastern and, I think, Indian percussion, and melodies seep in from those parts of the world, giving the simple songs that make use of Turner's detached vocals a tasteful touch of worlds outside. "Prague Spring" is the standout example, clipping joyously atop kinetic percussion, slowing down only to make way for a seriously delirious breakdown of slowed to sludge voices, a monk-like undulation of moaning sea. It belongs on a wonderful compilation that doesn't exist alongside General Strike's "My Other Body."
And General Strike is a good point of contact. Toop, Beresford, Cunningham & Co.'s Danger in Paradise, one of my favorite reissues last year, is quite different, but the kind of difference it produced is what Leven Signs repeat. Karkut's tape editing gives the production a very different feel to the more dub-savvy work done by Cunningham on Danger, but the way the music feels like all sorts of possibilities taking off in various directions and nevertheless taking a shape is related. Most of the decisions here are Karkut's, as opposed to the collective musical thought of General Strike, and each track seems like a rethinking of the same strategies that made up the others. They are permutations of one another, stretching away toward two poles: one of abstraction and pure sonic absorption, the other making way for askew songs and clearer structures.
There seem to be plenty of heady cassette and small-run releases from early '80s Britain drifting in the murky layers of the Internet, perhaps, one imagines hopefully, discarded in the charity shops in rundown neighborhoods and towns as well (though I haven't had much luck with this). Strange, experimental, in dialogue with jazz, dub, and music from Africa, India, Iran or Turkey, bands treaded into wilder territory. General Strike covered Sun Ra, and listening to Hemp Is Here I sometimes find myself thinking of some of the wilder Utopian culture alchemy in Don Cherry's work: "Degi-Degi," "Relativity Suite," or "Air Mail," with Latif Khan. I suppose the specter of Jon Hassell's version of Fourth World Music looms as well, or a track like Michael Brook's "Distant Village." But Hemp Is Here is more frantic, sharper, feral. The ecstatic Middle Eastern loop that animates "Our Position Vanishes" makes it ritual music, part of movement as thought rather than the stillness of contemplating faraway musics, an incitement to dervish-like whirling in the magic hour.
Similar Albums:


Peaking Lights – Lucifer


Laurel Halo – Quarantine


Oneohtrix Point Never – Returnal