Sarah Neufeld : Hero Brother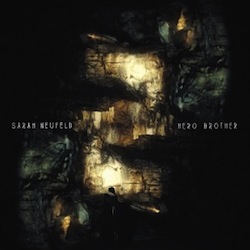 Violinist Sarah Neufeld is best known for her membership in Arcade Fire, and to a lesser extent, for being a founding member of contemporary classical ensemble Bell Orchestre. Finding she has more to say through her instrument, she recorded Hero Brother, a collection of self-composed works featuring violin with sparse or no accompaniment, with Nils Frahm in a variety of spaces: an abandoned geodesic dome; an underground parking garage; the legendary Studio P4 in Berlin. The end result is an assortment of pieces where the ambience itself becomes an instrument.
Hero Brother opens with "Tower," a brief and subtle oeuvre with a tiny bit of chanting, which comes across like a check of the acoustics. Neufeld likes what she hears; she launches into the title track, a fully realized solo piece that begins with an alternating "bass" line and lead. The rest of the four strings join in, and the feel of the song is at once eerie and sanguineous, like you don't want to go into that room, but you will in case you'll regret it if you don't. At the song's apex, thumping percussion is heard — likely Neufeld's stomping — and that's enough to raise the dynamics.
"Dirt" leads in with slow single notes before repeating the arpeggiated style in the opening number, which is also the style Arcade Fire fans have become familiar with (see: "Empty Room" from The Suburbs). "You Are the Field" provides respite from the quickness of the lead tracks with some relaxing two-string pulls, but before the listener is allowed get too comfortable, notes bend and veer out of the major scale just enough to cause a bit of squirming.
At the two-and-a-half minute mark of "Breathing Black Ground" is a silence that is not silence. That's the uncredited player on the album — the space in which the song was recorded. While the locales are not identified for each song, one can imagine an echoic empty box with life on all sides of it. And as though drawing that life back into her art, Neufeld's violin is joined by cello and other strings to complete the ensemble. Apparently happy with this situation, next number "They Live On" is short and playful as Neufeld plucks the strings and chants once more, as if it's a compulsion rather than a planned part of the piece.
Fans of Arcade Fire will be tempted to place Win Butler's voice on top of these songs, but will find it difficult. Even songs like "Sprinter Fire" that sound like they could be familiar don't stay that way for long. Hero Brother concludes with "Below," and one can hear faint sounds of traffic combining with Neufeld's violin and voice. Hero Brother is an album you would be tempted to use as background noise, but that would be a mistake. While there are moments of repetition that could allow your mind to wander, it brings you back home with its twists and with attention to its own silence.
Similar Albums:


Bell Orchestre – As Seen Through Windows


Colin Stetson – New History Warfare Vol. 2: Judges


Owen Pallett – Heartland