Singles Gettin' Heady: Cage & Aviary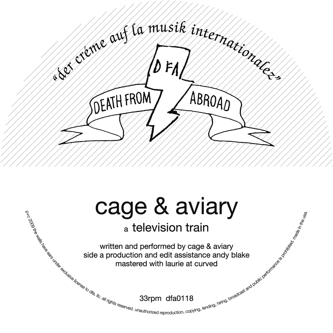 "Television Train" was first released as a one-sided 12-inch in 2007 on Dissident, a London based imprint that limits each of their pressings to 200. It quickly became all but impossible to track down on vinyl, but circulated through the Internet after being included in sets by illustrious DJs such as Glasgow's Optimo. Fortunately, and not particularly surprisingly, DFA opted to re-release it through their Death from Abroad label, created to release records from artists outside of the United States.
Cage & Aviary are a pair of South London denizens, Jamie Paton and Nigel of Bermondsey, who have recently released records on Astro Lab Recordings and Tiny Sticks, as well as kicking off a planned series of remix 12-inches with a long, chugging take on the Bow Mods' "Country Girls." Long and chugging are also apt descriptors of "Television Train," 12 and a half minutes of low-slung funky bass lines, laid-back crooning and jagged, elemental guitars. It is a perfect fit for DFA, a cohesion of the LCD, Rapture punk-funk aesthetic and the more disco-oriented shapes of many of their recent releases.
The B-side is a new track, "Suburban," which works well paired to "Television Train," marking out a similar nexus of the kinetic and lethargic, though it falls harder on the latter. Both tracks lock the listener into a lazy groove that extends on and on and on. A new and vital variation on some tried and tested styles.
Both tracks can be listened to here: www.myspace.com/deathfromabroad
Download at