Soledad Vélez : Wild Fishing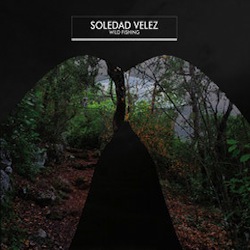 Fighting nature is a dupe's struggle. You can't change the internal nature of other people, you can only find workarounds for your own, and when you go out into the literal nature of the earth you're going to run into all kinds of systems outside your skill set. Those facts are either distressing or comforting, depending on your inner strength and what kinds of allergies you have.
Soledad Vélez does not fight nature on her full-length debut album. The Chilean folksinger accepts her occasional lover's nature, investigates her own, and tries to put it all in context with the earth's. While that sounds like a hippie conceit — and even as it begins with a friendly sing-along worthy of Edward Sharpe — Wild Fishing dives into the deep, dark end pretty quick.
Vélez's voice is a good instrument for wading through darkness. At its base level it's a paranormal mix of inertia and vibrato, wedding Billie Holiday's weariness with a strident flutter that stops just short of Joan Baez. She coaxes more range of expression from it as the album progresses, as she moves off from her innocent wonder over her own sadness and goes off to fix her sorrow, or at least self-medicate.
The songs aren't complicated. The lyrics are spare; you could write out some songs' complete words on an index card with instructions to repeat. That supports Vélez's stated motivation to make Wild Fishing a sort of "exorcism." With her partners, multi-instrumentalist J. de Santos and drummer Javier Marcos, Vélez makes every song an invocation. They're self-contained pieces that decry humans' inability to make their intimacies function as well as they do in forests, mountains and oceans.
As convivial as she sounds in the warm opening song "Black Light of the Forest," she's already dealing with loss: "Where is the sun/Oh darling of mine/Darling, don't you want me back?" Through the next set of bluesy, self-questioning songs, she observes the inequity of her relationship. The couple is definitely on different escalators. "I give you the crown, but you give up" she sings in "Unhappy With Crown," and in the almost miniature "Homeless," Vélez, more resigned than panicked, asks "Who will take care of me?" over a harmonium drone and a road-ready banjo.
It's almost uncomfortable to hear this kind of emotional surrender, and at first it's a little off-putting. Vélez's voice is so brazenly unique that it sounds a bit self-conscious and affected. But in the album's stronger second half, as the discounted singer starts acting out her acceptance, the fuller range of her abilities takes shape.
That transformation is magical because it happens during a bunch of songs that could be construed as Vélez's character being in denial. "Don't Worry Babe" shuffles along with an organ playing eighth notes "Good Vibrations" style, as Vélez recalls her untroubled lover telling her to hang tight "if the mountains decide to go to sea/And if the sun suddenly wants to go to sleep." There's a moment in the last fifth of "It Wasn't Me," after Vélez resigns herself to a meaningless rebound, where the deep reverb the album relies on drops away. She repeats the title over and over, in stark, up-close seclusion. After that turning point, it makes total sense for her to revel in liquor and abandon in "Johnnie" (as in "Walker Red").
De Santos is quietly great on Wild Fishing. Handling banjo, keyboards, harmonium and the more expressive electric guitar parts, he paints every song with just enough atmosphere to coax the right counter-effect out of Vélez's idiosyncratic voice. In fact the use of secondary string instruments, like Vélez's ukulele and de Santos' banjo, gives the album an unusual pulse. Perhaps it's the downhome kind of peace that awaits the singer once she's on the other side of trouble.
Then there's the record's main supporting character: nature. It doesn't figure in every song, but when it shows up it makes a contribution that lends logic to the album as a whole. In "Black Light In the Forest," the trees cloak Vélez's vulnerability. In "Sea Man" the sailor's life takes her lover away from her, and returns him in much different shape than when he left. "Birds" fly in the reflection in his eyes. Vélez projects herself into higher worlds and finds a temporary home in "Angel's Song" ("Planes swimming with the stars/And flowers falling slowly from the trees").
And in the album's first-rate, closing title track, Vélez pulls a Hemingway and hits the waves. "I see things that aren't there/Wild wild wild," Vélez sings. "In the ocean, isolation/There are men who (are) fishing all night through." They are looking for something under the terrain of the ocean that they can't technically see, but Vélez, who's been fishing all this time, knows what it looks like. She gets on the boat, and then de Santos unleashes himself with distorted guitars, in-and-out effects and the album's only real moment of unadulterated wildness.
It's the act of Vélez's repossession of her soul, to which the whole album's been leading. The waters might get choppy; she might experience tumult and chaos, and might even come back to shore empty-handed. But it's nothing she hasn't already experienced on this album, and it shows why you don't fight with nature. You can only bargain with it, then try like hell to hold up your end of the deal.
Similar Albums:


PJ Harvey – Let England Shake


Devendra Banhart – Mala


Nick Cave and the Bad Seeds – Push the Sky Away
Paul Pearson
Paul Pearson is a writer, journalist, and interviewer who has written for Treble since 2013. His music writing has also appeared in The Seattle Times, The Stranger, The Olympian, and MSN Music.