The Front Bottoms pick their 10 best songs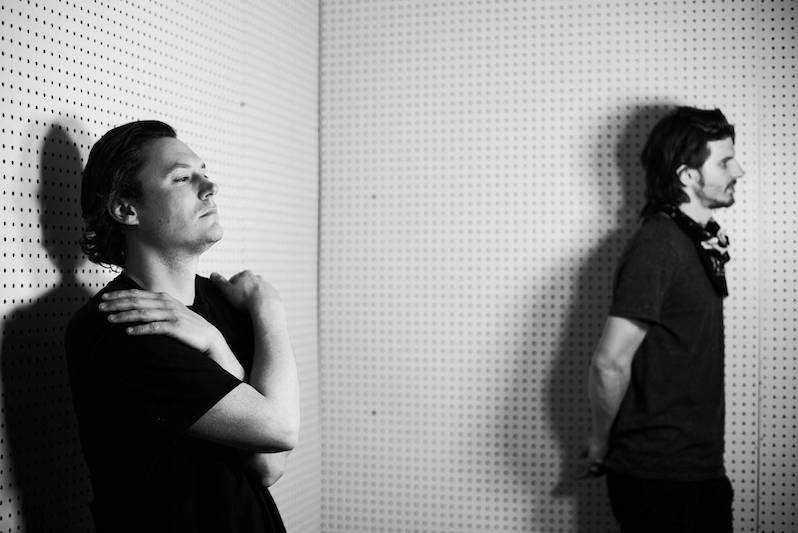 Since 2008, The Front Bottoms have been making music that captures the feeling of having fun in the company of friends. "The Beers," the band's 2011 single, nails the scenery of a raucous party, bringing to mind the type of summer you can only have post high school. While their subject matter can be a bit harder to digest, as it dives in and out of anxieties and unavoidable obstacles, they handle the task with grace and a positive outlook that they translate into song seamlessly. Take "Laugh Till I Cry," off their 2015 album Back on Top. It's a tongue-in-cheek way of approaching emotions, suggesting that it's okay to feel good one minute, and feeling weak and confused the next. The lyrics may cover the severity of raw emotion, but the instrumentals are far from a downer, brimming with life and a punchy folk-punk sound that they've made their niche.
While members have come and gone within the band, Brian Sella and Matt Uychich have been the band's foundation from the beginning. The duo have just released their fifth full-length, In Sickness and in Flames, an album that grapples with growing older, reflecting on the past, and tackling the complexities of life. It's full of frenetic riffs and cathartic vocals, a crutch we can all lean on during difficult times.
We spoke to Brian and Matt about their ten favorite Front Bottoms songs and learned more about the stories behind them.
---
"Ginger"
from Back on Top (2015; Fueled by Ramen)
Brian Sella: We chose for our first song "Ginger", it's about our friend's dog who, actually just last night, passed away.
Treble: I'm so sorry to hear that!
BS: It's really sad but that's OK. We loved Ginger so much. She was an older, older dog and we had a lot of good times with our friend and Ginger. He had texted us yesterday that she had taken her final walk. It's pretty sad but it really is amazing to have a piece of art that we can now go play and always remember her by.
Treble: That's so special and she's lucky that there was a song written about her.
BS: Absolutely, so it's a positive thing. It's sad but we were able to move on and able to grow from it.
---
"You Used To Say (Holy Fuck)"
from Going Grey (2017; Fueled by Ramen)
BS: Our second song would be "You Used To Say (Holy Fuck)." It's the first track on Going Grey and it seems kind of appropriate for this point in history. The chorus of that song is like, "Holy Fuck, I'm about to die." We love to play that song and hear the people sing along.
---
"Camouflage"
from In Sickness & In Flames (2020; Fueled by Ramen)
BS: Our third song choice is a new song, "Camouflage."
Matt Uychich: I put that there because it was the start of the writing of In Sickness & In Flames.
BS: That was a very special point in our lives as well.
---
"Bathtub"
from The Front Bottoms (2011; Bar/None)
BS: Our fourth song would be "Bathtub," that was just about washing your hair with soap. We love that song because it's very simple. I feel like it's a very defining song for The Front Bottoms in terms of musicianship and lyrically. We were inspired by The Mountain Goats when I was writing that song just in terms of delivery.
---
"More Than It Hurts You"
from Summer of Steroids (2011; Bar/None)
BS: Our fifth song is "More Than It Hurts You." It was a very early song, it has references to the Jersey Shore, it's again lyrically a very meditative song for me. It's about the beach
MU: We made a music video for it. We would just kind of go around and film it and I remember editing it and putting it on MySpace.
BS: It was one of our first music videos. I remember I was running around and that was cool.
---
"Vacation Town"
from Going Grey (2017; Fueled by Ramen)
BS: "Vacation Town" is our next one, that is basically the smash banger that we like to play live that gives us good vibes. It's got a drop in it, people can get pumped up. Lyrically it's a very defining song, there's a lot of callback references to things. We love to play that live. I love the drumming in the pre-chorus, it gets me pumped up. And Shelter Island! The outdoor shower is a scene that has defined a lot of my life. That imagery is something that I love, that aesthetic of the outdoor shower. I would go and vacation—my aunt has a house out in Long Island. It was very private, and I would go there for a weekend with my mom and dad. It meant a lot to me so that's where that line comes from about the outdoor shower, and I had actually gone on my honeymoon with my wife to this place as well. That song is special because of those memories, and every time we play it we get to have those again.
---
"Jerk"
from In Sickness & In Flames (2020; Fueled by Ramen)
BS: "Jerk," which is on the new album, is a song that we both really like. It's got a lot of cool stuff going on in it.
MU: It started out as a 10-second demo.
BS: That's how me and Matt create the songs and create a lot of the art, is by going back and forth so there's a lot of versions of stuff. That song is special to Matt because he was sitting on the toilet one day and I sent him this voice memo of this song and he was like, "Oh this is cool let's work on this." So the song kind of got birthed there, on the toilet, very exciting.
---
"Love at First Sight"
from In Sickness & In Flames (2020; Fueled by Ramen)
MU: "Love At First Sight" is another new song and that kind of started as a sample of a friend singing at an open mic karaoke thing and we were like, "we should make a song with this going on." So that's basically the chorus and then we had it all happen and the ending is the applause he got after his open mic. It lined up like that. You're sitting in the studio, just doing experiments.
BS: Matt drops the sample in, you're listening to the song and it gets to the end of the song and it's people clapping, so it's almost emotional, like "oh my god, it just lined up like that." That was a song that means a lot to us.
---
"The Truth"
from In Sickness & In Flames (2020; Fueled by Ramen)
MU: "the truth" is another new song, and we put that on the list because it was one that we prepared while recording and it was one of the last ones to come along. We did it in the producer's basement, we finished that whole song different from all the other tracks and it was really special.
BS: It felt like we were really in the flow of writing and making new songs when we made that song, and that's kind of why it came out the way it did.
---
"Bus Beat"
from In Sickness & In Flames (2020; Fueled by Ramen)
MU: The tenth song is called "bus beat" and that's named that because we were demoing it on tour in the back of the bus. And it was just a beat so we named that bus beat. We like to keep the original names. A couple of the new songs on the album have their demo names, so there's songs like "new song d", "make way," a lot of these songs are just like the demo. It just always felt like that was right, like what the name was meant to be. We would keep them and just try to be creative like that.
Treble: You make songs that sound upbeat, but I feel like they do a really good job of addressing anxiety and the little hard stuff that comes with that. I've always turned to your music over the past few years, since I was in college, just as a tool to get through hard stuff, so it's a good time for you to have new music coming out.
BS: Isn't that amazing how it works out like that? I feel the same way.
**
Photo by Mark Jaworski
---
Support our Site—Subscribe to Our Patreon: Become one of our monthly patrons and help support an independent media resource while gaining access to exclusive content, shirts, playlists, mixtapes and more.