The Moondoggies : Adiós I'm A Ghost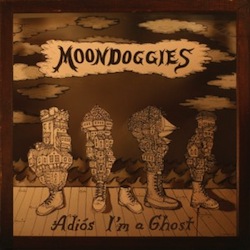 Buy at iTunes | Buy at Insound (vinyl)
Three songs in the second half of The Moondoggies' third full-length appear in this sequence: "Start Me Over," "One More Chance," "Back To The Beginning." They happen to be the three best songs on the album, and they're conveniently all lined up there. I might be a little over-eager to spot keynotes, but it sure felt like someone was trying to prepare for reincarnation. Just read those titles out loud, preferably out of earshot of a street preacher so as not to be mistaken for someone who's "buying."
"Start Me Over" is a plodding, heavy waltz where Kevin Murphy sings about how it's "time to get well again." "One More Chance" is a mirrored version of Fleetwood Mac's "Go Your Own Way," where the guy begs for return against guitar lines that spring to mind Lindsey Buckingham and David Lindley. In "Beginning" Murphy, in his most aggressive vocal on the record, shakes off empty litany: "Memories they come knockin' on the door/Souvenirs will wash upon the shore/And I can't do this anymore."  The next song in that sequence, "Don't Ask Why," closes Adiós I'm A Ghost (before a 23-second outro) with the brash exuberance of the most effective freedom rock (ask your dad), a gospel choir feel you cannot convince me is accidental, and the resolution "I can see a lot better now."
Not to bum out everyone else in the bar, but rock and roll has always concerned itself with matters of salvation, whether a band's reaching for it or gaily asking it to piss off. Seattle's Moondoggies express that need most clearly in those four straight tracks (five, if you count "Stop Signs" where Murphy seeks "a peaceful place to die" so he can "leave this foolishness behind"). Adiós I'm A Ghost in itself reaches for that same expanse. Mostly leaving behind the intimate, rec-room folk of their first two albums and EP, Murphy and his band open up their approach and give into the big sound of traditionalist rock, all to tell a story of the natural processes of heartbreak, death and deliverance.
It comes at some minor cost. Breaking out of the small space and diving into the gorge, the Moondoggies sometimes sound distant. Murphy has a wealth of killer guitar hooks on the album, and the Moondoggies sing tight harmonies. The echo tends to swallow up, not just the words, but the closeness of the album's more personal first half. Maybe that's the point: "Red Eye" and "Midnight Owl" address Murphy's loves as distant stars he doesn't really know, and their separation is signified as a great divide.
I would buy that were it not for "Pride," which strips everything down to acoustic guitar, Murphy's vocal and the Moondoggies' supportive harmonies. "Pride" describes a man who's entrenched in his environment and contented amongst peers. "It's my pride, love." But as the harmonies nudge themselves in, Murphy makes the very live discovery that his pride isn't just a lone, sturdy anchor: It also comes with a chain. It's all that he has left when he's "shit out of luck," and the song gently fades with the idea that the light bulb's just turned on. I suspect that narrative flow lies underneath the tracks that come before "Pride," but it's hard to tell from a distance.
Fortunately, the album's a success on the strength of its music alone. The Moondoggies are more restless when it comes to composing than most of their mates in the Northwest folk-rock faction. Adiós is a cohesive work, but its colors are many. "Midnight Owl" draws from the dramatic pop of Roy Orbison, with drummer Carl Dahlen playing almost melodic lines on snare that support the whole song. "Red Eye" and "One More Chance" are first-rate ravers with the air of classic CCR. "A Lot To Give" mines rhythms and shadows from the Doors and Pink Floyd with freshness, and "Don't Ask Why" updates the feel of all-together-now '60s hippie rock with realism and joy.
One could play "Name That Influence" on all of Adiós I'm A Ghost, but The Moondoggies don't come off as insincere. They manage a distinctive personality, often the strategy behind third albums. Most of the songs change pace and direction within themselves, whether they run over six minutes ("A Lot to Give") or clock in under three ("Start Me Over"). Transitions are seamless, and the releases are built deliberately and well-earned. Caleb Quick's organ slithers through a few numbers the way Al Kooper gave character to Dylan's Blonde On Blonde.
The Moondoggies showed a wild but affable passion on Don't Be A Stranger and Tidelands. On Adiós I'm A Ghost they take a step toward full development that sometimes cloaks their story's arc, or gets just a bit jam-heavy in places. But especially on the last four songs they find the map and get on track. They're nothing if not mobile and enquiring about themselves and the nature that surrounds them, and they at least sound ready for the trip. Good thing too, because getting to heaven takes at least a couple days via I-5.
Similar Albums:


Blitzen Trapper – Destroyer of the Void


Bryan John Appleby – Fire on the Vine


Vetiver – Tight Knit
Paul Pearson
Paul Pearson is a writer, journalist, and interviewer who has written for Treble since 2013. His music writing has also appeared in The Seattle Times, The Stranger, The Olympian, and MSN Music.