The Stranger : Watching Dead Empires in Decay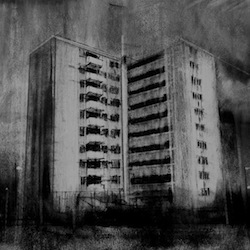 The thought that one inhabits the end times seems to be as much comfort as horror. The end of a worldview, an era, an empire, the world itself — the idea of apocalypse in its various guises is ingested as a palliative against incessant transformation, against the falling out of favor of one's preferred principles of judgment. Or, the satisfaction is in seeing a system or a people that has satiated itself by the suffering of the silent and out of sight fall into decay. Watching Dead Empires in Decay, Leyland Kirby's latest release, issued under alias The Stranger, spreads out a bleak vision of worlds coming apart, but along its surfaces it seems to hold out hope for worlds to come.
His previous record as The Stranger was titled Bleaklow, and was concerned with the stranger's journey across the moorland of that name in the Derbyshire High Peak. It's more harrowing than Watching Dead Empires, and despite inhabiting a similarly industrial-minded sensibility, quite different to it. While both records are more preoccupied with percussive sounds than Kirby's other relatively recent releases, as The Caretaker or under his own name, this latest work marks a step into more ragged and mysterious timbres, and percussive patterns that split apart into unregulated clusters.
The muted metallic clangs that surround the submerged rhythm of "So Pale It Shone In the Night" constantly draw attention away from the beat and into the warm gaseous pockets left behind when they disappear. "Spiral of Decline" twists itself around a steady beat fit for some decrepit sacred dance to come, filling itself with unidentifiable sounds as it goes: a stick being dragged across corrugated metal, or banging out the rhythm hollowly on a glass surface. Maybe something else altogether is going on, but not being able to place the sounds makes them hypnotic, textures and timbres speaking brutally to the imagination that they block.
Everything is gray, gradations of gray, smoke, fumes, disquiet, but the beauties, too, of disquiet, industrial fogs, the thick grain of photographs that disturbs the bodies fixed inside them. "Where Are Our Monsters Now, Where Are Our Friends?" floats one aimlessly, intoxicatingly through the nothing it spins around itself. It takes whatever dystopian vibe the latest Boards of Canada record was going for and transplants it somewhere truly dystopian — limping, stuttering, falling forward with nowhere to go. Yet, it's beautiful, its embrace all the more stirring for the setting in which it's found. "Grey Day Drift" sits somewhere between it and "So Pale," unwinding in circles that loop and overlap one another, while wooden percussive clops and flickers whisper about something happening hidden in its depths.
Some of the darker tracks here, while intriguing, leave me a bit cold (maybe that's the point, the deep-freeze of incipient darkness), but I find the majority of Watching Dead Empires in Decay captivating, moving, entrancing. "Providence or Fate" may begin with ghastly thumping, but quickly it becomes emotionally dense, evoking the longing for something that is nearly at hand, the beauty of which appears in the play of fibrous melodious that feel as if they can almost be seen through. The piece that closes the record, "About to Enter a Strange New Period," comes on, to me, like a deeply, deeply anesthetized reversion of Coil's "The First Five Minutes After Death," and brings to mind as well some of the more meditative passages on Psychic TV's Dreams Less Sweet. Ambient, machine Gagaku, maybe, but in any case it is spirit music, an opening onto dream worlds immanent to our own universe, but somehow nevertheless concealed in it. If something is ending, if destruction seems to hold sway for the moment, something else is always being created, creating itself, just out of sight. Though it may not be recognizable, its strength can be felt quite plainly.
Similar Albums:


Andy Stott – Luxury Problems


The Caretaker – An Empty Bliss Beyond This World


Demdike Stare – Triptych