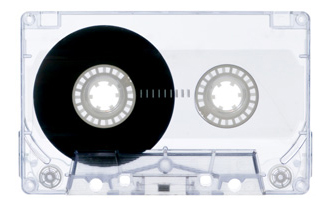 I'm not quite sure how this Muxtape thing got so popular. It seems completely antithetical to the whole digital music phenomenon. First of all, it references tapes in the site handle, a music format that has been all but obsolete since the early '90s. Secondly, the site doesn't allow you to search for anything. You either must know whose muxtape you're looking for or simply allow yourself to view random people's mixes. Thirdly, there's a limit of twelve songs, and one muxtape per person (at least as far as I could tell, without subverting the system). I had four muxtapes ready to go and had to discard three because of the rules, and several songs on the one I eventually went forward with.
But, then again, isn't this what sharing music is all about? The anonymity and lack of searching capability opens up the average listener to a wide variety of possibilities. It's like going to the record store back in the old days, and merely rifling through the bins, seeing what might catch your eye. Limiting the number of songs, though ostensibly having to do with site volume and possible legal issues, actually refines the mix to its barest essence. One must truly pick the best representative tracks for a great muxtape. And, hopefully, that's what I've done with my mix.
Muxtape: "A Fifth of Treble: Treblezine's Fifth Anniversary"
by Ernest Simpson
In a few short months, Treblezine will be celebrating its fifth anniversary. Yes, we've now been around five years, and we exemplify the obnoxious toddler that age represents. We're bratty, stubborn and think we know everything (besides all being so damn cute). I've thought about what songs might best represent this illustrious occasion and came up with the following:
1) "Five Years"- David Bowie
This was so obvious it almost escaped me. Not only is David Bowie one of, if not my absolute, favorite artists of all time, but he's pretty much a Treble favorite, an icon and a legend. This song is somewhat post-apocalyptic, but after thousands of reviews, those five years can seem oft times dark, exhausting and, with prolonged exposure to some terrible bands, awfully end-of-the-world-like. Plus, El Jefe himself spoke about this song on "Sound Opinions." Yay!
2) "Birthday"- The Sugarcubes
Though it's more of an anniversary, we like to think that Treble was born unto the world in late 2003. Besides the fact that Björk is another Treble favorite, the lyrics speak of a girl who is, natch, five years old. And, we like to think of Treble as a girl, much like a guitar, a boat or a golf club.
3) "Starting Five"- Dios
The best moments being a music critic lie in discovering new talent. A few months into Treble's tenure, I reviewed the debut from Dios, a band who later had to ridiculously change their name to Dios Malos in later years. "Starting Five" perfectly fit the theme and was one of my first favorite Treble review songs.
4) "The First Five Times"- Stars
Not only do I love Stars, and the album from whence this song comes, Set Yourself on Fire, but its title represents something more than it might at first imply. The song itself is a sexy countdown of sequential trysts, but to me the title means that these first five years are just the beginning and that there are many more to come (no pun intended).
5) "Full Fathom Five"- The Stone Roses
This song represents Treble on so many levels. "Full Fathom Five" was originally the title of a Shakespeare poem / song about death. Marianne Faithfull sang a somewhat well-known cover of the classic ditty. Yet, the Stone Roses song of the same title has nothing to do with Bill Shakespeare. Instead, it's a backwards version of their single "Elephant Stone." In other words, there's a bit of a nod to the literary, while turning something on its head and taking a different view. To me, that defines Treble to a T.
6) "Take Five"- The Dave Brubeck Quintet
Other than maybe "So What" by Miles Davis or "A Love Supreme" by John Coltrane, "Take Five" is the quintessential jazz song. You can imagine that whenever `jaunty jazz number' appears in a television or film script, "Take Five" always fits the bill. On a personal note, I made a stop-action / live film for a high school project. It was a Godzilla-type monster movie and I used "Take Five" to illustrate the idyllic peace before the mayhem. Plus, it's nice to throw in something under than indie rock to show Treble's range.
7) "No Name No. 5"- Elliott Smith
The inclusion of this track is only half because of the included digit in the title. The other reason is as a loving tribute to the singer / songwriter who, probably only alongside Jeff Buckley, holds the most revered spot in Treble's collective heart. The song itself, though probably obvious, is an incredibly sad tale of abandonment. I'm not sure what it has to do with Treble, but the line "Everybody's gone at last" resonates with this particular Treble writer. Though, I always imagine if I were the last person on earth, I'd end up like Burgess Meredith in The Twilight Zone, breaking my glasses, wailing, "It's not fair! It's not fair!"
8) "5 Times Out of 100"- Hot Hot Heat
I was trying to remember what band happened to be popular just before Treble had its infamous start. Hot Hot Heat certainly fit that bill, seemingly on the brink of huge indie stardom, only to somewhat fade away these five years later. This quinary themed track was from their Chris Walla produced EP, released just before their Sub Pop smash, Make Up the Breakdown. The chorus of "Guess who's the topic of conversation" makes me answer with glee, "Treble, that's who!"
9) "Circle of Fifths"- Clinic
While Hot Hot Heat was waning slightly after Treble's debut, Clinic was waxing after Walking With Thee right into 2004's Winchester Cathedral. The inclusion of "Circle of Fifths" could easily just be explained away due to our love for Clinic, but just as the title of this particular muxtape intimates, I love the intimation that we here at Treble are a bunch of no good lushes. `Hic!'
10) "2 + 2 = 5"- Radiohead
For some reason, this particular track, and Hail to the Thief in general, has become as near a red-headed stepchild of an album as Radiohead has, save Pablo Honey. Strangely enough, the only two times I've seen Radiohead perform were after these two albums, the first with P.J. Harvey in 1993 at the Hollywood Palladium, the next headlining a massive outdoor venue in Washington state almost exactly ten years later. Over the past five years of musical history, I can think of nobody more relevant than Radiohead. They've changed themselves and the music industry more than anyone in the business. And, I still love this song more than most, it seems.
11) "Happy Birthday"- Sufjan Stevens
A Sun Came is Sufjan Stevens' first album, a rough study in what would become a national phenomenon. I couldn't think of anyone better, save Björk or the Beatles, to with us a hearty "Feliz Cumpleaños" upon our fifth anniversary. Thanks, Sufjan.
12) "5 Years"- Björk
Our beloved Icelandic pixie uses the numerical digit where bookend Bowie uses the spelled out word. And, just like Bowie's similarly titled track, the song is a bit dour. Though, I see the lyrics as coming from Treble's point of view, taking on all comers, defending our scoreless format and penchant for positivism. Plus, she says after five years, we'll wake up `loveless,' making me think of My Bloody Valentine, and their album that is the indie Holy Grail. Not to mention, how can you go wrong ending with Björk's gorgeous voice, and the glorious strings and electronic percussive cacophony that made up songs on Homogenic?
There Are No Others
by Jeff Terich
1. Scott Walker "The Old Man Is Back Again (Dedicated to the Neo-Stalinist Regime)"
2. No Age "Cappo"
3. El Perro Del Mar "Party"
4. Benoît Pioulard "Palimend"
5. The Twilight Sad "Last Year's Rain Didn't Fall So Hard"
6. Os Mutantes "Adeus Maria Fulô"
7. Shearwater "Nobody"
8. Deerhunter "Heatherwood"
9. Swan Lake "All Fires"
10. Broadcast "Hawk"
11. Grizzly Bear "Colorado"
12. Boris "Farewell"
In creating the best possible Muxtape with just 12 songs to do the trick, I referred to an iPod playlist I made a while back, and decided to tweak it a bit, taking the essence of the songs I chose, shifting the playlist around, and putting it together in a neat, concise package. While my brother chose to go with a theme celebrating our anniversary (hooray!), my muxtape, rather, is one more abstract. It's a mix driven by mood, of colors and shapes, of tones and textures. It's a sensory experience, but one that ultimately leads to euphoria.
In a manner of speaking, the songs on this muxtape, too, celebrate five years of Treble, but in a different way. Each of the songs represents an artist who I've either discovered or grown to love from working on this very `zine. The mix began, initially, with Swan Lake, as "All Fires" made such an incredible impact on me the first few times I heard it. There seemed to be, within its narrative, a seed for a greater storyline, and in a way, the rest of these songs complete that tale through sound. Scott Walker's classic track from Scott 4 seemed a proper opener, with big strings and that incredible voice, and a recent favorite from this year, No Age's "Cappo," takes it to more of a punk level.
Though the connection between these two may not seem all that clear at first, they both have a sonic landscape you can easily get lost in, and that's what seemed most important to me in creating this playlist. Benoît Pilouard and The Twilight Sad's inclusions are also densely layered gems, while El Perro Del Mar and Shearwater's tracks are slower and sparser, but penetrate the psyche with intricate melodies. Then Os Mutantes offers a little bit of Brazilian mischief, which can only make a mix better, plus it breaks up some of the melancholy that most of the other tracks seem to carry so heavily.
As the mix draws into its final half, I realize that I, curiously enough, included a series of closing tracks that still work in the context of being sandwiched between other songs. Deerhunter's "Heatherwood," Grizzly Bear's "Colorado" and Broadcast's "Hawk" each do their part in building up a dreamlike atmosphere, while Boris's thunderous "Farewell" takes it out with a mighty roar. Out of the 12 artists featured, only two were favorites of mine before the existence of Treble (to be fair, some of the bands hadn't formed yet), but as a whole, this mix offers a blend of songs that, thanks to the past five years, shall remain favorites of mine for years to come.
AntoineLingus
by Tony Ling
This is a mix of songs that, for whatever reason, just get me fired up and ready to take on the day. To put it another way, if I need a playlist to jog to, this would be one. Nothing too obscure—I find that the low-key indie stuff I usually favor usually isn't something I listen to when I need a pick-me-up. I did make sure to mix things up genre-wise, so you'll find hip-hop, Britpop, and the force of nature that is Van Morrison. Who needs coffee when you can have Ghostface?
In alphabetical order:
1. "Scenario": A Tribe Called Quest
In my opinion, the best song ATCQ ever did, both from a musical and rapping standpoint. Either this one or the remix would work just fine, but I prefer the original for two major reasons: a) the dark, ominous beat, and b) Busta Rhymes' landmark guest verse. No wonder the guy became such a phenomenon – just listen to the energy he brings to his verses. "ROWR ROWR like a dungeon dragon"? I mean, come on!
2. "The Number Song (Cut Chemist Party Mix)": DJ Shadow
I like to think of remixes the same way I think of cover versions – if you aren't doing something different with the original, your cover/remix has no reason to exist. Cut Chemist deserves all sorts of praise for taking the brooding original version and turning it into something you could dance to. Packed to the brim with even more samples than the original, this is sort of the Bizarro Version of Endtroducing…—just as dense and aurally interested, but a totally different mood.
3. "Buck 50": Ghostface Killah
I originally had "Daytona 500" here, but I heard Baby Huey's "Hard Times" (the main sample of "Buck 50") in a record store the other day and made the change after I got home. As exciting as "Daytona" is, the rush of horns and funky guitar here takes things to a whole other level. Plus, RZA actually delivers a verse that doesn't annoy me just a little, so bonus points there. You really can't go wrong with any Ghostface, can you?
4. "Jump Into The Fire": Harry Nilsson
It's all about that fretless bass. Not only is the bassline for the first 5 (!) minutes beyond catchy, but when the song reaches its climax and the notes suddenly get messier and atonal, it gives the song an added and surprising edge. Throw in the overall catchiness of the melody, along with Nilsson just howling through the song, and you have one of Nilsson Schmilsson's undeniable highlights. Red Bull, Schmed Bull – give me Nilsson's guttural howls every day of the week and twice on Sunday.
5. "The Last Race": Jack Nietzsche
Most of you will recognize this as the opening song to Quentin Tarantino's Death Proof, the superior part of the Grindhouse double feature. A few might recognize it as the theme song to Bert I. Gordon howler Village of the Giants, expertly skewered on "Mystery Science Theater 3000." Those of you that don't recognize it will recognize how powerful, exciting, and head-spinning this baby is. Menacing guitar and bass, a tribal beat, and brassy horns combine to just smack you in the face for 2 and a half powerful minutes; all in all, the perfect song to crash your car to.*
*disclaimer: Treble does not want anybody crashing their cars into anything
6. "Victoria": The Kinks
Leave it to the Kinks to make something so damn catchy out of social commentary. A four-minute journey through the history of the British Empire, acoustic guitar and bubbly electric licks carry Ray Davies' weirdly low vocals as he sardonically describes life as a loyal member of Her Majesty's country. Then the massive chorus hits, and everything is swept away in those joyful shouts of "Victoooooooooooooooooooooo-ria!", both tribute and mockery at the same time. Just glorious.
7. "My Big Mouth": Oasis
Okay, we all know that Be Here Now was a horrible mistake, the perfect encapsulation of cocaine-addled excess (either that or Rumours) and the moment Oasis' brief American stardom began to fade. But there are still worthwhile songs to be found here, including this all-out rocker that actually captures a lot of the old Oasis' excitement. Piling layers of guitar atop each other like a musical Jenga puzzle, Noel Gallagher creates a massive wave of sound to buoy along brother Liam's sneering, snarling lead vocal. If Be Here Now sounded more like this and less like, say, "Magic Pie," there might be less used copies of this album in record stores across the country.
8. "Halloweenhead": Ryan Adams
Sometimes you just want to kick back and rock out to something utterly, incomprehensibly stupid, and this Easy Tiger standout fits the bill to a T. Adams' crafts a better '80s throwback than anything on the painful Rock n' Roll here, complete with guitars turned up to 11 and lyrics about God knows what. And how can you not have a big dumb grin on your face when Adams screams "Guitar solo!" and the guitarist obliges with an over-produced monstrosity Ratt would've been proud to record? I love Adams for his quieter, more emotional work, but I love this slab of rock just as much.
9. "Metal Mickey": Suede
Bernard Butler's always been a fan of crafting catchy tunes (see: Suede's best albums, the Duffy album I'm reviewing – cheap plug, sorry), and this is one of his catchiest. "Metal Mickey" is the kind of song I thought Ziggy Stardust would have more of, with Brett Anderson's moaning underpinned by explosive guitar wrangling, complete with an absolutely stinging solo by Butler. A lot of Britpop's ugly excesses can be forgiven thanks to songs like these.
10. "Parallel or Together?": Ted Leo & the Pharmacists
I've heard this song played live, and I'm always astonished that Leo & Co. manage to find a way to play this song faster than the album version. The word I can best use to describe this song is "quicksilver" – Leo's marvelously affecting voice carried by lighting-fast drumming and guitars played so hard it's a wonder the strings don't snap in half a minute in. Everything builds to a stunning climax, as the band hits an emotional peak and solos burn through the track like electric current. Try to listen to this song and not feel the blood boil in your veins.
11. "Staring At the Sun": TV On The Radio
This pick's probably obvious, but I can't see how I can make a playlist of songs that get me fired up and leave this bad boy off it. I mean, there's that monolith bassline, those incredible voices, and the guitar noise threading everything together – it's as exciting a rush as anything recorded in the last decade. And when the electronic drums come in and the music builds and builds, it's like having caffeine injected directly into your veins. Just thinking about the song gets me fired up.
12. "Wild Night": Van Morrison
Just think, they used to play this in dance clubs instead of Akon. It's really the horns that make this song, staccato blasts in the chorus that serve as counterpoint to the swirling music Morrison's band whips up. The song practically gives off the smell of sweat and cigarettes, especially when Morrison exhorts us to "come on out and dance/come on out and make romance." You got it, Van!
A Bad Awful Place: Pastoral Driftoid
by Tyler Weir
peskylarose.muxtape.com
1) "Nantes"- Beirut
2) "Sandy"- Caribou
3) "Lay Low"- My Morning Jacket
4) "2080"- Yeasayer
5) "Kid Heaven"- Johnny and the Moon
6) "Lovesong of the Buzzard"- Iron & Wine
7) "Easier"- Grizzly Bear
8) "Spectator & Pupil"- Violens
9) "Dandelions"- Garden
10) "The Taming of the Hands That Came Back to Life"- Sunset Rubdown
11) "Ghost"- Neutral Milk Hotel
12) "The Radio's Hot Sun"- Handsome Furs
This playlist is a break from my usual tendency towards flamboyance. I've stayed away from my urge to "pound my chest" with whatever rarities are lurking in the depths of my music collection. I've resisted the temptation of flooding my muxtape with obnoxious electro and indie pop and adhered to a largely passive group of songs. And while these songs accurately mimic my current state of indifference, many of the songs possess lush instrumentation, thus thwarting my aim towards minimalism.
The muxtape title takes influence from Wolf Parade, and not intentionally, the lineup of songs features the side projects of Spencer Krug, Dan Boeckner, and Dante DeCaro. That may lead some to believe there's some sort of "six degrees of Wolf Parade" at hand, but it's merely coincidental. These songs were compiled mostly to aid my propensity to feel sorry for myself—a fine job they've done at that. Lately, more so than any other time in my life, I feel lost and adrift inside of myself, and these twelve songs convey that feeling along with the occasional waves of optimism that brush by me. And though I've constantly combed over the list trying to take issue with any one of these songs, I have only come away contented. This is my muxtape, and for now I'm stickin' to it.
The muxtape begins with "Nantes," which is a perfect opener because of its rolling intro that seems to serve as a sort of deep breath before the song and its eleven counterparts seamlessly go to work. I had effectively used "Nantes" to start a mixtape in the past, and this time the songs that follow do a better job in support. The first seven tracks are in a similar vein and do well at transitioning one another, though Grizzly Bear's "Easier" would be the most likely to be excluded from the muxtape if I had to do it all over. "Spectator & Pupil" is off NYC buzz band Violens' V, and represents a change in tempo among the next four tracks, excluding "Dandelions," a song from Simon Lord's 2006 project that came under the Garden moniker. Culminating track "The Radio's Hot Sun" achieves the intended minimalism that quite possibly may have eluded much of the muxtape.
Six Months of Summer: 2008
by Robert Huff
1. Hot Chip "One Pure Thought"
2. Hercules and Love Affair "Hercules' Theme"
3. Quiet Village "Circus of Horror"
4. Santogold "Shove It"
5. Dominique Leone "Duyen"
6. Lykke Li "I'm Good. I'm Gone"
7. Cut Copy "Strangers In the Wind"
8. No Age "Here Should Be My Home"
9. Breeders "Overglazed"
10. Frightened Rabbit "The Twist"
11. M83 "Kim and Jessie"
12. Portishead "Deep Water"
For my `ideal' Muxtape, I tried to kill two birds with one stone. I rounded up selections from some of my favorite albums of the year so far (hence the title) to create a sweet soundtrack suitable for any number of beach parties and BB-Qs this season (ditto).
Kicking off a funky one-two-three punch, the gliding guitars and bubbling synths of Hot Chip that highlight "One Pure Thought" open the mix on an almost wistful note, like the hot summer sun beginning to peek though the morning clouds. It leads into the more playful, laid-back disco strut of Hercules & Love Affair, whose self-titled debut would make a winning party mix by itself in any season. Quiet Village's cinematic "Circus of Horror" washes in shortly after from some '70s drive-in of yesteryear like the fresh tide, clearing the sand for the dub-licious "Shove It." Santogold's arrival to the party turns the heat on full blast just before music journalist-turned-electroprog connoisseur Dominique Leone provides a welcome interlude for burgers and beer.
With the ring of a phone, the heat gives way to a light chill with the spectral swagger of "I'm Good. I'm Gone" by Swedish newcomer Lykke Li. The breeze picks up with "Strangers in the Wind," my pick for the most underrated track from Cut Copy's album-of-the-year contender In Ghost Colours. Its refreshing pulse is interrupted with an abrupt splash through the surf courtesy of No Age, setting the stage for late afternoon volleyball matches and water balloon fights. "Here Should Be My Home," indeed.
All dried off, The Breeders welcome the twilight with swirling wails and "Overglazed" guitars that echo into the balmy air. After sunset, a bonfire is lit with the LCD piano lines of "The Twist," a frustrated tale of seasonal lust from Frightened Rabbit. Everything climaxes with the nostalgic fireworks of M83's "Kim & Jessie," a long-lost b-side from the best John Hughes movie never made if there ever was one.
As the evening winds down and everyone packs up their coolers and blankets, you can watch the fire finally flicker out to the calm, sobering "Deep Water." Arguably the most curious inclusion on Portishead's triumphant Third, it's also probably the most accessible, with frail ukuleles and haunting barber-shop harmonies perfect for falling asleep on the ride home.
True, summer's not quite here yet, and I couldn't fit everything I would have liked (sorry Kelley Polar), but I had only had 12 spots and six months to work with. Alas, next time. There's always Fall.
Stax of wax for the summer
by Ayn Averett
I always love to listen to hip-hop and punk rock during the summer. But there is such great stuff to pull from lately that does not fit into either of these categories, so here are some songs that will be on heavy rotation on my hi-fi this summer.
1. Vivian Girls "Going Insane"
What a great way to start the summer off. Dreamy songs, and even dreamer voices created by three hip, cool chicks: Cassie, Katy, and Frankie. A song I will let speak for itself.
2. Pylon "Functionality"
Year nineteen-hundred eighty was a good one for the band Pylon, pretty much the primo rock & roll sound between no wave and punk and electro. Thundering baselines, and short, loud vocals.
3. 7L & Esoteric "3 Minute Classic"
This song would make 2 Live Crew blush. A great little ditty but not for the overly sensitive ears, this song is such a groover I can't help but to listen to it over and over.
4. Carbonas "Phonebooth"
It is primitive, it is brutal, and it is immediate. Perfect.
5. Black Tambourine "For ExLovers Only"
The first strum of this guitar is struck and hangs there for a second before it coolly walks on. A solid drumbeat is topped by distant soft vocals, And then the vocals—dramatic, defeated, distant yet so fucking cool.
6. Times New Viking " We Got Rocket"
Does this band matter? You bet your sweet ass this band matters! Damn if this song isn't infectious. This song starts off with a cool funky beat. Then vocals come in and – zip, zip the song gets even better!
7. Lamps "Now That I'm Dead"
Throw a heap o' reverb and raspy vocals on top of having a bit of anger and angularity into the playing. The result? A fucking great song!
8. The Breeders "Saints"
I always have a soft spot in my heart for the Breeders. I am proud to present to you a great summer shaker.