10 Great Second Acts in Pop Music
Musical careers don't always move in a straight line. They ebb and flow. They twist and turn. And sometimes, they wrap around in spirals and go off in any number of bizarre directions. But more often than not, musicians find themselves at a point in their career where a holding pattern just isn't good enough, or worse yet, nothing's happening at all. Thus, some artists, after a long period of inactivity or just treading water, take the all-important step of hitting restart and moving into an entirely new phase of artistic development. It happens pretty often, but in some very special cases, it leads to music that's even stronger than what came before. This week, we celebrate 10 artists who opened up Chapter Two and never looked back, and were much better off for it.
Beach Boys
The Beach Boys' early days were spent topping the charts with carefree summertime singles about surfing, girls, surfing girls, and the occasional fast car or two. And it was a pretty successful formula, certainly not one that demanded more esoteric appeal or abstract artistic vision. That said, core member Brian Wilson saw fit to guide the band in a different direction, and by the mid-`60s, the Beach Boys had scarcely resembled the fluffy pop group they once were. The beginning of this second phase is 1965's Today!, which featured almost all original material, and not a lick of surfing tunes. But the pinnacle of Wilson's second act for the Beach Boys is the 1966 pop masterpiece Pet Sounds, an orchestral marvel that many bands aim for but rarely come close.
Stevie Wonder
Much like the Beach Boys, Stevie Wonder didn't undergo any long periods of inactivity or obscurity before undergoing a kind of transformation, but a number of inevitable phenomena helped him along the way. As a Motown child star in the '60s, Wonder dazzled audiences with his soulful pop hits and virtuosic harmonica playing, but in 1971 a number of factors would set him on an even more exciting course for the decade to come. He turned 21, for starters, which freed up some trust fund cash that paid for a self-produced album, Where I'm Coming From, and his contract with Motown expired, thus giving him more artistic freedom and better royalties. Freedom, in this case, went a long way, with the once-good artist becoming an untouchable marvel responsible for dynamic, life-affirming albums like Innervisions and Songs in the Key of Life. Arguably only Led Zeppelin and Neil Young had a decade as good as Wonder's in the '70s.
Tom Waits
There are few clear lines of distinction between an artist's first and second act than the one Tom Waits scribbled in chalk in 1983. For a solid decade, Waits made a name for himself as a bluesy balladeer, the kind of hard-luck, piano-playing troubadour that occupied dives throughout the '70s. But with a change in label from Asylum to Island came a change in direction – the Waits of Swordfishtrombones scarcely resembles the crooner bantering on Nighthawks at the Diner or the scat-man poet on Small Change. His voice was no longer a croon but the kind of croak that comes after gargling with gravel, his characters significantly more twisted, and his songs sandwiched somewhere along the intersection of Captain Beefheart and Kurt Weill, with occasional interruption by a mambo. This was, artistically, the best thing he ever could have done, and what's more, it stuck. This once risky artistic transition from Waits has lasted for nearly 30 years, and yielded albums as brilliant as Rain Dogs and Bone Machine in the process.
Scott Walker
Scott Walker's last name isn't really Walker, it's Engel. And the Walker Brothers, his vocal group of the '60s and '70s weren't actually brothers. But that's nonetheless where Walker launched his career, early hit "The Sun Ain't Gonna Shine Anymore" then leading him into a stunning streak of numbered, self-titled solo records that mixed ornate string arrangements with melancholy pop, Jacques Brel covers, commentary on fascism and references to Bergman films. So, even in the `60s, as one of the decade's most stylish crooners, Walker had already embedded himself in the realm of the arty and strange. Turns out he was just getting warmed up. A lengthy detour through middling to forgettable material in the `70s eventually found Walker regrouping in 1984 with the avant garde leaning Climate of the Hunter, a strong if less accessible album than all of his previous material that laid the groundwork for the eventual metamorphosis into eerie art rock on Tilt, and ultimately neo-classical aural nightmares on The Drift. He's got another one on the way this year titled Bish Bosch, and there's a strong possibility it's even further off the deep end.
Pulp
Pulp began in 1978 when Jarvis Cocker was but a lad of 15, and for almost another 15 years, the band would essentially languish in relative obscurity as they shifted lineups, changed their sound from their folky beginnings to dark post-punk and eventually a more danceable form of Britpop. But with 1994's His `n Hers, the group was, to a certain degree, reborn. Glam rock swagger, a uniquely poetic wit and a penchant for unforgettably sophisticated pop took over, ushering in one of Britian's greatest modern bands. Given that Pulp existed for more than two decades before finally breaking up (the first time), it's a wonder they only released seven albums. But for Different Class and This is Hardcore alone, they deserve a round of applause.
Mission of Burma
Mission of Burma Mark 1 came and went in the span of only a few years, issuing one incredible EP, 1981's Signals, Calls and Marches, and an even more powerful full-length, 1982's Vs. But that was it. The Boston band's members went off to do their own respective projects, which included Consonant and Volcano Suns among others, but after a long two decades with no Burma to speak of, in 2002, the group reconvened for some reunion shows and never looked back, picking up with their abrasive post-punk exactly where they left it, only louder and with a better sense of humor. They got off to an amazing start with 2004's ONoffON, took it up a notch with 2006's The Obliterati, and since then haven't slowed down a bit.
Robyn
I can vividly remember seeing the video for Robyn's 1997 single "Do You Know (What It Takes)" numerous times on MTV, but didn't really think much of it at the time, and despite this moment in the sun, the Swedish pop singer didn't make much of a splash in the United States, primarily because her label didn't really take to the music she made afterward. These label issues would continue up through 2003, at which point she released her third album, but following that year's Don't Stop the Music, Robyn Miriam Carlsson was ready to move on and start from scratch with her own label and a stronger, bolder direction. She launched her own label, Konichiwa, and in 2005 released her self-titled fourth album, a vibrant collection of modern pop songs that took on a much more diverse approach, not to mention one that simultaneously packed on the hooks while seemingly not caring whether or not it was commercial. This approach proved more artistically satisfying in the long run, and with 2010's Body Talk, Robyn set a new gold standard for electronic pop.
Dinosaur Jr.
Dinosaur Jr. today isn't really all that different from Dinosaur Jr. in the glory days — it's still Mascis, Barlow and Murph playing noisy, deafening pop music that's fun at any volume, but especially when cranked to ungodly levels. That said, there was a period where Dinosaur Jr. didn't really exist. The more or less J Mascis solo record Hand It Over, released in 1997, marked the last album with the Dinosaur Jr. name before J saw fit to dissolve the brand and go solo. But a reissue campaign and a reunion tour with the original members back together inevitably led to a new series of crunchy, solo-heavy material that includes Beyond, Farm and this year's I Bet On Sky, all of which pretty much rule.
Portishead
Public awareness of trip-hop was already beginning to grow in the early '90s, thanks in large part to Massive Attack's seminal Blue Lines and the commercial, yet esoteric jams of Soul II Soul. But with Dummy, Portishead stretched its possibilities, making this obscure British sound into something paradoxically more universal and more alienating, sexier and more sinister. One more album dropped in 1997, but after that? Eleven years of silence. Geoff Barrow and Beth Gibbons worked on various other things, never claiming that Portishead was, in fact, a done deal, but not suggesting otherwise either. The silence broke in 2008, after a Coachella appearance, with a new version of Portishead that certainly looked like the band that enchanted audiences in the '90s, but sounded a lot more evil. Taking cues from Silver Apples and various krautrock acts, Portishead introduced an even darker version of their sound with Third, an album that stands as one of the more terrifying listens of the past decade. Yet it's also one of the most engaging, a document of a band reinvented not with hope or triumph, but a singularly bleak vision.
Swans
Michael Gira's Swans have undergone some form of metamorphosis with almost every album they've released, from their earlier noise/no wave assault, to mid-80s gothic industrial dirges, and finally droning post-rock abstraction with their beautifully bewildering 1996 swan song, Soundtracks for the Blind. Gira put the Swans name on hold for a while as he took on a folky post-punk style as Angels of Light. But in 2010, Gira revived the Swans name once again, deeming the time appropriate to bring back the apocalyptic art-punk maelstrom that once made audiences physically ill. Only this time, neither ambient abstraction nor pounding confrontation were to be part of the equation, but rather an expansive, epic new chapter of prog-punk that found Swans simultaneously louder and more triumphant than ever. The first such post-reunion album, My Father Will Guide Me Up a Rope to the Sky, was a stellar re-introduction, but this year's double-disc The Seer made it clear that album was just a warning for the storm to come.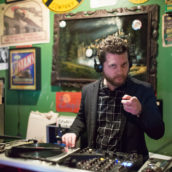 Jeff Terich
Jeff Terich is the founder and editor of Treble. He's been writing about music for 20 years and has been published at American Songwriter, Bandcamp Daily, Reverb, Spin, Stereogum, uDiscoverMusic, VinylMePlease and some others that he's forgetting right now. He's still not tired of it.