Mr Twin Sister : Mr Twin Sister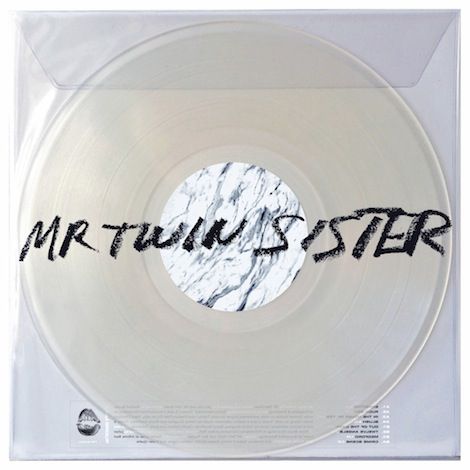 I'm going to be straight with you — I find pop music to be frustrating. Growing up, I wasn't too interested in what was on the radio. Sure, I am very familiar as the next guy with '90s staples, but my exposure to most music came through classic rock and pop hits on the oldies station. Now, we live in an era where the tunes I grew up with are artifacts of the past, and new music is constantly rotating in and out. In many, what ends up on the charts feels disposable, and listeners are quickly attuned to being ready to move on to whatever gets pressed out of the major label Play-Doh factory. But let me be clear: I do love pop music. One of my favorite records last year was Haim's Days Are Gone. Justin Timberlake's Futuresex/LoveSounds was a critical part of my high school years and Michael Jackson's Dangerous remains as timeless to me as ever.
But some of the best pop music is made by those that slip under the radar. Enter Mr Twin Sister (formerly Twin Sister) a Long Island band who made a name for themselves in 2011 with a strong debut, In Heaven. Since then, they've gone through some radical changes, the prominent ones being severing ties with their former label Domino, changing their name and deciding to continue their career independently. In addition, the band has had its share of personal impediments: Lead singer, Andrea Estella was recently diagnosed with Multiple Sclerosis just last year and shortly after, the band was involved in a car accident on tour that left them all in the hospital. As a result, they had to push back on their second release, but against the odds, it arrived — and it was well worth the wait.
Mostly recorded inside keyboardist Udbhav Gupta's bedroom, Mr Twin Sister's self-titled sophomore effort is a gorgeous arrangement of pop music. Opener "Sensitive" is a lush introduction, with its seductive production and Estella's sensual vocals asking, "Is this just an illusion? Is this romantic dreaming?" under her soft breath. As the album progresses, it gets even better, unraveling a continuously rewarding listening experience. "In The House Of Yes," a seven-minute dance jam, features a captivating beat with a few surprises littered in between, including a piano and saxophone — an excellent touch. Similarly, "Blush" integrates those styles, backed by a string section, strong production from the band and a hint of saxophone toward the end.
Those are some of the major highlights, but overall, Mr Twin Sister's self-titled album is an impeccable feat despite the band's unfortunate setbacks. Few pop albums — mainstream, underground or otherwise — sound this good and focused. Going entirely independent has proven to be an advantage for Mr Twin Sister, as they have reinvented themselves and created a spectacular assortment of music — some of the best to come out this year.
Similar Albums:


Lykke Li – I Never Learn


Teen Daze – All of Us, Together


Chairlift – Something
Find it at: Buy at iTunes