Julian Casablancas and the Voidz : Tyranny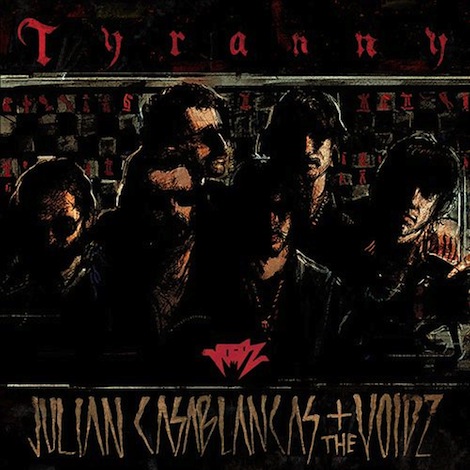 Karen O and Julian Casblancas recently interviewed each other for Time Out New York, each of them going over their origins and meditating on how much the New York music scene has transformed as they've watched it. A lot of contemporary New York bands owe a considerable debt to these two musicians (and generations of others before them) for keeping an iconic movement in music alive. And though it may seem funny to think about it now, but for a time, at least, O and Casablancas each paid some dues playing some of the same tiny clubs that the city's younger bands are now.
There's one aspect of the interview that stuck out to me, however; Casablancas mentioned that he finds writing lyrics to be difficult. Often times, he struggles to figure out what he wants to sing about, and it has plagued him throughout his career. In some cases, his songwriting skills with The Strokes are stellar, due to his ability to spin convincing yarns. But ultimately, Casablancas has a depth problem. On his second solo album, backed by his new band The Voidz, Casablancas doesn't quite reach anything that carries alot of meaning. For the most part, his vocals are covered in the drowning sounds of the band, and while the melodies are there, Casablancas makes himself absent, with only lengthy mumbles tucked in. While this might have been done on purpose to encourage the reading of the lyrics, it doesn't necessarily work to his advantage.
Since his last record, Phrazes For The Young and the tug of war with The Strokes, Casablancas has been looking for a way to distance himself from each. It's apparent that Tyranny is part of his initial transition to become a much better artist. His recent work with The Strokes only confirms that he's bored with being in a band so revered and weighted with expectations. With Tyranny, Casablancas proves he's ready to move ahead, but where exactly he's headed is still unknown. Tracks like "Where No Eagles Fly," with its super spy-theme riffs, prove that he and The Voidz have some likeable talent. However, Tyranny's first single, "Human Sadness" is far less encouraging. It's a prime example of why long tracks can sometimes be a huge disadvantage, and drags on for an unbearable 11 minutes for no good reason.
Tyranny isn't without its small accomplishments; "Crunch Punch", "Johan Von Bronx" and "Nintendo Blood" are all standout tracks that present a tiny opportunity of where this album could've gone, but a too-large chunk of the album feels like filler at best. When I caught the last half of Casablancas' set at FYF Fest this summer, I liked what I heard, but unfortunately, the ideas on the album didn't necessarily translate into something concrete and cohesive. Casablancas is a talented musician, and based on what he's implied in print, he's ready to move forward creatively. Tyranny just isn't the record that's going to get him there.
Similar Albums:


Franz Ferdinand – Right Thoughts, Right Words, Right Action


Phoenix – Bankrupt!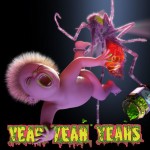 Yeah Yeah Yeahs – Mosquito