Retox : Beneath California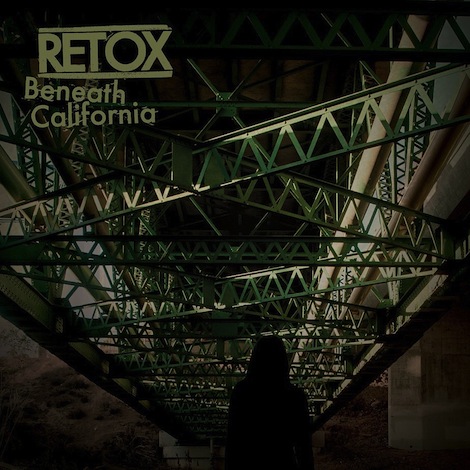 In 2014, I was pretty open about how unimpressed I was with a variety of extreme hardcore/metalcore releases. It wasn't as if every metalcore record I heard was absolutely terrible, but it definitely felt like hardcore was going through an inevitable mid-life crisis, drudging through the mundane repetitions of life until it figured out what it was supposed to do. After that year of disengaged uncertainty, I'm glad to be kicking off 2015 with a half-hour of intensity from San Diego's Retox.
Bassist/vocalist Justin Pearson (best known as a founding member of The Locust) started Retox to carry on the bizarre, complex synergy that members of The Locust, Blood Brothers and Yeah Yeah Yeahs created as supergroup Head Wound City, but the Southern California-based quartet has evolved into something else entirely. In many ways, Retox has become Pearson's most straightforward project: the riffs are beefier, the time-signature changes have been trimmed down and the vocals neglect screaming or squealing in favor of a strained-yet-audible shout. And on Beneath California, Pearson uses this more transparent platform to dig back into the roots of California hardcore: expressing discontent at the loudest volume and most aggressive pace possible.
There's nothing too fancy about the songs on Beneath California, and that's exactly what makes them such a pleasure to listen to. Pearson and company plow through twelve tracks of disgruntled, dynamic hardcore with the clean, technical precision that Pearson exhibits as a member of the Locust, but without any desire to over-complicate or muddy up his message. The hooks are more bizarre and the drums pound a bit more, but Beneath California carries with it a timeless, focused rage that measures up well as companion to early California hardcore records by the likes of Black Flag and Dead Kennedys. It's at once a release of dark, chaotic energy and a breath of putrid, smog-ridden air.
Similar albums:


Gust – Gust


Converge – Axe to Fall


Burning Love – Rotten Thing to Say