Stream Royal Thunder's Crooked Doors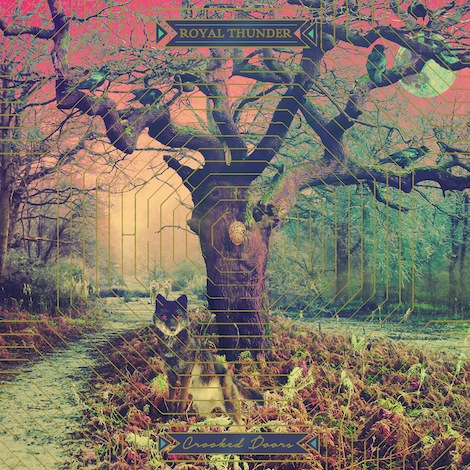 Atlanta hard rock quartet Royal Thunder are following up their excellent 2012 debut CVI with Crooked Doors, out April 7th via Relapse. But Crooked Doors gets a little complicated than that: Its lyrical material is based around the romantic breakup of bassist/vocalist Mlny Parsonz and guitarist Josh Weaver, and the end result has been described as a hard rock cousin to Fleetwood Mac's legendary Rumours LP. But, don't take our word for it; the entire album is streaming for free this week, courtesy of NPR Music.
Royal Thunder's "Whispering World" was featured in our recent rundown of 25 Essential Relapse Records tracks.
Tracklist: Royal Thunder- Crooked Doors
1 Time Machine
2 Forget You
3 Wake Up
4 Floor
5 The Line
6 Forgive Me, Karma
7 Glow
8 Ear On The Fool
9 One Day
10 The Bear I
11 The Bear II
Royal Thunder tour dates:
5/28 New Orleans, LA – Siberia *
5/29 Houston, TX – Fitzgerald's *
5/30 Dallas, TX – Club Dada *
5/31 Austin, TX – Holy Mountain *
6/2 Phoenix, AZ – Rebel Lounge *
6/3 San Diego, CA – The Hideout *
6/5 Anaheim, CA – The Grove +
6/6 San Francisco, CA – The Regency +
6/8 Portland, OR – Roseland Theater +
6/9 Seattle, WA – Showbox SoDo +
6/10 Boise, ID – Revolution Center +
6/12 Missoula, MT – Wilma Theatre +
6/13 Spokane, WA – Knitting Factory +
6/14 Vancouver, Canada – The Commodore Ballroom +
6/16 Billings, MT – Pub Station *
6/18 Salt Lake City, UT – Crucial Fest
6/19 Denver, CO – Larimer Lounge *
6/20 Kansas City – The Record Bar *
6/21 Minneapolis, MN – The Nether Bar *
6/22 Chicago, IL – BEAT KITCHEN *
6/23 Grand Rapids, MI – The Pyramid Scheme *
6/25 New York, NY – St Vitus *
6/26 Great Scott – Boston, MA *
6/27 Providence, RI – The Parlour *
6/28 Philadelphia, PA – Kung Fu Neck Tie *
6/30 Baltimore, MD – Metro Gallery *
7/1 Richmond, VA – The Camel *
7/2 Charlotte, NC – The Shop Shop *
7/3 Atlanta, GA – The Earl *
* with Wild Throne
+ with Rival Sons, Halestorm