Sharon Van Etten : I Don't Want to Let You Down EP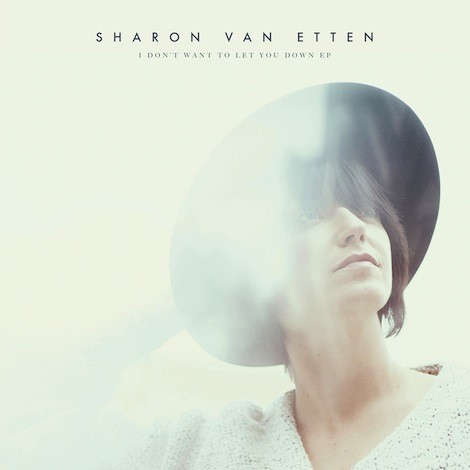 If asked who I considered the best songwriters in music right now, I would have to give Sharon Van Etten the top spot. (The runners-up would mostly be rappers like Kendrick Lamar and Vince Staples, which is a debate for another time and place.) Her fourth album Are We There, released last year, is a staggering masterpiece of catharsis, a cycle of breakup songs as vicious and sad as The Afghan Whigs' Gentlemen but with more self-knowledge and less vanity. The default response of many people my age to language like, "Burn my skin so I can't feel you/I'll stab my eyes out so I can't see," (on "Your Love is Killing Me") is to call it overwrought, but you always believe Van Etten. She is dark and at times profoundly despairing and yet not humorless; her voice and lyrics unadorned yet containing their own sort of beauty.
I Don't Want to Let You Down, an unexpected but welcome aperitif after the banquet of Are We There, lacks the scope and depth of her full-length albums, but could be a useful entry point into her discography. The title track is a contender for her best single yet—catchy and palatable to less adventurous ears without sacrificing any of the things that make Sharon Van Etten who she is. The riffs are warm and ringing, and Van Etten's singing on the chorus has never been better.
In a recent interview, Van Etten characterized this EP's songs as "misfits" that didn't make the cut for the last album but were too good to give up. And they don't form a cohesive whole—for example, "I Don't Want to Let You Down" leans slightly in a positive direction while the other four are varying shades of dark. Nothing here is as unremittingly brutal as "Your Love is Killing Me"—most songs in general aren't that brutal. (She notes in the interview that she considers most of the songs she writes too painful to be shared, and considering the bleakness of albums like Epic and Are We There, that's a scary thought.) But a summation of the overall emotional vibe can be found in the chorus to the piano-driven "I Always Fall Apart": "You know it's always been my heart, you know I always fall apart/It's not my fault, it's just my flaw—it's who I am." And this is part of what makes Van Etten's work so appealing. She is not seeking absolution so much as coming to terms with her flaws. She wants to deal with them honestly and learn from them. With many "confessional" songwriters and lyricists, I feel a certain degree of self-pity in their attitudes (and self-pity is not the same thing is self-loathing, which Van Etten does have), and I never feel that with her.
I've seen some critical complaints about Sharon Van Etten's arrangements and sound, and have never really understood them—it's sort of like saying "Ugh, I can't listen to Joni Mitchell because of the guitar playing." There are no jaw-dropping feats of instrumental virtuosity on this EP or most of her records, but so what? That's hardly the point. And in any case, there's a comforting tone to this one, and plenty of little standout moments—the post-rock guitars on "Pay My Debts," the organ throughout "Just Like Blood" and the riffs of the aforementioned title track and "Tell Me" are just a few.
Ultimately, I Don't Want to Let You Down is kind of a stopgap while Van Etten tours and works on newer material, and new listeners are not going to be blown away by it the way they will be by her albums. But if anyone finds this EP because of things like, uh, a performance on Ellen DeGeneres's talk show and dives into the catalogue of this sui generis singer-songwriter, that's a net positive for me. And am I just plain happy as a fan that Sharon didn't toss these songs onto the scrap heap and I get to hear them? Fuck yes.
Similar Albums:


Sharon Van Etten – Are We There


Torres – Sprinter


Natalie Prass – Natalie Prass