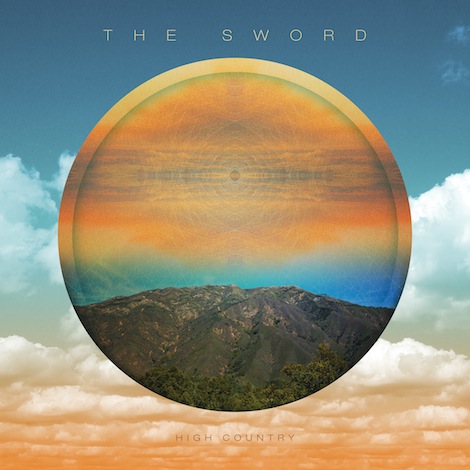 There's a particular narrative surrounding the release of High Country, The Sword's fifth full-length record, that would have you believe that they are no longer a metal band. Press releases and even early reviews on the record mark a significant shift for the Austin, TX band, painting a stark transition from doom metal to stoner rock. But framing High Country this way doesn't really do justice to either The Sword or the genres involved in the conversation.
The Sword have indeed made adaptations to their sound; they've been playing and recording together for more than a decade and a lack of creativity in any career that long means boredom for both the musicians and their audience. But in drawing out more psychedelic moments and bringing in the occasional folk-inspired passage, the songs on High Country don't abandon the band's modus operandi. This is still doom metal—a collection of dauntingly triumphant dirges honoring broad and majestic topics with the subtlety of a juggernaut.
In truth, High Country finds The Sword one step closer to resembling doom metal's most holy originators, Black Sabbath. Take one listen to Master of Reality or Vol. 4 and it all starts coming together a little more clearly, as Sabbath's "Sweet Leaf" and tracks like "Mist and Shadow" and "The Dreamthieves" begin to resemble long, lost companions. Even the way the guitars work alongside J.D. Cronise's vocals more closely resemble Sabbath's early triumphs, painting Cronise as a baritone Ozzy in his own right.
All this aside, there is a certain amount of reasoning to those aforementioned press releases. In powerfully emulating a style forged in the early '70s, High Country comes across as more parts tribute than invention, and the story of a band carving out a new niche is always likely to sell more. But The Sword have created a whopping creation of doom that they should be proud of; it's a hell of a good time, with mesmerizing riffs and contagious energy to spare.
Similar Albums:


Black Sabbath – Vol. 4


High On Fire – Death Is This Communion


Electric Wizard – Black Masses