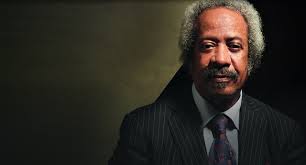 Legendary New Orleans musician and composer Allen Toussaint has passed away. According to the Associated Press, Toussaint suffered a heart attack after a performing a concert in Madrid, Spain. He was 77.
"Rescue workers were called to Toussaint's hotel early Tuesday morning and managed to revive him after he suffered a heart attack, Madrid emergency services spokesman Javier Ayuso said.

But Toussaint stopped breathing during the ambulance ride to a hospital and efforts to revive him again were unsuccessful, Ayuso said."
Toussaint was an accomplished performer and composer, having penned hits such as "Working in a Coal Mine" and "Lady Marmalade", and experience working with music legends including Irma Thomas, the Meters, Joe Cocker and the late Ernie K-Doe. Toussaint received the Recording Academy Trustees Award during the 2009 Grammy Awards and was still an active performer, even as he neared the age of 80. He was expected to perform a benefit concert along with longtime friend Paul Simon in New Orleans on Dec. 8.
Watch Toussaint perform "Southern Nights."