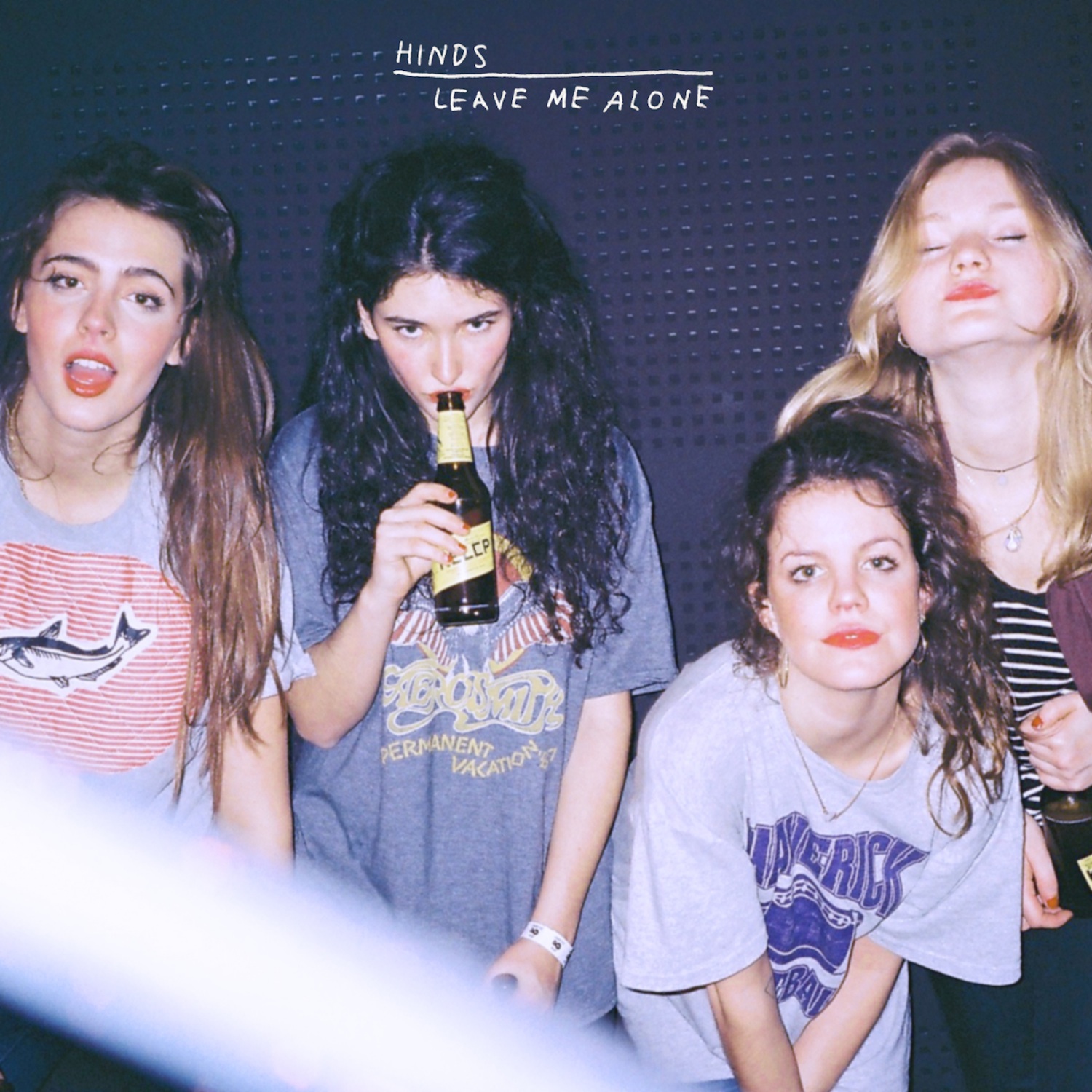 If you'd guessed that Hinds would blossom into one of the most exciting new bands to come out of anywhere, never mind Spain, upon hearing their two-track demo in 2014, surely you'd be hailed as clairvoyant. Back then, the band were called Deers, consisted of Carlotta Cosials and Ana Perrote (each on vocals and guitar), and their demo was perhaps not as purposeful as they would have liked but somehow got the attention of members of The Black Keys and Primal Scream, as well as major press outlets. Not bad for a duo that had gone quiet after forming in 2011 and could easily have flamed out in the interim. By the end of their first proper year as a band, they'd picked up a bassist (Ade Martín) and drummer (Amber Grimbergen), been signed by and released a follow-up single on Lucky Number, and been threatened with legal action—their rising popularity having been noticed by Canadian band The Dears. You know, standard stuff for a fledgling band. Cue a name change.
From there, the quartet spent much of 2015 in the studio, putting together a debut album; the anticipation for which only seemed to rise as the months passed. Riding a wave of hype had gotten them further than plenty of other bands, but has the album been worth the wait? Oh yes, absolutely—it's a raw and raucous garage rock record filtered through an expressively melodic '60s pop lens that delivers on the band's early promise. In any case, going by its title, Hinds aren't too worried about who cares, or if anyone does at all. Even though a lot of people clearly do—notably in their native Spain—they're just going to keep doing their thing. Whether Leave Me Alone is an antisocial protest or a rallying cry remains to be seen, but the quartet are clearly ready to take everything in their stride. The 12-track, 38-minute album is confident to an almost alarming degree, kicking off with the psychedelic squall of "Garden" and barely pausing for breath from there on out.
They've come a long way; just listen to the album take of "Bamboo," which takes the ramshackle demo version and perfects one of the band's early anthems. Not quite as effervescent as its counterparts—the lyrics deal with the impending implosion of a strained romantic relationship—it is nonetheless rightly regarded as one of the band's calling cards, slotting in nicely amidst previous singles "Chili Town" and "Castigadas en el Granero," the latter of which makes full use of the record's commitment to the lo-fi aesthetic. Sure, there's no question that songs as immediate as these would shine with glossier production, but as hooks and tempo changes come thick and fast throughout, it's tempting to just go with the flow; and indeed, their ability to mix up moods is what keeps the album from becoming too samey. "Fat Calmed Kiddos" and "San Diego" benefit hugely from Hinds's fluid approach to writing, among the highlights on a record that sounds ragged and scrappy yet makes a bigger impact than its more forceful-sounding pop contemporaries.
Leave Me Alone avoids being front-loaded, a trap that many other fresh-faced bands fall into; one could even make the argument that the highlights are to be found on the back six—the run from "And I Will Send Your Flowers Back" to "Walking Home" is as good as you could hope for from a band at this stage in their career. Refinements and development will no doubt come later, but Hinds are essentially fully-formed on their debut, marking their first major milestone in style.
Similar Albums:


Deradoorian – The Expanding Flower Planet


Chastity Belt – Time to Go Home


Colleen Green – I Want to Grow Up