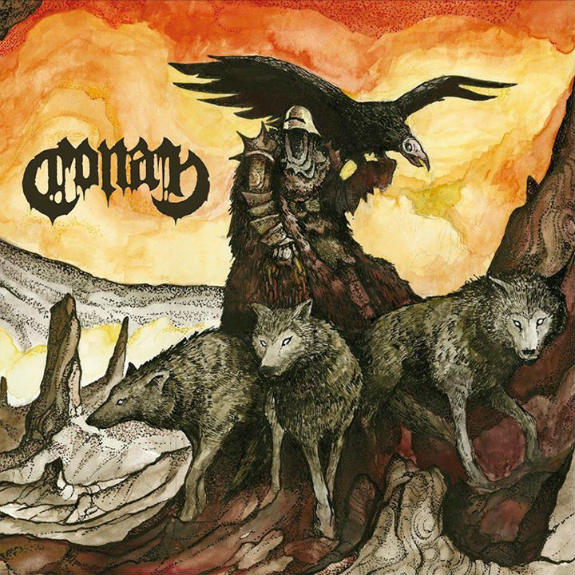 Conan songs are meant to be played as loud as possible, to the point of speaker destruction or even hearing damage. That's the one thing that applies about as much to the UK "caveman battle doom" merchants on record as it does to their live show. At times it doesn't sound like the same band; they've progressed from the slow and crushing atmosphere of their first two albums to something more energetic and somehow even heavier than previous work. That's no mean feat.
I saw them annihilate a dive bar/music venue in Dublin in 2014, a month after Rich Lewis had replaced Paul O'Neil on drums. Lewis also handles drum duty for Welsh progressive-math-doom (yes, that's a thing) band Intensive Square. (Side note: go listen to Intensive Square, preferably after you've finished reading this review.) At that time, it wasn't immediately apparent what Conan were morphing into, but there was a sense of something changing; a newfound energy that was palpable even as their slowest songs were played.
Revengeance doesn't eclipse either Monnos or Blood Eagle, but it doesn't need to. In a trio, even one lineup change can have seismic effects, and Conan's third album showcases their ability to adapt to their surroundings. Their first two albums already exist, so there's no point trying to emulate them. Besides, the core aspects of the band's sound have remained static since their 2007 demo Battle in the Swamp, which is to say that opener "Throne Of Fire" is as full-on as we've come to expect, Jon Davis's untethered holler fighting against the towering presence of buzzing guitars and brooding, distorted bass.
It's easily the shortest track on the record, but is a surprising burst of energy that does a great job of preparing the listener for what is to come. There may be times when the band revert to type—without looking at track times, you could guess that closer "Earthenguard" goes for the gusto, and you'd be right, as it runs to almost 12 minutes in length—but that same song adds some psychedelic, spaced-out tinges to something that would otherwise cling too closely to the doom template for some.
Deconstruction of the usual formulae is not what Revengeance is about, but in its willingness to take risks, it shows that Conan haven't been resting on their laurels. The title track is full of time signature shifts, stabbing guitar leads and blast beats, a compelling collision of musical ideas that works wonderfully and sticks out in the best way. They've decided that they want to be more than just another doom band, and Revengeance marks the start of the transition into the best version of themselves that is surely coming. It sticks to their old reference points while throwing something daring and new into the mix. It will still rearrange your face, but in different ways.
Similar Albums:


Abbath – Abbath


Windhand – Grief's Infernal Flower


Crypt Sermon – Out of the Garden