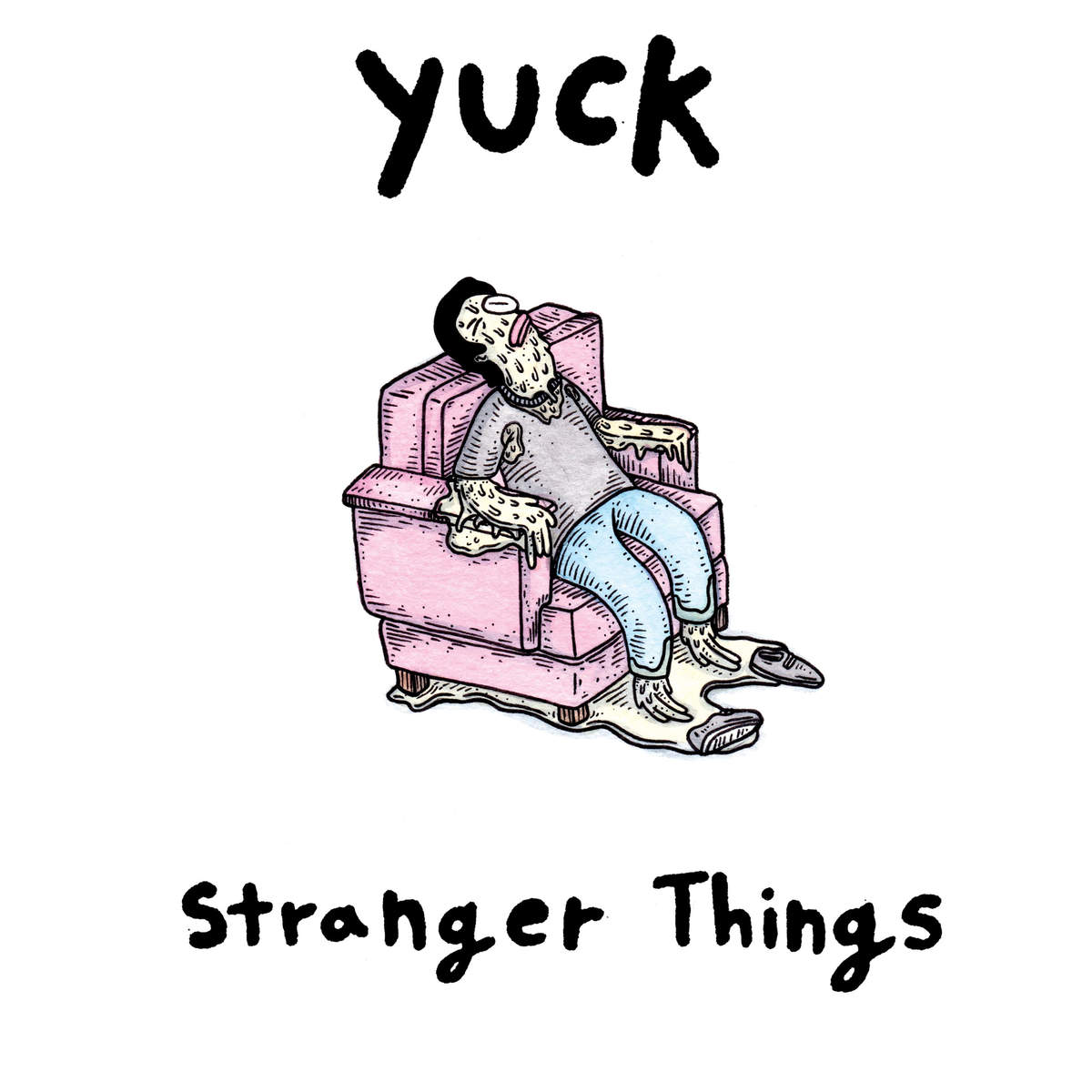 Yuck make music like the last 20 years didn't happen, and for at least one full-length album, it was endearing. Their 2011 self-titled debut was a thrashed-out headrush of Dinosaur Jr./Sonic Youth nostalgia, anchored by frontman Daniel Blumberg's sober commitment to the cause. When Blumberg announced his departure in 2013, it was hard to see how the project could move forward, but the sophomore album Glow & Behold followed mere months later. Under the new leadership of guitarist/singer Max Bloom, they were still mining the '90s, but their reference points had softened—the spikiness had been replaced by the slacker melodies of The Lemonheads or Teenage Fanclub. It was still committed, but lower energy levels only served to expose the lack of imagination.
Now, Stranger Things extends the Bloom stewardship, and if anything, things appear to have regressed. Opener "Hold Me Closer" doesn't sound any more like a 1991 throwback, but instead a conceited attempt to invoke 2011 Yuck. It's a pretty good impression, and for those that felt short-changed by the Bloomberg incarnation of the band, it goes some distance to quenching that thirst. Unfortunately, this ersatz self-reflection is about as compelling as Stranger Things comes.
The early momentum struggles to sustain through "Cannonball" and "Like a Moth," both serving as further reminders of past glories. And when the record reverts to the more mellow, Glow & Behold-style songwriting, you get a sense that Bloom is back in comfortable territory. The title track allows itself time to develop, and its languid, luxuriant tempo is natural and unforced, but whether it will satisfy original fans of the band will remain to be seen, but even if it does, it is hard to imagine that many of the tracks that follow it could.
"I'm OK" and "As I Walk Away" leave minimal impression. When a band that prides itself on its Malkmus-like disaffection loses control of your attention, then there is not a lot for them to fall back on. Perhaps the worst offender is the appropriately-titled "Swirling," which lacks direction or motivation.
Ordinarily, it may be unfair to hold a band to their earlier records, especially after such a fundamental change in composition. Whether they could have escaped such comparisons with the clean break of a name change after Blumberg's departure is now academic, but what Yuck have delivered with Stranger Things is neither a satisfying update on what established their reputation in the first place, nor an intriguing diversion into fertile territory. If they are to continue beyond this point, they will surely need to succeed on at least one of those counts next time.
Similar Albums:

The Pains of Being Pure at Heart – Days of Abandon


Wild Nothing – Life of Pause

Wavves – V