La Sera : Music For Listening to Music To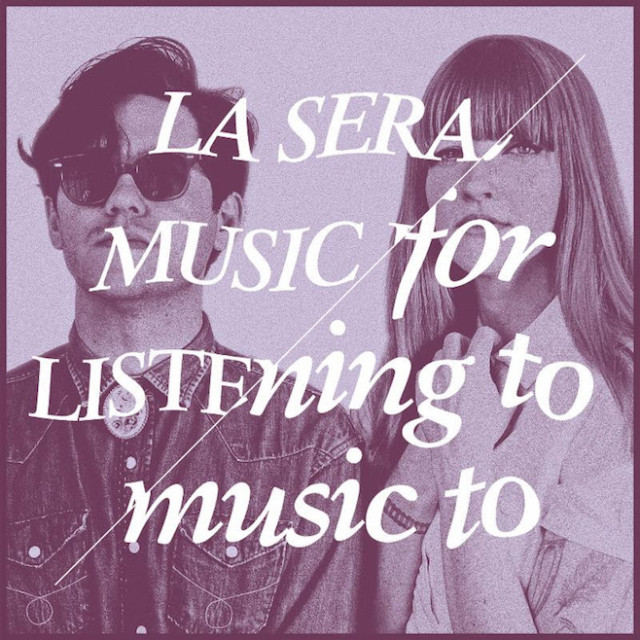 This year brings about a bundle of new beginnings for La Sera. For starters, member Katy Goodman is bringing someone else into the spotlight—new husband Tod Wisenbaker has joined the lineup. That addition brings with it a notable change in lineup; La Sera now comprises just the duo of Goodman and Wisenbaker, formerly a Goodman solo project, on their newest set of beach-charmed tracks, which are compiled onto La Sera's fourth album, Music For Listening To Music To.
The follow-up to 2014's Hour of the Dawn, La Sera's latest album title is a treatise on our musical consumption—what are we listening for, and how carefully do we really listen? Throughout Music For Listening To Music To, it becomes clear that the reward lies in just how closely you listen, as the duo has skillfully sprinkled in little jokes, like the little imitation catcall whistle at the end of "Time To Go." In the midst of musical bumps, it seems La Sera has found their calling in a niche of making musical wisecracks.
On Music For Listening To Music To, the addition of Wisenbaker feels Goldilocks-level just right. His vocals add a dynamic of contrast against Goodman's sweet coos, and his blunt style molds perfectly with her effervescent melodies. On nostalgic exploration "Nineties," we get a full taste of Wisenbaker's potential, whereas "Shadow of Your Love" is the epitome of Goodman's elegant yet flirty vocals.
It's no secret that fresh love plays a central role in the creation of Music For Listening To Music To. The duo behind the songs have enhanced the scope of emotion, being honest and truthful in the light of overwhelming attention to hook-up culture. On "Take My Heart," Goodman offers her whole self, holding nothing back in her expression, which is met with a sparse guitar line akin to a dark Nirvana-like moment. Goodman prods, "Do you believe in me?" throughout the track, a beautiful ballad laden with sheer honesty. The song feels eerie enough to the point that it could've passed for a musical interlude at the Twin Peaks Roadhouse.
The overall quality of the album is polished and crisp, an unsurprising conclusion to draw considering Ryan Adams produced it. Where Goodman's previous release felt lackluster at times, Music For Listening To Music To is a step up the food chain, filled to the brim with reformed doo-wop and surf rock fusion. La Sera's newest set of songs covers everything from heart-wrenching nostalgia to basking in the present. It's an amalgam of daily life, featuring the highest of highs and the lowest of lows.
Similar Albums:


Jenny Lewis – The Voyager


Tennis – Young and Old


Best Coast – California Nights