Purple Relics: 13 Prince rarities from the Vault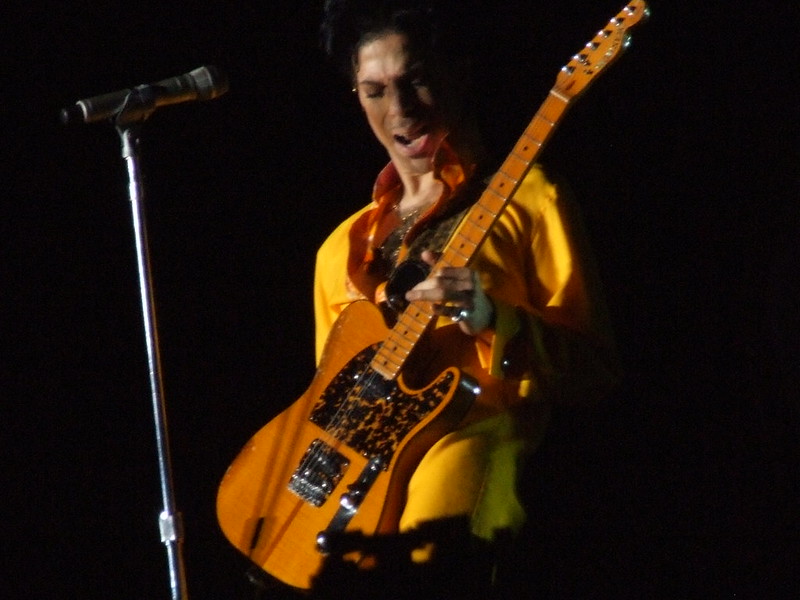 Photo by Scott Penner, creative commons [CC BY-SA 2.0]
With the tragic and unexpected passing of Prince, one known fact has been made clear: He still has plenty of music we haven't heard. But just how much is uncertain. The mystery surrounding the infamous Vault will only intensify in the next few months and possibly years, especially when the executor of his estate and his old label, Warner Bros. decide what to do with it all. Although Prince fans can hope the material receives a proper and formal release (minus the 94 East tracks), it is currently undetermined and likely will be indefinitely. Some Prince collaborators have voiced their concern over keeping the music locked up, though loyal fans are eager to own The Purple One's unheard masterpieces.
In recent days, fans from all over have begun to share these tracks. The amount of demos that exist is overwhelming, and it's impossible to know how much of this material is available. Songs that have recently surfaced online point to the his exceptional talent, which makes his bootleg releases worth hearing. I hope that most of these get properly remastered, since they were lifted off unofficial tapes, LPs and CDs (they even have a separate Discogs category). There's a market for it, and his most devoted fans are certainly willing to pay for it.
Though this is not a definitive list, it's a starting point for Prince demos that seemingly could have been record-selling hits (especially when his career faltered at certain points) but unfortunately never saw the light of day in their original form. We may never know why.
94 East – "Just Another Sucker"
Before Prince embarked on his fruitful solo career, he was a guitarist for 94 East, an early pioneering group of the Minneapolis funk sound. Pepe Willie, a distant family member to Prince, was their de facto leader. Supposedly, this track was recorded when he was 16 and is one of the few 94 East releases with Prince attached to it. Upon first listening, it's clear "Just Another Sucker" is birthed out of The Purple One's uniqueness. The guitar solos, the synth arrangements, all early distinguishing styles that would later come to define his full body of work. If this was one of the few 94 East tracks with Prince as a featured writer. One can only imagine what his other unheard writing credits he made during this period may have sounded like.
94 East – "If You See Me"/Prince – "Do Yourself A Favor" 
While still in 94 East, Prince played guitar on another track, "If You See Me" which later became the fantastic, "Do Yourself A Favor." Prince was reportedly upset with his guitar parts, so Willie had him re-record it. When Prince later recorded the song on his own, Willie recalls that Prince played this version from memory having not heard the original from 94 East for many years. Both share similarities, but the latter supersedes the former. "Do Yourself A Favor" still maintains the integrity of the original song, but here, Prince develops a much more involved and exciting track with his magic touch. Judging by the musical style with the dominant synths and phenomenal guitar parts, this is probably Prince jamming during his 1999 era. Why he didn't give this a proper release is upsetting. This could've easily been a big hit and a crowd favorite.
"Extraloveable"
Diehard Prince fans are certainly aware of this one. "Extraloveable" long begged for a proper release. Eventually, Prince did release "Extra Loveable" in 2011 (featuring a rap from Andy Allo) and then again in 2013 as "Extra Loveable Reloaded" (this version made it's way to HitNRun: Phase Two) both completely altered from the original and flat-out boring. Each track separated itself from the 1982 recording that found its way to Prince fans through various bootlegged formats. It's also Prince at his most risqué: The provocative lyrics find him "on the verge of rape." Supposedly, "Extraloveable" was also considered for Vanity 6. Why was it never released? In retrospect, it has reprehensible content, even for a Prince song. Maybe if he'd removed that one lyric and not messed with it in later years, this no doubt would've been a chart topper.
"Wonderful Ass"
This song is about Vanity's booty and that's it. Indisputably most of the songs on Purple Rain (including the title track) were about Vanity, who had quite a bit of input on the project. Originally, she was tapped to play the female lead in Purple Rain, but her tumultuous relationship with Prince led to her departure and replacement by Apollonia. Vanity must have been quite the muse, because this track shows Prince at his most excellent and inspired such a dedicated song. From the signature synths, the tasty guitar licks and support from Wendy & Lisa, Vanity definitely had His Royal Badness wrapped around her finger to produce such an awesome song. Even after listening to it, it's confusing why this track was never properly released as a regular single or B-Side on a 12-inch. This could easily (and still) destroy dance floors.
Mazarati – "Jerk Out"
Ah, Mazarati, the band more famous for the songs they didn't have hits with. The history of "Jerk Out" begins with Prince writing it for The Time in 1981. A recording of him playing all instruments and singing vocals exists, though remains unreleased. The song was later given to Mazarati in 1985, which is the following result. This very likely would have yielded a debut hit for them because it's pretty amazing. Regrettably, the band passed on it because of the lyrical content about kidnapping, bondage and racism. It's sort of a bullshit excuse because, keep in mind, this is Prince during his prime and at his most provocative. Prince is featured here providing backing vocals along with his ridiculous guitar playing next to an infectious bass line. Fast forward to 1989: The Time got the song back, reworked it, removed the offending lyric and skyrocketed to number nine on the charts in 1990. They even got to play on Arsenio. OOPS.
Mazarati – "Kiss"
When Mazarati passed on "Jerk Out," they wanted another song, so Prince gave them "Kiss" which was just a simple acoustic tune. Mazarati configured the initial blueprint on their version, but it lacked any excitement. When Prince heard it, he took it back and transformed it into the better-known song familiar to many ears. Mazarati were credited and their backing vocals were used for the final versions of the track but sadly they never got their big brush with success despite their involvement with some big Prince-produced hits. Unfortunately, their career got buried and their LPs have since become scarce and sought heavily by record collectors.
Vanity 6 – "Sex Shooter" 
Apollonia 6's version wasn't a great song to begin with (it got a Razzie) and is weak compared to Vanity 6's. Here, Vanity provides a little more energy and kicks the song into high gear, an element that lacked with Apollonia. Furthermore, this is some evidence of Vanity's involvement with the Purple Rain material. It was also rumored that "Manic Monday," "The Glamorous Life," "Take Me With U," "Extra Loveable" and "17 Days" were all supposed to be featured on Vanity 6's second album. Though the details of her falling out with Prince will never come to light, it's tragic that Vanity ended with a subpar solo career and this never saw a proper release. She later left music to become a born-again Christian. This, along with the mentioned tracks, would've absolutely solidified Vanity as Prince's protégé and elevated her career to where she wanted it to be. Despite the Vanity 6 project being short lived, this version rules.
"Screams of Passion (Rehearsal Version)" 
Originally written for and performed by The Family (a side project of The Time), their version is underwhelming compared to this one, despite the bad audio. Aside from that major flaw, what's heard here is amazing: Prince is directing The Revolution and the result turns out to be an excellent ballad with a comfortable jam session. It's incredible to finally have a track that proves his brilliance as a composer while playing and adds more to his immeasurable talent. Why Prince didn't keep this song is perplexing. Easily could've been salvaged for another album. This is one that could definitely use a proper remastering treatment in the near future.
"Purple Music" 
Listening closely to this song, this was probably written during the 1999 sessions as the song structure matches closely to "All The Critics Love U In New York." This may have been an early draft of "Critics," and is unknown whether it was ever considered for a proper release during this period. Regardless, it stands on its own really well. Despite the length, it features a cool arrangement of an awesome bass riff, synth lines, vocal manipulation, funky guitar and a drum machine. There's an abundance of funk and Prince brings it to life with his talent. Surely if Warner Bros. wants to continue with its supposed massive Prince reissue campaign, this is one track that cannot be left out. It's too good.
"Can I Play With U?" 
In his autobiography, Miles Davis admitted Prince was the real deal. To be name-dropped by one of the most influential jazz musicians early on in his career carved a path for his Royal Badness. "Can I Play With U?" is sort of an eccentric blend of sounds from two artists with distinct styles, but in some bizarre way, it works. It's a pretty unique form of experimentation, though not something respective fans would come to expect from Miles or Prince. Miles' album Tutu was intended to be a collaborative effort between the two artists, but it never came to fruition. If these two creative minds actually had the opportunity to make an LP together, the result would be pretty interesting. Sadly, this track is the only evidence and simply not enough to determine if a Miles/Prince album would've been worthwhile. Maybe in the next life they're finally making that record.
"Wouldn't U Love to Love Me?" 
This song has quite a background: The original version was recorded in 1976 and reworked for about a decade. While producing Michael Jackson's album Bad, Quincy Jones called Prince and asked him to be featured for a duet on the title track; Prince declined and submitted this song instead. MJ and Jones passed on it, so Prince submitted the song to Paisley Park artist Taja Sevelle. Prince had little involvement after the song was given to Sevelle. His vocals were swapped out along with some major structure changes. The final result is a sterile '80s pop sound that lacks character or creativity, whereas Prince's demo is more varied in style with a funky bassline, a simple drum pattern and a groovy synth. The tiny jam session at the end is pretty great too. It's unfortunate MJ didn't take this track for Bad and even worse that Prince didn't save it for another album since Sevelle's version is so unremarkable. It's a great example of why some songs should not be altered to fit the mold of mainstream musical trends.
"Get Blue"
For those of not up to par on obscure pop culture references: Louie Louie was Madonna's boyfriend in the "Borderline" music video and he was also in House Party 2. A few random facts aside, Prince and NPG bassist, Levi Seacer, Jr. originally wrote "Get Blue." Though Prince is credited as producer and writer under his pseudonym, Paisley Park. On the Prince timeline, this probably fits during Graffiti Bridge and a rare gem unearthed from his career at this point. Louie Louie officially released this song in 1990 for his album on Warner Bros. Compared with the final version, Prince once again steals the show. Louie's version is a boring, plain '90s pop song that lacks depth and sounds too similar to other mainstream hits at the time. In Prince's version, the piano takes command of the entire song, tied with his sensual delivery. More importantly, he at least sounds like he's having a good time with this one. Prince should've kept "Get Blue"—it definitely would have improved his spotty record in the '90s or at least been the impetus to do a more far-reaching album.
*
Also check out Prince Is His Own Best Friend, an amazing blog with tons more other tracks that didn't make the list here.