Looking for magic in The Stone Roses' "All for One"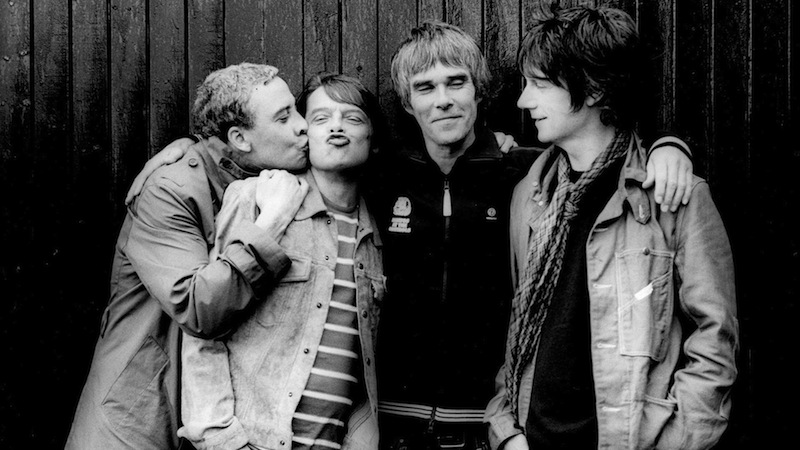 For the first time in more than two decades, some of the world got what it was waiting for: a new single from the reassembled original Stone Roses, a three-minute rocker called "All For One." The track made its way to UK radio stations Thursday afternoon, EDT,  and it's available for buying or streaming, or whatever you do. Given that the Manchester, England quartet's 1989 debut album is a landmark in pop music history, especially so in the UK, a common term is going to flop around the internet in next few days: Magic.
To spell it out: "Is the magic back?" "Did the Roses recapture the magic?" or "Where is the old magic?" If there's a consensus on the magic, let's consider it. It's certainly to the credit of the four Roses lads—Ian Brown, John Squire, Mani and Reni—to say they've written and recorded music that for many, myself included, seemed like it arrived from some other dimension, conjured into the material world. But here, today, on the ground, the Roses' first album, with confident youth-anthems such as "She Bangs The Drums" ("The past is yours/ but the future's mine") and "I Am The Resurrection" ("Don't waste your words/ I don't need anything from you"), did a very specific and real thing.
A guitar record that raved more than it ranted, the band took wispy UK indie-jangle out of lonely teenage bedrooms and into dance clubs full of your friends all loved-up on ecstasy. It is also emblematic particular point in British history. The album came out during Margaret Thatcher's tenth year as prime minister, so the generation that bought the album by the thousands knew nothing but a right-wing government and conservative temperament.
Now, there's certainly politics on the album—"It's curtains for you Elizabeth, my dear"—but the songs don't recommend an ideology. Rather, it is music for an important and powerful impulse: life can be better than this, more than this.
I'm not British, and I wasn't there in 1989, but whenever I put it on the optimistic, hopscotching  "Waterfall" I feel as though I'm dancing the Thatcherism away in 2016 in New York. Then, and this a story you can read in many other venues, the band took five years to follow it up, resulting in the druggy, jammy, Second Coming, that while not all bad was hardly adored. So now, ahead of the reformed band's third album due this summer, there's "All For One." I'm going to leave "magic" in the thesaurus, safe and sound.
"All For One" starts with a hummy fade-in, before Squire comes in with looping guitar and Brown, either in spirit or through studio trickery, revisits his vocal incantations from the Roses' debut. But then he sings bland lines such as, "All for one/ one for all/ we'll all join hands and form a wall," or in a later verse, "we'll take a stand and will not fall." It's no fault of the band, but given the places we're about to go in American politics this year, it's hard to picture people coming together to "form a wall," without thinking of the repugnant utterances from the pre-Trump-tive Republican nominee. Also I get the sense that the acoustic guitar flourishes just underneath Squire's riff, are an attempt Rose-ify a track feels like a cosmetic afterthought from a band that pointed so many forward.
Yet, for our purposes here, I've had "All For One" on repeat on my home stereo and such I've had time to audio-browse a bit in the song. It's only honest to say that in the first minute, there's a quality, especially in Reni's drumming, a feeling, a hint maybe, of some old…well, it'll be another three minutes, before I can say for sure.