Will Butler : Friday Night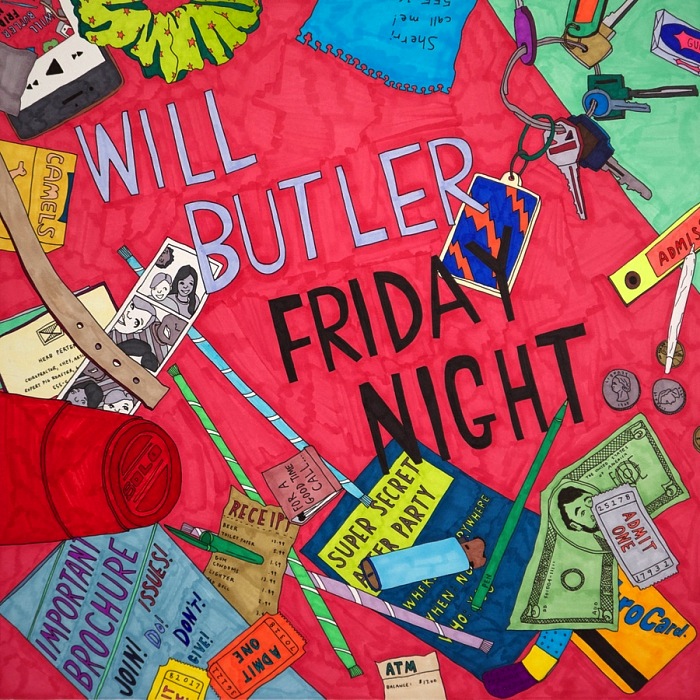 Friday Night isn't a record made with the intent to impress you. It's not the kind of album you would put on at a dinner party or a first date. Still, there's something endearing about Will Butler's version of brash rock n'roll: his voice, while almost indistinguishable from his elder sibling's in Arcade Fire, is constantly ragged and taut, fraying at the limits of his vocal range; and the energy level running through the thirteen-track run is somewhere around the level of an overcrowded 5k Color Run. Unfortunately, that metaphor stands in for far more than just vivacity. No amount of performance or bombast or multi-hued musical decorations can obscure the fact that Friday Night is lacking a bit in the substance department.
Now, five of the songs on the record are new, but placed along the backdrop of the year-old songs off of Policy (Butler's last album), nothing seems radically different. They easily could have slid onto his 2015 debut with their trademark raucous electric guitar and strangely up-front new wave synths. And while none of these songs are substantially worse than anything on Policy, they don't necessarily communicate much other than that Butler does not listen detractors or critics. Every previous misstep is remorselessly repeated in tracks like "You Must Be Kidding" and "Public Defender—" the nebulous cloud of influences, the borderline-insufferable repetition of meaningless mantras, and the oh-so-clever lyrics that reference grandiose subjects like politics and law in a superficial way. Even the banter in between tracks (and trust me, there's more than a few remarks here and there) comes across as premeditated and trite, intending to evoke a sense of profundity or eccentricity but falling flat on its face. Comedian Jo Firestone's presence as an MC must have been included to give the show a sort of extravaganza-feel, but the jokes are not exactly cutting or laugh-inducing—you can even hear the incredulous hesitance in the crowd when they are forced to "boo" Butler as he strides onto the stage.
Songwriting aside, the gusto and showmanship throughout is commendable. Miles Arntzen of EMEFE (a band that is "equal parts" indie pop and electronic conventionalism) plays his drums throughout standing up à la Maureen Tucker of the Velvet Underground. The I-V-IV underpinnings, juxtaposed with the tap-your-foot dance rhythms, also echo the VU aesthetic to a (mostly) entertaining effect. Each member of their cohesive unit sings background vocals, which can be somewhat of a double-edged sword with regard to the more aggravating ear worms on "Anna" and "You Must Be Kidding." And Butler himself appears unquenchably ambitious in his pursuit of a miraculous stage show—even his over-zealousness can be somewhat charming ("Take your paw, and put it over your motherfucking eyes," he implores the crowd at random).
Still, it remains difficult to recommend that anyone stop by their local record store to listen to this record. A cursory listen on a streaming service will do. If you're interested in Butler's live act, it isn't captured particularly well here; his vocal delivery, despite all of its domineering effervescence, bellows flat and sharp in a haphazard manner on almost every track. The instrumentation, while en pointe for most of the evening's proceedings, is stripped-back and raw. While this seems to be what Butler is aiming for, it doesn't suit Policy's best songs particularly well; "Anna" loses its brass jabs and silky grooves while gaining an unnecessary coda, and "Son Of God" picks up some equally superfluous speed. But for fans of Policy, Friday Night couldn't hurt as a minor addendum. Butler describes the album's culmination more adeptly than anyone: "Think of this as a comedy record." The question is: who's laughing?
Similar Albums: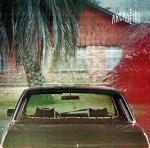 Arcade Fire – The Suburbs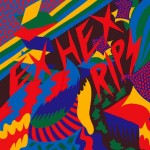 Ex Hex – Rips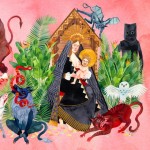 Father John Misty – I Love You Honeybear