The Murder City Devils : The White Ghost Has Blood On Its Hands Again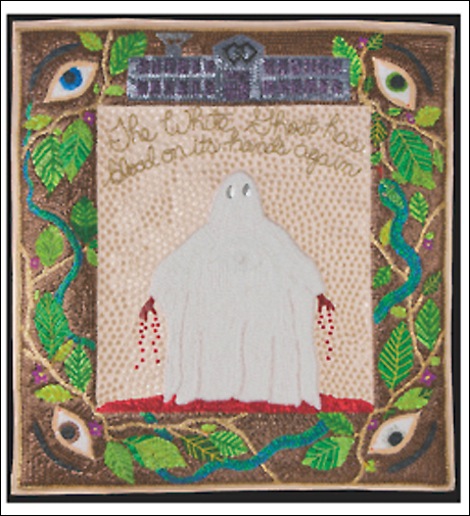 Some bands continuously evolve; that's what The Murder City Devils have been doing for 18 years. Granted, it took a break up of the band, a five-year hiatus, and five more years of sporadic live performances before the music world would hear new recorded material (2011 7-inch single "Every Day I Rise") from the Seattle punk band. Before the second song of R.I.P., Murder City's heartfelt document of what turned out to not be their last show ever, recorded from Halloween 2001, a member of the band — not vocalist Spencer Moody — tells the crowd, "So, this is the last time we're ever going to play." He sounds inebriated and slightly disappointed. Leslie Hardy, who deserves her share of the credit for setting Murder City apart from other bands with her signature electric organ sounds, was not on stage for that "final" show in 2001, and her departure from the band led to the break up. Hardy and the other original members of The Murder City Devils have been back since reforming in 2006, but what was it that made them come back from the dead? Was it nostalgia?
That wouldn't be the first conclusion one would reach from hearing their first new album in 14 years. Finally having time together to write and record songs, The Murder City Devils developed a more mature sound for The White Ghost Has Blood on Its Hands Again. At fairly short release at eight songs and 24 minutes, it's not a lot of new music, but we'll take it.  Since the initial break up in 2001, Murder City's members have been cutting their teeth in other notable rock acts: Guitarist Dann Gallucci is a full-time member of Cold War Kids, also having done time with Modest Mouse; drummer Coady Willis slams away for both the Melvins and Big Business; and guitarist Derek Fudesco has spent some time playing for both The Cave Singers and Pretty Girls Make Graves. These musicians have been busy, but it's nice for them to have again found time for one of the most fun and recognizable punk bands of our time.
The Murder City Devils are previously responsible for such hits as "Dance Hall Music," the perfect marriage of hardcore punk and dance hall reggae, "Every Shitty Thing," a most excellent emo punk ballad, and "Press Gang," which made talking to the media sound like a terrible mistake. But we don't really find any of that on The White Ghost Has Blood on Its Hands Again, and that's not a negative. Even though Murder City is trying new things, like adding a clarinet to closer "Don't Worry," the old vibe is still there. This is clear with opener "I Don't Wanna Work For Scum Anymore," a blistering punk scorcher that ends in under two minutes after Moody — whose whiskey-soaked voice sounds more raw than ever — yells, "helpless, helpless, helpless," relating to anyone who has ever hated a job. Willis' drumming chops were proven long ago, but his hits have never sounded as huge with Murder City as they do here — the thunderous toms of "Old Flame" pair nicely with Hardy's dark keys. "Hey Playboy" has a sexy strut, Moody's playful croons ("Hey playboy! What! / freedom, sweet freedom, the anti-rock") helped by some catchy organ and tiny guitar licks. The snare roll on "Not Everybody Gets A Good Time" doesn't let up, and a particular cascading guitar part on "Non-participation" leads to Moody's surprising four-second long shriek.
Beginning their career as a damn good punk band, The Murder City Devils have made the transition to being a damn good rock band. The White Ghost Has Blood on Its Hands Again throws some wrenches into their formula, and — as luck would have it — it all works. Then again, progression has been part of Murder City Devils' M.O. from day one. Maybe time apart was just what they needed; Murder City no longer rests in peace.
Similar Albums:


Hot Snakes – Audit in Progress

Pretty Girls Make Graves – Elan Vital


Coliseum – Sister Faith