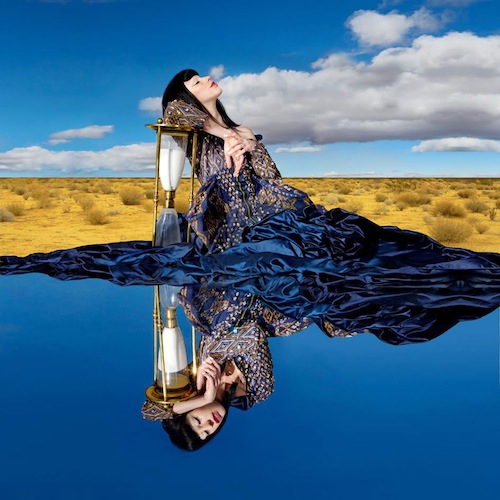 Buy at iTunes | Buy at Insound (vinyl)
Let's get this part out of the way: If you're an American, you came to know Kimbra as the gentle, soulful voice featured on a single by that guy who kind of sounds like Sting. By the time that song (Gotye's "Somebody That I Used To Know") took off in the states, the New Zealand pop singer had already dropped her 2011 debut, a jazz-influenced electro-pop record called Vows. It was catchy and danceable, but ventured beyond the three- to four-chord structures of most electronic pop, drawing influence from the likes of Nina Simone and Imogen Heap.
But, for all her success in the genre, Kimbra doesn't seem so in love with electro-pop. She's an outspoken fan of more experimental acts like Guided By Voices, At The Drive-In and Dillinger Escape Plan. And, after announcing efforts to make a more prog-leaning art pop record, she worked relentlessly in the studio, recording more than 60 tracks before narrowing them to the mere twelve found on The Golden Echo.
The best way to experience The Golden Echo is to let go of expectations. What you'll find here is indeed prog-inspired pop, but not necessarily pop that sounds like progressive rock or metal. Rather Kimbra and her collaborators take on modern and retro pop sounds with a progressive approach to structure and composition. The infectious "90s Music" is the standout track here, but Kimbra has also learned from 'album rock' bands of the 70s, with The Golden Echo forming a much more cohesive whole than the slather of singles that was Vows. Each song boasts distinct vibes and hooks, but there's something ethereal tying together Kimbra's choices throughout.
Despite its pleasant, adventurous appeal, there are some misses on The Golden Echo. Kimbra's more airy vocal moments don't always jive as well with the more excitable production on the record and some songs stretch their beat out a little far with one-or-two minute outros. But, even with these slight shortcomings, Kimbra manages to construct a pop-journey that never manages to venture into cliche or disengaging territory. It's thoughtful pop, and far from a sophomore slump.
Similar Albums:


Janelle Monae – The ArchAndroid


Sia – Colour the Small One


Charli XCX – True Romance