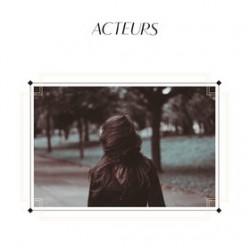 Asked in a recent interview with FACT to speculate on the current abundance of releases mining the dark, industrial underbelly of post-punk, Brian Case, one-half of Acteurs, suggested that "the climate in the world has something to do with it – lot's of uncertainty, war – it's pretty dark out there!" No doubt the interest in certain sounds themselves, aside from what they may say about the state of the world, has much to do with the surge of shadowy machine music. The plethora of reissues, the early '80s minimal wave compilations and albums by artists like Ike Yard, may be playing a role as well. Which is not to suggest that there aren't plenty who have been exploring this territory for quite some time, such as Karl O'Conner (Regis) and Peter Sutton's (Female) Downwards label. But, certainly, Acteurs sound belongs very much to the present moment.
One might say that there are songs on this debut EP, which is definitely not the case with, say, a lot of the Blackest Ever Black releases. Case and Jeremy Lemos come from a background of songs, Case as the singer and guitarist of the Kranky-signed Disappears, and Lemos as a sound engineer who has worked with bands such as Sonic Youth and Pavement. His work as part of the duo White/Light, exploring dark ambient textures, links up with some of the atmospheric effects on Acteurs' debut. The haze surrounding the looping pulse that runs through "Freezing Fog," for instance, doesn't feel too far away from that earlier work. The dub effects ricocheting out into the ether as the track builds, and the feedback-gorging squall that follows are something else though. Shot through with another kind of violence, a malevolence that was merely lurking now exploding.
A few tracks are simply named for the equipment used to make them: "Cloud Generator" after a Synthesis Technology Cloud Generator, and "Critter" after a Critter & Guitari keyboard. The former is the most Ike Yard of the bunch, but it gives that sound more bounce, pulsing on a metallic, metronomic beat. The lyrics are just a few phrases repeated, minimal verbiage, to be sure, but hardly minimal at all compared to the track that follows it, "Lowow." A slow, seedy groove carries it, and synths burble further and further into the foreground as it chugs ahead, finally launching a simple, spaced melody into its upper reaches. There's something about it that makes me think LCD Soundsystem if James Murphy suddenly became not only monosyllabic, but found that he could only make a single sound with his mouth. (He would lose it, to be sure!) The menace drifting through the track gives we to the heavy, fraying oscillations that make up the spare but physical, "Dusk Removing," an interlude of pure mechanical mood.
"Golden Rabbit" may be the song most like a song here – that is, it has slightly more fragments of grouped words. The drawling, revolving pulses that run through it recall the circular dementia/hypnosis of Throbbing Gristle's "Hamburger Lady." Habits and Rabbits, bunny traffic…this one creeps and crawls in a way that I can get down to, like a turgid twitch of a human being. Maybe there is something in that. Facing up to darkness with darkness of another nature, it lets us play in the excretion of the low countries of the imagination, the sparsely lit harlotries of the bass end of the heart. A little push into one's blacker midsts is good for the soul. Anyway, it's good fun, at least as far as this record goes.
Similar Albums:


Disappears – Pre Language


Andy Stott – Luxury Problems


Holy Other – Held