Africa Hitech : 93 Million Miles
Artists on the Warp label normally don't have names they go out of their way to live up to. Nightmares on Wax aren't. Battles don't, that we know of. And what the hell's an Autechre, anyway? Yet if ever an artist telegraphed their intent, it's the duo Africa Hitech. Successful performers and producers in their own right, Steve Spacek and Mark Pritchard's first full album together weaves sounds from electronica, both early and late, with the deep and rich tradition of black music.
On 93 Million Miles, Africa Hitech can't help but evoke the dark continent. Whether built up from triggered handclaps and synths both rubbery and tinny ("Future Moves") or proper sounding drum, piano, and flute ("Cyclic Sun"), particular syncopated rhythms and musical keys hide in plain sight. There are plenty of moments on here that offer the illusory appearance of being lifted from keyboard-driven positive reggae artists or modern African jazz/pop ensembles (see: "Do U Wanna Fight").
Yet Africa is truly only half the story here; there's plenty of high-tech in Hitech. Spacek brings a skillset developed through the '00s in the multifaceted trio bearing his surname. Pritchard, meanwhile, turns on the wayback machine back to the heady days when his group Global Communication helped define and redefine intelligent dance music. Yet, thankfully, there's no clear border between Spacek and Pritchard tracks on 93 Million Miles.
There are sinister overtones in the speedy Afro-Cuban "Spirit" ("If you come with us / We'll take it from you") as well as the dubstep number "Out in the Streets," built around an Ini Kamoze vocal sample. The title cut and "Foot Step" make references to happy hardcore and the kind of leftfield house you'd hear from Josh Wink. The pretty "Light the Way" gives us Kuti-esque vocal parts atop an electro shuffle recalling Underworld's "Dark Train," one of a number of sonic references to that crew on this album.
"Out in the Streets" is this album's lead single, and it helps make tangible digital music's unconscious connections to melodies across decades and beats across time. Yet the centerpiece– and central statement– on 93 Million Miles comes from "Our Luv," a hypnotic Nintendo-meets-Cybotron runout groove. Taken together, these tracks drive home Africa Hitech's deft balance between sounds both backward-gazing and forward-thinking.
Similar Albums:
The Bug – London Zoo
Underworld – dubnobasswithmyheadman
Fela Kuti – The '69 Los Angeles Sessions
Stream: Africa Hitech – 93 Million Miles sampler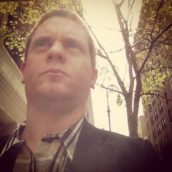 Adam Blyweiss
Adam Blyweiss is associate editor of Treble. A graphic designer and design teacher by trade, Adam has written about music since his 1990s college days and been published at MXDWN and e|i magazine. Based in Philadelphia, Adam has also DJ'd for terrestrial and streaming radio from WXPN and WKDU.