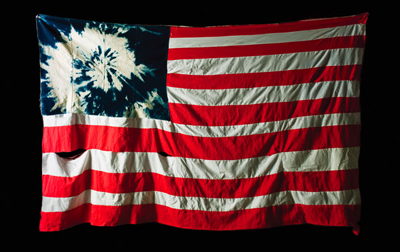 You know it's a good year when you have more albums worthy of album of the week than there are spaces available. With 2009 close to halfway over, there's already been an impressive display of albums released in the past five months, and certainly from those albums, an impressive display of standout tracks. With the decade's end just around the corner, it certainly looks like it'll be going out with a bang. 2009, we <3 U.
The Drones
"The Minotaur"
from Havilah
"First single `The Minotaur' is hands-down one of the most savage pieces of music to be released this year."
Download at

Yonlu
"I Know What It's Like"
from A Society In Which No Tear Is Shed Is Inconceivably Mediocre
"On album opener `I Know What It's Like,' a play on the proverbial, plaintive teenage cry of `you don't know what it's like!', Yoñlu assures us that he does with dark, biting sarcasm."
Download at

Yeah Yeah Yeahs
"Heads Will Roll"
from It's Blitz!
"The best song on It's Blitz! is `Heads Will Roll', a disco'd changeling the bloggier DJs are already killing themselves to remix. Advice: don't. It's fine the way it is."
Download at

Bonnie "Prince" Billy
"I Am Goodbye"
from Beware
"`I Am Goodbye' is a simple and catchy stomper, made even more delightful by its flute and wah-wah guitar interplay, not to mention its fun little backup howls."
Download at

The Decemberists
"The Wanting Comes In Waves/Repaid"
from The Hazards of Love
"It doesn't really begin to cook until a squealing electric guitar riff heralds the entrance of Worden as the queen, who sounds absolutely badass as she wails `this is how I am repaiiiiiid.'"
Download at

Fever Ray
"If I Had a Heart"
from Fever Ray
"Its structure deviates little from its minimalistic path, but her less-is-more take is dazzling in its simplicity."
Download at

Mastodon
"Divinations"
from Crack the Skye
"It's the catchiest the band has ever sounded, yet it's classic Mastodon at their finest."
Download at

Kylesa
"Unknown Awareness"
from Static Tensions
"By track four, lead single `Unknown Awareness,' some of the frontloaded doom begins to give way to an unabashed embrace of melody and soaring, almost hopeful sounding leads, even hinting at post-punk acts like The Chameleons."
Download at

Junior Boys
"The Animator"
from Begone Dull Care
"`The Animator,' probably a slight nod to the stop-motion short the album's named after, finds Greenspan trying to be cogent about male/female linguistics and failing adorably."
Download at

PJ Harvey and John Parish
"A Woman A Man Walked By/ The Crow Knows Where All the Little Children Go"
from A Woman A Man Walked By
"Fans of Harvey's classic Rid of Me will recognize the `50ft Queenie' shock from Parish's electric riffs on the climactic title track."
Download at

Doves
"The Greatest Denier"
from Kingdom of Rust
"The conflicting guitar sounds, some laser beam shots and others crunching power chords, make this song one of the more appealing on the record, and the most layered."
Download at

Metric
"Blindness"
from Fantasies
"`Blindness' is the best build-up crowd pleaser since the Killers' `All These Things That I've Done.'"
Download at

Lotus Plaza
"Red Oak Way"
from The Floodlight Collective
"Throughout, Pundt's voice weaves in and out of the intricate layers of echo-drenched guitars, pattering snares and the otherwise indescribable sound collage, often serving as yet another layer to amplify tone and texture."
Download at

The Life and Times
"Let It Eat"
from Tragic Boogie
"When The Life and Times truly want to let loose and set their instruments ablaze, however, they don't hold back. Standout `Let It Eat' is one such track, absolutely awesome in its careening verses, yet hypnotic with its layered vocal `aaaahhhs.'"
Download at

DM Stith
"Creekmouth"
from Heavy Ghost
"`Creekmouth' is one of the more immediately arresting songs, starting like a tribal Tom Waits cover, and then escalating into an Animal Collective themed campfire freakout."
Download at

Camera Obscura
"My Maudlin Career"
from My Maudlin Career
"`This maudlin career has come to an end/ I don't wanna be sad again,' sings Campbell on the title track, my favorite on the record."
Download at

Akron/Family
"They Will Appear"
from Set `em Wild, Set `em Free
"Amidst all the layers, the album is still rooted in guitars, the most glorious example being the standout, `They Will Appear.'"
Download at

Crocodiles
"Summer of Hate"
from Summer of Hate
"The title track certainly rocks, but in a most peculiar way, building on a central, transcendent hook as drum machines are cast aside for an intense, pounding bass drum."
Download at