Amon Tobin ruined electronic music for me. Before this elicits any hostile reaction, allow me to clarify. When I discovered Permutation, his second album and crowning achievement in jazz-sampled breakbeats and downtempo, its heady collage was so awe-inspiring and melodically stunning, I had to hear anything and everything that elicited a comparison to the Brazilian/British producer. From Coldcut to DJ Food, I scooped up the Ninja Tune canon, while dipping into more IDM-tinged treats such as Squarepusher, Plug and µ-Ziq. It was all quite nice, but things began to get mediocre in no time flat. I was saved in 2000 by Tobin's next project, the even bigger and more intense Supermodified, which amped me up yet again for a taste of grooved-out turntable chaos. Once again, I was ready to put aside the guitars and pianos, but few artists were able to captivate me like Tobin did. They could have all been quite good, but none of them hit me like Supermodified or Permutation did.
I had a few holdouts, notably DJ Shadow and Cinematic Orchestra, but by the time Tobin's fourth album Out From Out Where was released, it seemed that even he was unable to live up to his own high standards. The beats were big and the samples cleverly interwoven, but it lacked the charisma and melodic flair of his earlier releases. So I moved on, avoided the live album, never made a point of hearing that Splinter Cell soundtrack he did, mainly because I never played the game, and if there was anything else he did in that time (which did not include a proper fifth album), I was unaware of it. Yet when Foley Room, the follow-up to Out From Out Where, showed up in the mail, I couldn't help but horde it.
One of the most intriguing aspects of Foley Room is its unconventional methods. Named for the sound effects room used in movie studios, the album finds Tobin opting for found sounds instead of actual drums or instruments wherever he can. This particular concept isn't necessarily new to Tobin, he's used the sound of automobiles and human beatboxes in the past, but it somehow works into a larger theme of cinematic sound, his compositions sounding less like dance singles or downtempo jams and much more like post-modern film scores. In the process, guest musicians like harpist Sarah Pagé, To Rococo Rot's Stefan Schneider and the Kronos Quartet lend their own unique tint to Tobin's distorted hue.
First single "Bloodstone" sets forth the most explicit example of Tobin's new direction—The Kronos Quartet's eerie strings warble and wriggle between dramatically cascading piano riffs, ultimately climaxing in a syncopated rumble of clanging percussion, most likely derived from non-musical sources. "Esther's" maintains this melancholy mischief, piano melodies creating a deceptive intro to motorcycle percussion and distorted bass grooves. The exotic rhythms of "Keep Your Distance" more closely recall the Tobin of old, but with a dark and disturbing undercurrent, while a distorted organ sets the dingy tone of the slowly creeping "The Killer's Vanilla."
The aquatic sounds of "Kitchen Sink" most likely came straight from that very source, trickling into an interesting beat exercise, the title track achieving a similar feat with a different set of source material. The grunt of a werewolf (I think) can be heard in the heavily treading "Big Furry Head," but the subsequent "Ever Falling" becomes a more jubilant celebration of melody, at this point the most upbeat track on the record, that is until "Always." With a funky bass, some soulful samples on top and an actual beat you can dance to, it's essentially the perfect choice for a single, even though it isn't one. There's more funk on "Straight Psyche," the longest track on the album at just under seven minutes, but the three minute closer "At the End of the Day" is the real standout, a melodic masterpiece that somehow crams epic into the length of a single, rather than an extended remix. Stunning work.
I found my way back into electronic music again, falling in love with Prefuse 73, Herbert and Boards of Canada, but only with new music from Amon Tobin could I fully commit. On Foley Room, Amon Tobin has once again proven his ability as a crafty sample collagist, innovative sound weaver and sorcerer of beats. This album may be a lot less direct or immediately accessible than his last few albums, but it's his exploratory spirit and innovation that makes it that much more laudatory.
Similar Albums:
Clint Mansell/Kronos Quartet – Requiem For a Dream OST
Cinematic Orchestra – Every Day
DJ Food – Kaleidoscope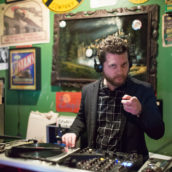 Jeff Terich
Jeff Terich is the founder and editor of Treble. He's been writing about music for 20 years and has been published at American Songwriter, Bandcamp Daily, Reverb, Spin, Stereogum, uDiscoverMusic, VinylMePlease and some others that he's forgetting right now. He's still not tired of it.