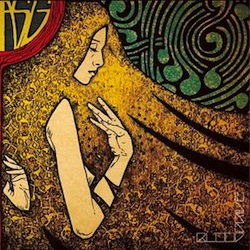 ASG is not a typical hard rock or heavy metal band. The North Carolina group's diverse style bucks easy categorization, yet stays true to a unique aesthetic, ensuring a cohesion that only a special breed of heavy bands achieve. With Blood Drive, ASG's first album for the legendary Relapse Records, the band borrows elements from numerous different genres — anything from punk rock to southern metal — and blends them to perfection to create an expansive, melodic and at times downright powerful album.
Although there is a huge emphasis placed on exploration and innovation through riffs in heavy music, seemingly few artists really pay attention to that unwritten rule. Certain circles of hard rock and heavy metal seemingly serve to rehash what happened the year before. From the very offset of Blood Drive, however, it's pretty clear that ASG isn't interested in revisiting the past. The sweeping verses and epic chorus of "Avalanche" immediately set the band apart from their hard rock peers, and there's no question that the power of the riff truly does compel them.
The title track continues the assault, the band working furiously up and down their fretboards, destroying damn near every note in the process. The southern sludge of "Day's Work" is a huge slab of doom-inspired rock, but is counterbalanced with a huge vocal melody. The progressive metal swing of "Castlestorm," which features some rare screaming vocals (to really great effect) is arguably the "heaviest" song on the album. On its own, "Castlestorm" may not be the best representation of ASG, but the variety found throughout the album allows for it to fit in seamlessly. That diversity is especially apparent when the bluesy, southern rock tinged "Blues for Bama" begins on a delicate note, only to wind up packing in another riff-fueled punch. The frenzied punk tinge of "Stargazin" and "Hawkeye" catapults ASG into yet another sonic realm, and the Soundgarden-esque "The Ladder" and the acoustic dirge "Good Enough To Eat" close out the set with just as much energy and vitality with which it began.
It only takes one listen through Blood Drive to send the message that ASG absolutely refuses to stand still. It has its share of recurring elements to glue together its disparate elements, yet Blood Drive is one of the more diverse heavy albums in recent memory. It's that ability to seamlessly shift between southern rock, punk and stoner metal that makes Blood Drive so exciting. Add in countless memorable riffs, superior musicianship and memorable melodies, and Blood Drive results in one of the strongest hard rock albums of 2013.
Similar Albums:

Red Fang – Murder The Mountains


Black Tusk – Set The Dial


Baroness – Yellow and Green