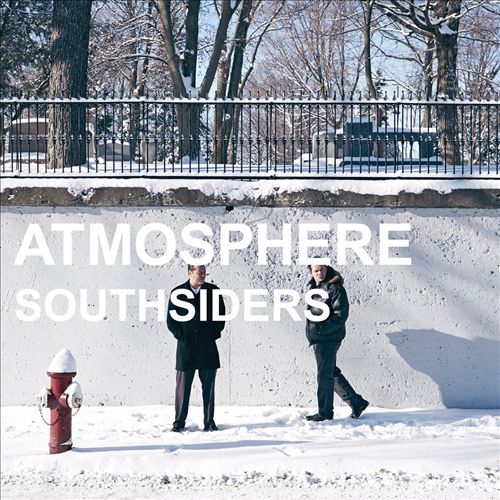 It can be argued that Atmosphere's flair, anarchistic behavior, and visceral rhyming style has been dialed down of late, but what can't be disputed is the influence that Slug and Ant have had on the hip-hip community over the past 15 years. A prime example of Atmosphere's authority came during last year's Camp Bisco Festival when Macklemore and Ryan Lewis seemed to be trying their best at aping the Minneapolis duo's style. Macklemore seemed to be patterning his voice almost exactly after Slug's, and it was unfortunate; Slug's unique flow and delivery cannot be matched. Pair that with Ant's continual inventiveness with his instrumentals, and it always sounds inherently Atmosphere.
Atmosphere's eighth full-length album, Southsiders, may not be their best, but it certainly isn't their worst; it's just not in the group to make a bad record. The 59-minute run time may be too long — the album gets comatose after the 10th track, save for "January On Lake Street" for its overall darkness and choir hum in the background — but there are a few gems on Southsiders. Four tracks in, "Star Shaped Heart" puts the album into high gear with a dizzyingly hypnotic beat and Slug's ambitious rhyming ("I ain't trying to sound scummy, but if you lick my wounds it tastes like money"), which feeds into a synth solo towards the end. The serrated guitar and live boom-bap drum beat of the title track finds Slug again proving that he owns the microphone, spitting, "Let me hear you say fuck the establishment" and "Show me a player that is bad at this and I'll show you a hater and a masochist." Southsiders gets all jazzy during "Mrs. Interpret" and Slug observes that you "can't imagine all the time and dedication trying to find a way to obtain your validation." Remember, back in 2005, it was You Can't Imagine How Much Fun We're Having?
Of course, with an album as long as Southsiders, there are missteps and overindulgences. The beep-boop-bop-boop synth of "Bitter" is overshadowed by the lame chorus, "You're so bitter / you're as cold a s a river / in the winter," and the cricket-like organ sounds of "Fortunate" are poorly matched with clunky lines like,  "so high that I feel like a pilot" and "all the life we wasted to make some bread might have been better spent trying to raise the dead." Despite the connotations involved with naming a track "Kanye West," however, the song is all grimy fun. Atmosphere has thrown down some interesting guitar sounds throughout their career, and they do again here as Slug tries his best to pump up the crowd: "Put your hands in the air like you really do care, oh yea / put your hands up like you give a damn and a fuck, put 'em up!" When Slug says, "That's when I stood up and did the Kanye West," you wonder if Kanye is listening, or actually does give a fuck?
By now, Atmosphere's talent has been long realized, but since four tracks on Southsiders — "We Ain't Gonna Die Today," "My Lady Got Two Men," "Flicker," and "Let Me Know That You Know What You Want Now" — are almost unlistenable, there is reason to wonder if the group is running out of ideas. Since 11 tracks on Southsiders make up for these stumbles, though, the album still feels like a success, even if it's merely average by Atmosphere's standards. If Slug is telling us to "fuck the establishment," then maybe the only world he really cares about is Atmosphere's own, and that's quite all right. If there can be only one thing Atmosphere was famous for, it was being itself.
Similar Albums:


Kanye West – Graduation


El-P – I'll Sleep When You're Dead


Aesop Rock – Skelethon